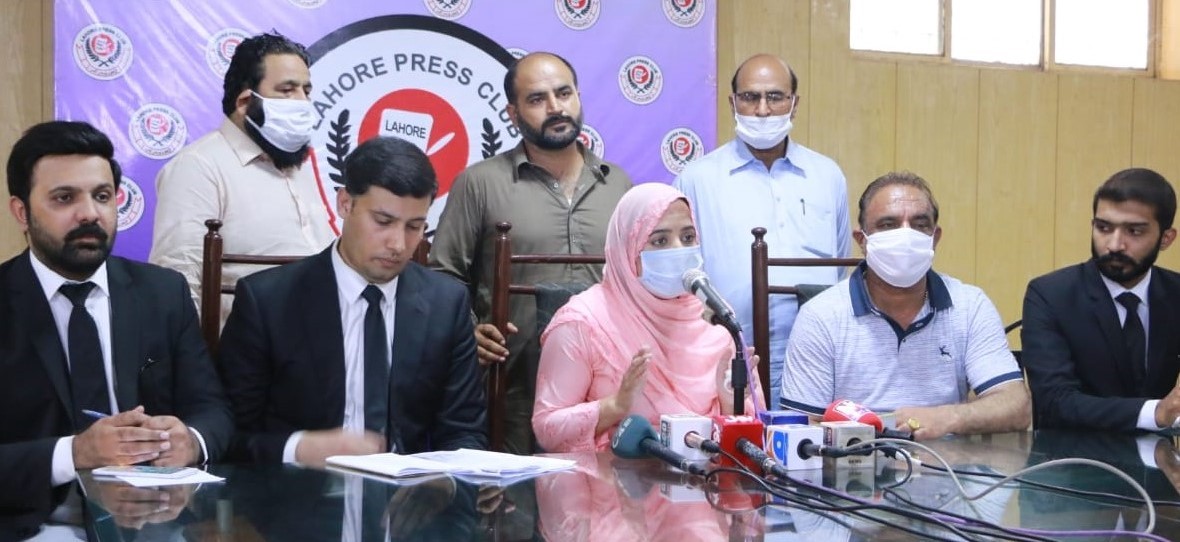 UK's Zainab Seeks State Protection and Arrest of Opponents

By Our Web Reporter
LAHORE–  Zainab Khatoon, an Overseas Pakistani from the UK, has sought state protection against life threats and arrest of opponents who attacked their house, tortured family members and subjected women to physical harassment in July this year.
Speaking at a press conference at the Lahore Press Club on Wednesday last, Zainab flanked by her family members and lawyers requested the chief minister Punjab and Governor Punjab to take notice of brutal atrocities against her and also provide her security from Tahira Chandal and Nasir Mama Mooda gang, who are hurling life her and brothers Ejaz, Nisar, Zulfiqar ad Zulfiqar's wife Maryam life threats. 
Narrating her ordeal, Zainab said on 23rd of July  2020 Nasir Mehmood with his son Ahsan alias Achu Langara along with Tahira alias Tahiro Chandal, Shazia, Fozia, Usama Ali, Mona alias Kaloo, Zahida, Mudasar Hussain, Wajid Hussain and 7 to 8 unknown accomplices forcibly broke into her house and attacked her family, torn apart clothes of herself and her sisters.
Zainab further said that Nasir Mama Mooda and Usama lynched her and bit on her breast under the supervision of Tahira Chandal. "Mastermind Tahira Chandal not only instructed them to carry out these evil acts, but also guided her daughter Mona Kaloo to make a movie of the whole incident to blackmail them in future," she claimed.
She alleged that Nasir Mama Mooda attacked her bedridden mother and broke her leg.
After this brutal barbarian act they tried to kidnap Zainab failing which the whole gang fled the crime spot, police have not responded timely and as usual not provided any relief to me and my family, she further added.
After two months of FIR, no culprit was arrested and even Nasir Mama Mooda and Tahira Chandal are threatening Zainab for her life.
On the night of 19th September, they again tried to break into her house and injured her brother. She also appealed to PM Pakistan, CM Punjab, and Governor Punjab for justice and life protection.