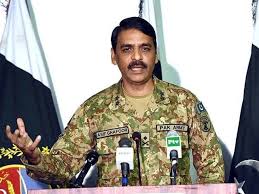 Army to fulfill election duties in non-political, impartial manner: Maj Gen Asif Ghafoor
RAWALPINDI: Director General Inter-Services Public Relations (ISPR) Major General Asif Ghafoor assured on Tuesday that the army would fulfill its election duties in a "non-political and impartial manner."
"The armed forces are not directly involved in conducting the election," the DG ISPR said as he addressed a press conference in Rawalpindi to allay concerns regarding the July 25 general election.
The military spokesperson clarified, "The armed forces will only support the Election Commission of Pakistan (ECP) in the tasks they have sought our help with."
"I am constantly asked whether elections will be held or not but Pakistan is headed towards the general election and this is the third election which will ensure the democratic process," Major General Ghafoor said.
Stating that "3,71,000 personnel will be deployed on election day with two soldiers inside each polling station and two outside," he said. "This is not the first time that troops will be deployed to overlook the election process."
"The armed forces have rendered services during previous elections as well," Maj Gen Ghafoor upheld, adding that a total of 20,831 polling stations have been declared sensitive.
Regarding overlooking the process of the printing of ballot papers, he maintained, "We only have to transport the ballot papers in a secure manner and will not be involved in anything else.
"We will not take over the printing material, the ECP staff will handle that," the DG ISPR clarified.
However, he assured that troops will remain deployed at printing presses to ensure no ballot papers are printed after.
"In Rawalpindi we have established an army election support centre, headed by a three-star general, to coordinate and if needed communicate with the ECP," Maj Gen Ghafoor said.
He further revealed that the ECP has issued a code of conduct for the military.
"We are bound to implement the code of conduct issued by the ECP when executing our duties," the DG ISPR said. "Our top priority is to maintain peace and security in the country.
"We will carry out our duties in a non-political and impartial manner without any interference in the election process," he maintained.
Further, the DG ISPR shared that the ECP has made a system through which pictures will be taken and transmitted to returning officers to ensure that when the votes are counted they are neither less nor more.
Maj Gen Ghafoor also requested the media to not question the troops deployed at polling stations. "I'd like to request media persons to refrain from approaching troops deployed at the stations," he said.
"We do not have any political party or alignment and are working only for the country," he said.
The DG ISPR also urged the nation to come out and vote. "No matter who you support, come out and vote for them," he said, adding that he hopes for the voting turnout to increase.
Responding to a query regarding allegations that although polling may be transparent there are measures being taken to ensure it's not a "level playing field," the DG ISPR said, "Has there ever been an election in which at least one political party hasn't alleged rigging?"
Regarding candidates being 'forced' to switch parties, the military spokesperson questioned, "Has there ever been an election in which candidates haven't jumped ship?"
Claiming that the environment in which 2013 general election was held was more difficult, DG ISPR said, "There was a different environment then and terrorists threatened to not allow politicians to campaign."
Answering a question regarding the alleged role of ISI's Major General Faiz Hamid in matters outside his domain, the army spokesperson dismissed the impression, stating that Maj Gen Hamid has played an important role in combating terrorism and his detractors do not understand the scope of his post.
Further, the DG ISPR said, "Neither me nor our field commanders give their opinions on a daily basis but talk shows are held everyday from 7:00pm onwards where people share their opinions and say whatever they wish."
"106 million Pakistanis will vote but is it possible for us to go to every citizen and tell them who to vote for?" he asked while answering a question regarding political engineering.
"Armed forces have a credibility and we cannot give a wrong order to a soldier risking his life for the nation," he said while rejecting that the military is attempting to 'influence' the election.
He further urged, "Every single person should go out and vote for a candidate of their choice without any fear."
Major General Ghafoor further clarified that the Inter Services Intelligence (ISI) had no role in the incident in Multan wherein an election hopeful was beaten up.