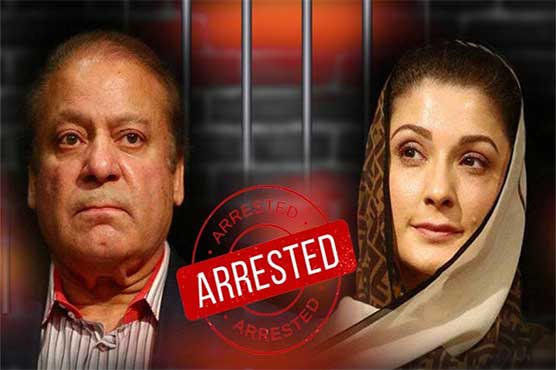 Avenfield Reference Conviction: Destiny finally takes Nawaz, Maryam to Adiala Jail
NAB team detains both from Lahore airport and transports to Rawalpindi
LAHORE (Lahore Mirror) – Former prime minister and Pakistan Muslim League-Nawaz supremo Mian Nawaz Sharif and his daughter Maryam Nawaz, who were detained by a National Accountability Bureau (NAB) team minutes after they landed at Lahore's Allama Iqbal International Airport on Friday evening, have been shifted to Rawalpini' Adiala jail.
Stringent security arrangements have been made in and around the prison.
The sentences, delivered in absentia, against Nawaz Sharif and his daughter who is widely seen as his political heir, have dealt a blow to their PML-N party. Nawaz and Maryam were served with a legal warrant as soon as they entered Pakistan s airspace.

Earlier, the PML-N supremo and his daughter made a brief stay at the Abu Dhabi airport where their flight was delayed for nearly three hours. They landed at the Allama Iqbal International Airport around 9pm IST via Etihad Airways flight EY-243.
They were flown to Rawalpindi in a special aircraft. The government has left no stone unturned to ensure the arrest goes as smoothly as possible. The Punjab government imposed Section 144 (unlawful assembly) in Lahore.
Security was tightened across the city and roads leading up to the airport were blocked to prevent PML-N workers from reaching there. Around 10,000 security personnel were deployed throughout the city to maintain law and order. Internet and mobile services were also suspended.
PML-N President Shehbaz Sharif who led a rally to the airport to receive his brother and niece could not make it because of security barriers.