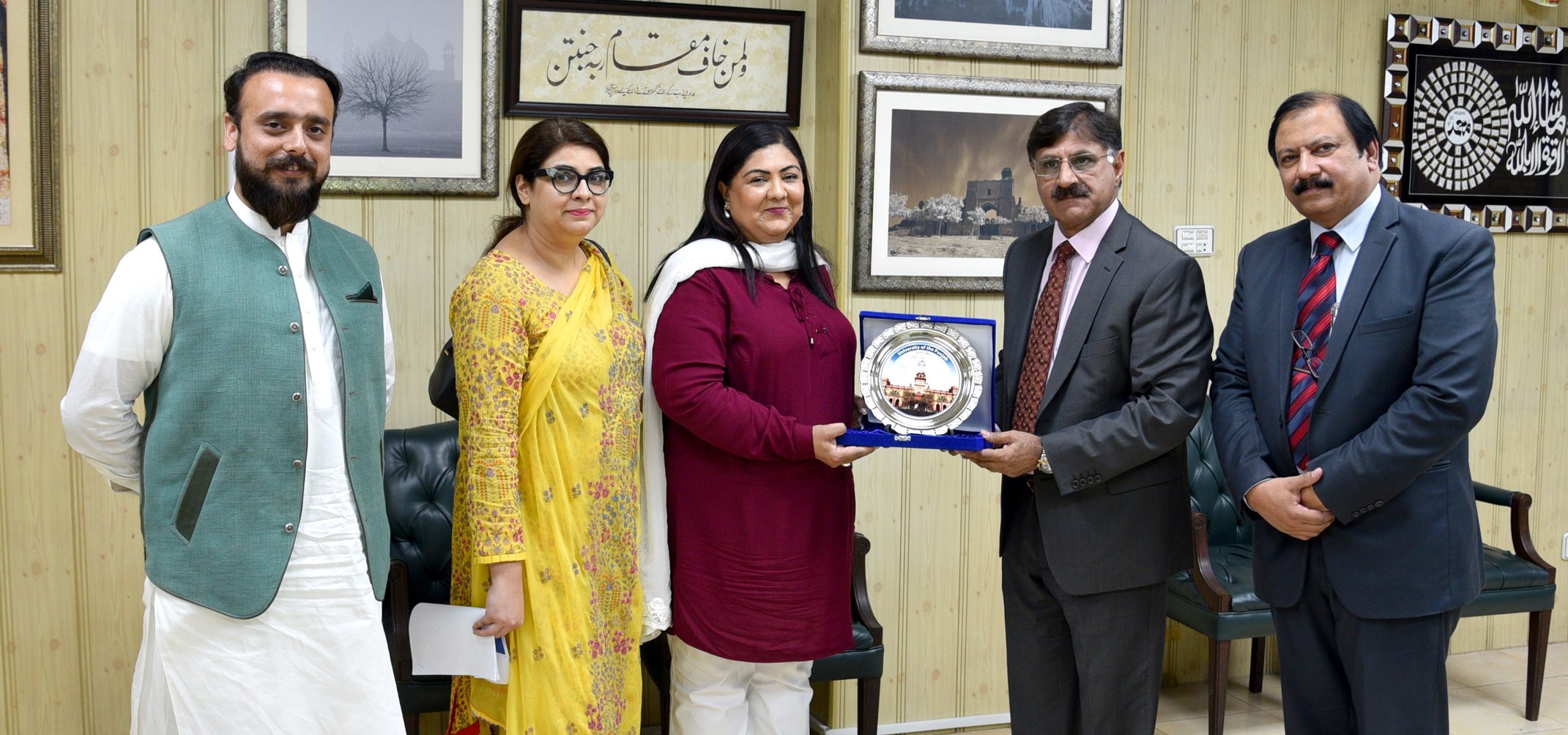 Turkish Delegation Visits Punjab University to Sign MoU
LAHORE– Bahçeşehir University, Turkey's International Office Director for Washington, Berlin and Cyprus campuses Ms Nuket Tanol met with Pro-Vice Chancellor Prof Dr Saleem Mazhar on Wednesday.
A memorandum of understanding (MoU) was signed for a five year term which will facilitate student and staff exchange.
Both the universities will launch joint research projects and offer post doc in various fields.
Director External Linkages Dr Fouzia Hadi, Registrar, Dr. Khalid Khan, and Dr. Ahmed Muneeb Mehta, Assistant Professor at Hailey College of Banking and Finance were also present on the occasion.I
Int'l symposium
Punjab University Institute of Agricultural Sciences (IAGS) has organized an international symposium on "Halal accreditation: adding value to lifestyle and economic success" at Razi Hall here on Wednesday.
In the inaugural session, Punjab Minister for Livestock Sardar Hussnain Bahadar Dreshik was the chief guest. In his address, the Minister said that its petty that Pakistan has very less share in global halal market, though we are the agriculture based country. He insisted the developments in halal accreditation.
He appreciated Pakistan National Accreditation Council (PNAC), National Alliance for Safe Foods (NAFS) and PU IAGS to address this issue. He said certainly accreditation can add value in our national economy. He said, he has the high hopes from the students to bridge the gap. He said it will build the trust of international consumers on Pakistani products. He appreciated IAGS Director Prof Dr Saleem Haider and Dr Shahniwar Waseem Ali for arranging such important symposium.
A large number of research scholars, delegates from Malaysia and Germany, faculty members, religious scholars and food science students from various universities were present in the symposium.
Seminar on Polio
Punjab University Institute of Social and Cultural Studies (ISCS) in collaboration with UNICEF will organize a seminar on Thursday (today) at 11:30am. Speakers including Director ISCS Prof Dr Rubina Zakar, Chief of World Health Organization in Punjab Dr Abdi Nasir and Chief of UNICEF Polio in Punjab Ms Attiya Qazi will throw light on the topic.
130 daily wages employees regularized
As many as 130 employees of Punjab University working on daily wages basis since many years have been regularized on the instructions of Vice Chancellor Prof Niaz Ahmad Akhtar after the recommendations of selection committee.
According to the notifications issued here on Wednesday, the non-teaching employees working in the capacities of Chowkidar, armed guards and sanitary workers in BS-1 and BS-2 who fulfilled the eligibility criteria for the posts have been regularized with immediate effect. The appointees will have to submit their joining reports within fifteen days.
The news created wave of joy and happiness among the PU employees who thanked PU VC Prof Niaz Ahmad Akhtar, Registrar Dr Muhammad Khalid Khan and Chairman Selection Committee Prof Dr Muhammad Taqi Zahid Butt for making efforts for their regularization and resolving their long-standing issues.— PRESS RELEASE