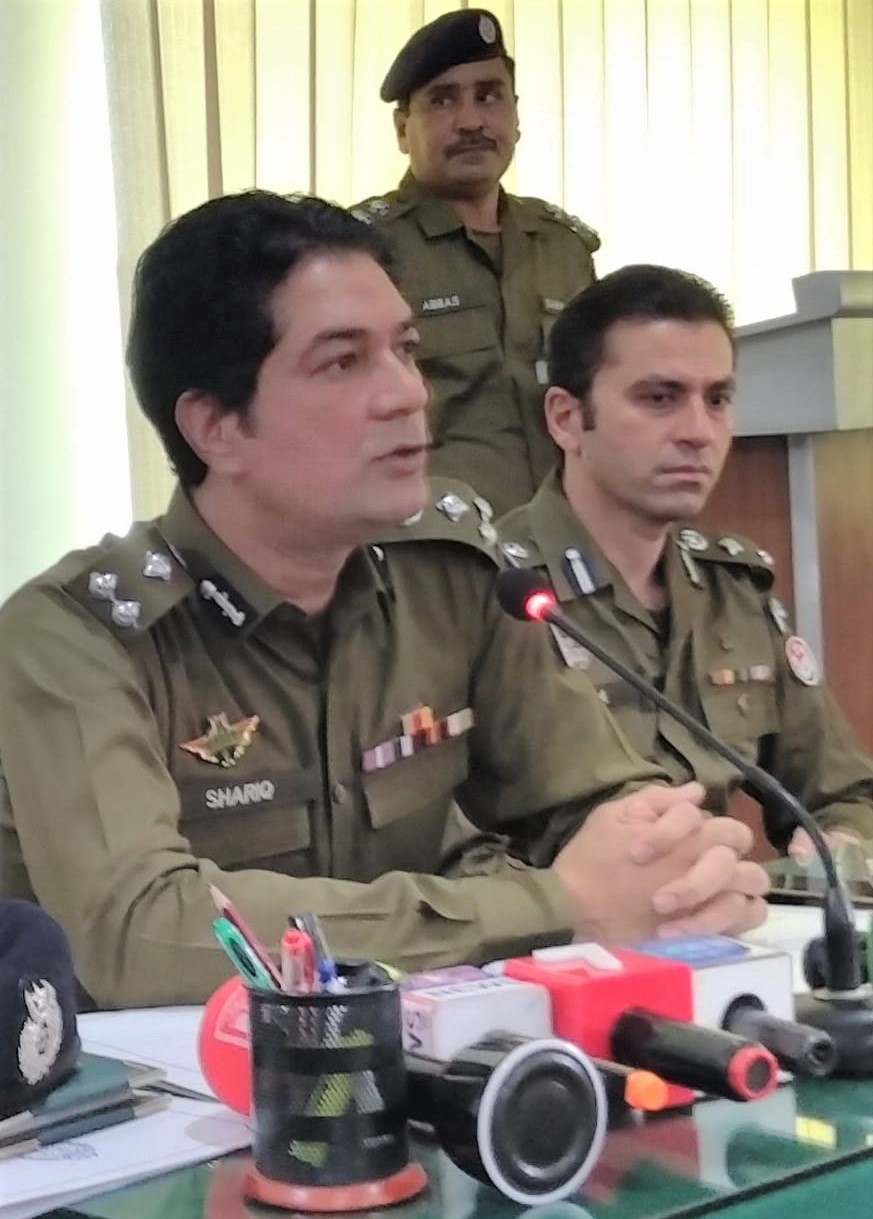 Sahiwal Region Police Arrest 5,620 Accused In 4,872 Cases Under Local, Special Laws In Jan-June 2019
Regional Police Officer Shariq Kamal Siddiqi flanked by District Police Officer Captain (retired) Muhamad Ali Zia speaks to media about performance of region
By Shoaib Rahim Wathra
SAHIWAL– The Sahiwal Region Police have apprehended 5,620 accused in 4,872 cases registered under local and special laws between Jan 1, 2019 and June 15.
Police conducted investigation on modern lines and completed challans in 4,429 cases that are 98 percent of total cases. 
This was disclosed by Regional Police Officer Sharik Kamal Siddiqi at a press conference on Friday. DPO Sahiwal Captain (retired) Muhammad Ali Zia was also present.
He said as many 2,277 criminals were apprehended in 1,469 cases under crime against person category while police arrested 2,365 accused in 1,948 cases under crime against property category with 65 percent challan completion ratio. The reporters were further informed that the regional police took 1,847 drug-peddlers into custody in connection with ,1814 cases and recovered a good quantity of narcotics 28,573 litre of liquor during the above mentioned period.
Police apprehended 1,573 people with 50 Kalashnikov, 56 rifles, 148 guns, 1,172 pistols, 70 revolvers, 131 car-bean and thousands of cartridges.
Police busted 88 gangs of criminals and arrested 337 goons in 767 cases.
Police further captured 4,165 proclaimed offenders and 587 court absconders.
In an action against tempered and unregistered vehicles and unauthorized number plates, as many 13,703 vehicles and motorcycles were seized during Jan-June 2019 as compared to 10,486 seizures in the corresponding period of last year.— LAHORE MIRROR