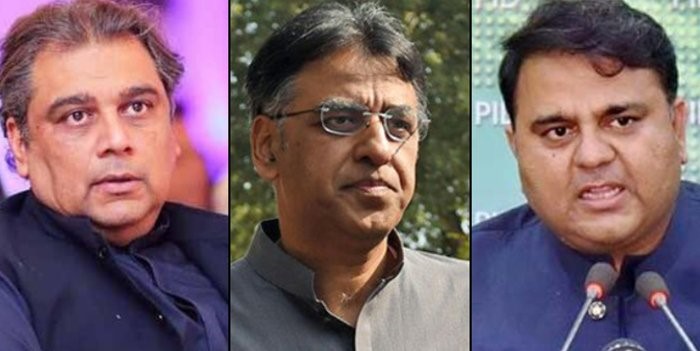 PTI Leaders Grill Nawaz Sharif for 'Declaring War' Against Nation
-- Reacts against remarks of PML-N chief who addressed the opposition APC

By Our Web Desk
The government on Sunday reacted strongly to the opposition's All Parties Conference, with one minister saying that PML-N supremo Nawaz Sharif had "declared war" against the entire nation.
Pakistan's major opposition parties have come together to devise an anti-government strategy at the APC hosted by the PPP in Islamabad.
Federal Minister for Marine Affairs Ali Zaidi said: "Today, Nawaz Sharif has declared war with the entire Pakistani nation!"
"He says that his feud is not with Imran Khan, it is with those who brought [him] to power. [PTI] has come to power with the votes of 17 million people … not with the help of a 'chit'!"
Asad Umar
Slamming Nawaz, Federal Minister for Planning Asad Umar said that the PML-N leader must recognise that the "people actually did respect the vote in the 2018 election and used it wisely".
"The result was that as soon as [Nawaz] was relieved of power, he had to hatch a scheme and flee the country," he said.
Nawaz's virtual address exposes his illness: Shibli
Minister for Information and Broadcasting Senator Shibli Faraz Sunday said the live speech of PML-N leader Nawaz Sharif in multi-party conference had exposed his illness before the
nation.
Pakistan Muslim League Nawaz (PML-N) leader looked healthy and fine during his virtual address and his speech had once again proved that he played his illness as a trick to leave the country, he said in a
statement issued here.
Nawaz Sharif should be asked over his narrative against national institutions, he said and demanded of the institutions to take notice of his remarks.
The minister said that his speech today depicted opposition to
Financial Action Task Force (FATF) bill and campaign against state
institutions. It should be probed as to whose narrative Nawaz Sharif
was following, Shibli added.
He said the prime minister allowed to broadcast Nawaz Sharif's
address."We believe in independence of media, that even criticized the
incumbent government," he said.
The minister maintained that there was nothing new in the address of
the Pakistan Muslim League-Nawaz (PML-N) leader during the conference
as he had made similar speeches in his 'Mujhe Kyun Nikala' rhetoric
during 2018 election campaign.
Shibli said "Nawaz Sharif claimed that polls were managed but before
making such statements he should remember that he remained prime
minister for three times while Imran Khan has been elected premier for
the first time."
All was fine for them during their tenures but democracy was suddenly
endangered when they assumed a role of opposition, he added.
Instead of asking money trail of others, Nawaz should appear before
courts, he said, while demanding him to sell out his billions of
rupees properties and return to Pakistan if he wanted to serve the
countrymen.
He said Imran Khan provided his 40-year-old money trail and the court
declared him honest and righteous.
Shibli said NAB Chairman Justice (retd) Javed Iqbal, was appointed
after consultation between PML-N and PPP and they even did not bother
to change the chairman or laws pertaining to accountability watchdog
during their tenures.
The opposition parties started to raise hue and cry when corruption
cases emerged against them, he said adding that their struggle was
only aimed at concealing their corrupt practices.
Abbu Bacaho campaign flopped: Fawad Ch
Meanwhile, Federal Minister for Science and Technology Fawad Chaudhry said: "One more episode of the 'abbu bachao' (save our fathers) campaign has flopped. What better proof of media freedom than the fact that Nawaz's speech was shown live."
Chaudhry, responding to Nawaz's remarks regarding Pakistan being subjected to military rule for 33 years, said the PML-N supremo "was himself a part of the system for 15 years and served as a puppet".
Imran Ismail
Meanwhile, Governor Sindh Imran Ismail said that he had now "understood the nature of Nawaz's illness" and that the disease "befalls those who loot the nation's wealth and flee".
"The patient instead of providing a money trail lashes out at NAB," he said, adding: "Imran Khan appears in [such patients'] dreams and leaves them in a fearful state".
Listing "signs" of the opposition's "panic", Senator Faisal Javed said that the government had worked to uplift several sectors of the country and that the PTI had inherited the "worst economic crisis".
Accountability to continue no matter how many APCs opposition holds: Gill
Special Assistant to Prime Minister on Political Communication Shahbaz Gill Sunday termed all parties conference (APC) of the opposition "Pakistan Lootmar Association", saying that it was being held in Islamabad today for almost 5th time in a short span of two years.
Addressing a press conference here at Press Information Department, he said that Shahbaz Gill said that there was a loud and clear message for the opposition parties that the accountability process would
continue at all costs, no matter how many APCs they hold.
He said that incumbent government would implement two agendas one of
human development and the other
of accountability.
To a query, he said that the government job was to provide conducive
environment for accountability and rest was the job of the courts.
Shahbaz Gill said that in the past, the opposition parties had not
held so many APCs. He said that holding of APCs so frequently was
showed their thirst for money laundering, which was still not
satiating.
He said those who were going to attend the APC were big thieves and
unfortunately the event was a gathering of such elite who had never
let the poor segments of society rise.
He said that entire Sharif family, who used to consider themselve as
the king of Punjab, were present today as the courtiers before Bilawal
Bhutto Zardari.
The special assistant said that passage of the money-laundering bill
was an issue for smugglers or corrupt people.
Shahbaz Gill said that in the past, the Pakistan Muslim League-Nawaz
(PML-N) and the Pakistan People's Party (PPP) were involved in
mud-slinging against each other.
He said that vision of the leaders of the "Lootmar Association" was
based on lies.
He said that when they were held accountable, they call it political
victimisation, adding that those who always think of their personal
interests could never give priority to national interests.
About cases against the Sharif family, Shahbaz Gill said that they
were afraid of accountability. He wondered what were the businesses
which helped Shehbaz Sharif increase his assets by 1000 per cent. He
said that the main purpose behind the APC was to get an NRO [National
Reconciliation Ordinance], a deal through which they could get away
with their illegal wealth. Dr Asim was facing money laundering charges
of Rs 462 billion, Bilawal Bhutto of Rs 5 billion, Sharjeel Memon
worth Rs 5 billion, Agha Siraj Durrani of over Rs 1 billion,
Khursheed Shah facing charges of illegal assets of Rs 500 billion,
etc., he added.
He said, "These two groups were meeting today at the APC and the third
group was one which offers 'rent a crowd'."
The Maulana [Fazl-ur-Rehman] uses children for his political motives
who come to acquire religious education, he alleged.
Shahbaz Gill said that when Pakistan Tehreek-e-Insaf (PTI) government
came to power, the country's economy was in a shambles. He said that
Prime Minister Imran Khan strived to stabilise the national economy.
Later, COVID-19 crisis emerged and the opposition thought the
situation would help them in ending their accountability.
He said that criminals always wanted chaos because such things go into
their favour. He said that during COVID-19, the incumbent government
stood with the poor segment of society.
Prime Minister Imran Khan did not leave the poor people alone during
coronavirus situation, adding that Pakistan was the only country where
mosques were not closed during COVID-19.
He said that some people make fun when Prime Minister Imran Khan talks
about cattle-breeding, but the international research institutes say
that poverty ends when some asset is given into the hands of common
people, which might be a cow, a goat, a calf, etc.
He said that deserving people had been given their rights under the Ehsaas programme without any discrimination. Revival of country's respect in the comity of nations is another achievement, although still there is a long way to go, he added.
He said, "Allah Almighty blessed us with respect on Afghan peace process", adding that Prime Minister Imran Khan's vision of self-dependence earned respect for the country.
APC was not for any national cause: Aleem Khan
Senior Punjab Minister Abdul Aleem Khan, while commenting on the All Parties Conference of Opposition, said that the meeting was not held for the country but for their own personal interests. He said that it would have been appropriate for the opposition to put forward positive suggestions on a national agenda but they were not interested in any issue other than finding faults in the Government and bringing themselves back to power.
Senior Punjab Minister Abdul Aleem Khan clarified that there is no threat to the Government from such activities, In Sha Allah Imran Khan will complete the term and keep the country on the right track. He said that in fact, the achievements of the Imran Khan are not acceptable to the opposition as he has given the high place to the country at the international level.
Abdul Aleem Khan said that the people have once again seen how Imran Khan's narrative has proved to be true and they all have gathered under one roof to save their skin.
Senior Minister Abdul Aleem Khan said that the country is, under the leadership of Imran Khan, progressing, no one will get NRO, political opponents will fail and the present Government will move forward successfully.
He said that the parties participating in the All Parties Conference are themselves not sincere to each other and neither their direction is clear. He expressed hope that they will soon be at odds with each other, and this will not happen that they can succeed in their agenda.