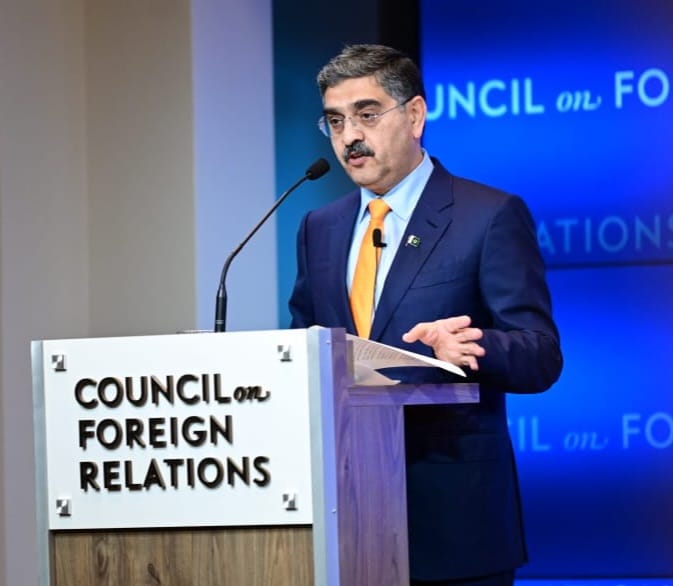 NEW YORK (APP) — Caretaker Prime Minister Anwaar-ul-Haq Kakar on Thursday said that Pakistan desired to have peaceful relations with all countries in the region and beyond as peace and stability in its neighbourhood was an essential prerequisite for economic prosperity and social sector development.
"We do not wish to join any camp politics as Pakistan has successfully maintained good relations with both the US and China in the past, and would continue to do so. Rather than seeing these relationships as a zero-sum game, we believe that both relationships can coexist and flourish simultaneously," he said while speaking at a session titled "Pak-US Partnership: A Sheet Anchor for Peace, Security & Prosperity", organized by the think-tank "Council on Foreign Relations".
He said the world's security challenges had grown increasingly complex. "We are witnessing shared threats and challenges that transcend borders such as military conflicts, terrorism, climate change, food insecurity, rising number of refugees, growing economic divide between the rich and the poor, and the continuing Covid-19 pandemic. These grave issues continue to affect billions of lives worldwide and undermine global peace and security."
The shared challenges, he added, provided a new and urgent impetus for Pakistan and the United States to strengthen their partnership in pursuit of mutually agreed and mutually beneficial solutions.
The prime minister said both the countries had prospered whenever they had worked together. "We share common values and are committed to the same national and international goals," he said, adding the bilateral agenda encompassed security cooperation, trade and investment, IT, energy, climate change, agriculture as well as overall connectivity and enhanced people-to-people linkages through greater education and cultural exchanges.
"Our joint efforts such as the Green Alliance Framework will help counter climate change, build resilient infrastructure, improve public health, and combat food insecurity."
On economic collaboration, PM Kakar said the revival of the Pakistan-U.S. Trade and Investment Framework Agreement (TIFA) had recently been witnessed after a gap of eight years. The forum had taken momentous decisions for now and future which should pave the way for enhanced investment in Pakistan.
"The United States is our largest export destination. Over the past year, Pakistan's total exports to the US reached an impressive US$ 8.4 billion. We need to work on US investment in Pakistan," he added.
As a caretaker prime minister, he said, he was making it a priority to improve Pakistan's business climate, and attract US capital and expertise.
"More than 80 US enterprises are already operating and thriving in Pakistan, contributing to our mutual prosperity. This constitutes a good infrastructure for investment on which we can build further investment partnership," he added.
To attract FDI (foreign direct investment), he said, Pakistan had recently set up the Special Investment Facilitation Council to make it an attractive destination for investment and innovation in key areas such as agriculture, mining and minerals, information technology, energy and defence production.
Prime Minister's Meeting with Chinese Vice-President in New York
Pakistan and China on Thursday, expressing satisfaction at the steady development of China-Pakistan Economic Corridor (CPEC) projects, expressed their firm commitment to continue working together to realize its shared objectives.
The bilateral ties were discussed in a meeting between Caretaker Prime Minister Anwaar-ul-Haq Kakar and Chinese Vice President Han Zheng on the sidelines of the 78th session of the United Nations General Assembly.

In the meeting, the two sides agreed on the centrality of CPEC for Pakistan's socio-economic development and expressed satisfaction at the celebratory events held in both countries to mark its 10th anniversary.
They also agreed to further deepening their cooperation at the multilateral fora.
The conversation was marked by traditional warmth and cordiality that has been the hallmark of Pakistan-China All-Weather Strategic Cooperative Partnership.
The two leaders exchanged views on the entire gamut of bilateral relationship including CPEC, and bilateral economic and financial cooperation.
Reiterating support to China on core issues, the prime minister appreciated China's unflinching support to Pakistan's territorial integrity, sovereignty and socio-economic development.
He noted that China's firm opposition to holding any G20 meeting in the disputed region of Jammu and Kashmir reflected China's principled stance for upholding international law and UN resolutions.
In his remarks, Vice-President Han said that Pakistan-China friendship was unique and had withstood the vicissitude of time due to deep fraternal ties between the peoples of two nations.
He said that as a close neighbour and iron-brother, Pakistan occupied a special position in China's neighbourhood diplomacy and that China would continue efforts to safeguard Pakistan's core interests and for the economic development and prosperity of its people.
Prime Minister Kakar and Vice-President Han agreed to continue the momentum of high-level exchanges between Pakistan and China.
The prime minister invited the Chinese Vice-President to undertake a visit to Pakistan at his earliest convenience which the latter accepted.