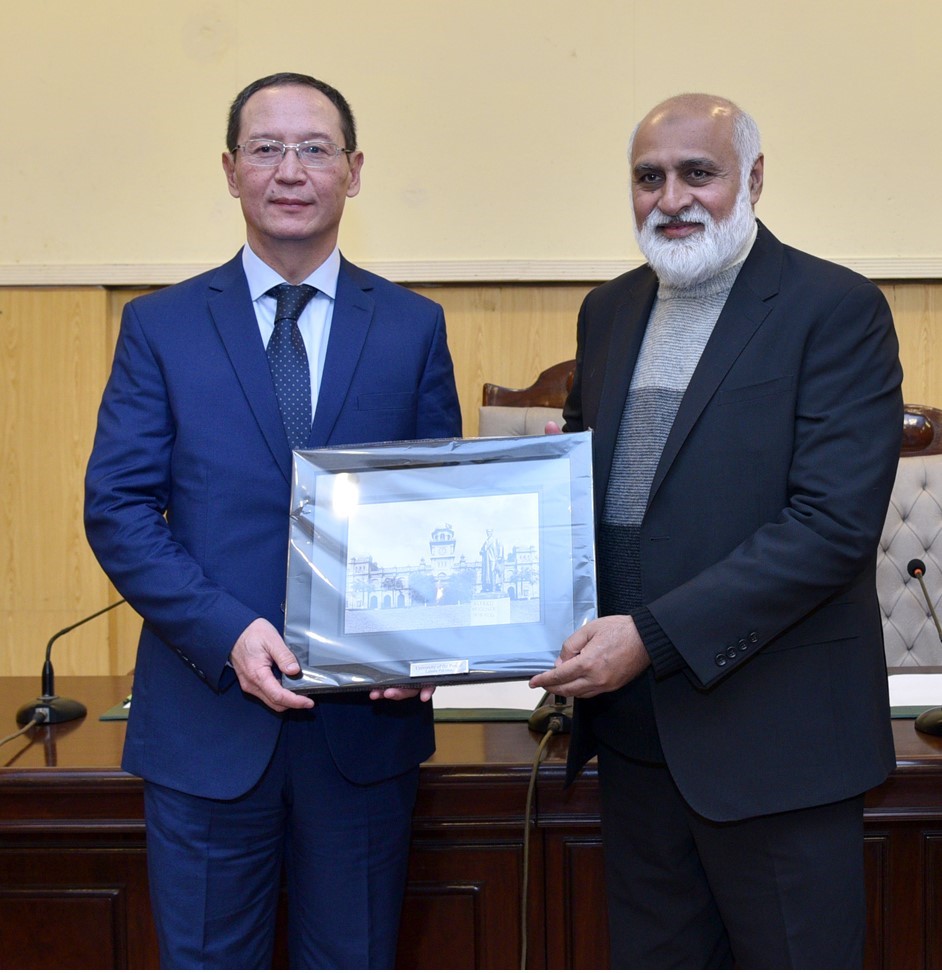 Moot Calls For Promoting Pak-Kyrgyz academic, trade ties
LAHORE– Kyrgyzstan's Ambassador Erik Beishemhiev has stated that Pakistan and Kyrgyzstan are geographically located on important positions in the region and both can benefit from each other by promoting bilateral relations in academic, trade and cultural areas.
He was addressing a seminar on China Pakistan Economic Corridor and Study Programs jointly organized by Punjab University and Centre for Global and Strategic Studies (CGSS) at Al Raazi Hall.
PU Vice Chancellor Prof Niaz Ahmad, Pro Vice Chancellor Prof Dr Saleem Mazhar, CGSS member advisory board Brig (r) Mansoor Saeed, faculty members and a large number of students were present on the occasion.
Addressing the seminar, Mr Beishemhiev said that CPEC was a golden opportunity to enhance trade volume of the connecting countries manifold. He said that Kyrgyzstan could play role of bridge for Pakistan and Pakistani traders could easily send their 6,000 items to Central Asian markets enjoying several concessions.
He said that a large number of Pakistani students were studying in Kyrgyzstan's medical and other universities. He said that Kyrgyzstan had established many universities in collaboration with other countries just like University of Central Asia in Bishkek which was established in collaboration with Aga Khan Foundation. He said that Kyrgyzstan was rich in tourist destinations and minerals. He said that Prime Minister Imran Khan's recent visit to Kyrgyzstan would promote bilateral relations. He said that the government of Kyrgyzstan was interested in signing memorandum of understandings with Pakistani universities for promotion of people to people contact and exchange scientific information.
Addressing the seminar, Prof Niaz Ahmad said that promotion of bilateral relations among the universities of both the countries would help learn from research, knowledge and experiences of each other. He stressed the need to expand exchange programs of faculty members and students in various academic disciplines.
He urged the student to enhance their skills along with knowledge. Brig (r) Mansoor Saeed highlighted the importance of Pak-Kyrgyz relations and said that CGSS was playing role of a think tank to improve Pakistan's relations with foreign countries.
He said that CGSS had also organized many conferences and carried out research programs on various issues of national and international interests.
A question answer session was also followed in which Mr Beishemhiev addressed the queries of the students. He said that CGSS aimed at portraying positive image of Pakistan.
Earlier, Kyrgyz Ambassador Mr Beishemhiev, PU VC Prof Niaz Ahmad and others visited photo gallery depicting Pak-Kyrgyz relations, history and culture of Kyrgyzstan.—PRESS RELEASE