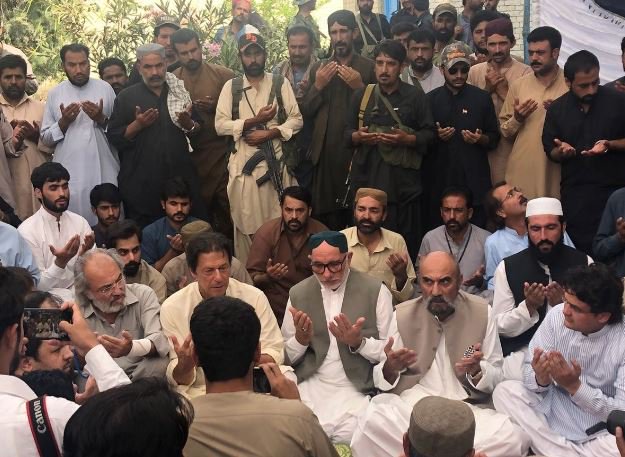 Mastung terror attack a plot hatched by Pakistan's internal, external enemies: Imran
Terms the recent spate of terrorism a conspiracy to delay July 25 polls
QUETTA (Lahore Mirror)- Pakistan Tehreek-e-Insaf (PTI) Chairman Imran Khan has termed the Mastung bombing a conspiracy to delay the elections.
After visiting the Quetta residence of late Nawaz Siraj Raisani, he told a press conference that Pakistan's internal and external enemies are behind the Mastung attack.
As many 131 people were killed after a suicide bomber struck Nawaz Siraj Raisani's election meeting in Darenghar area of Mastung.
Terming Raisani an asset to his party and a diehard patriot, Imran said he realised the true scale of the Mastung tragedy after meeting the victims' families.
Imran criticised the lack of implementation of the National Action Plan for the continuation of terrorism in the country after 2014.
"We will not postpone elections since that is what the enemies want," he stated further.
He then criticised the rampant corruption in the country and the role of the last federal government in allegedly rigging the 2013 general election.
The PTI chief reached Quetta earlier today to express solidarity with the families of Mastung victims as the country observed a day of national mourning.
Imran, accompanied by party spokesperson Naeemul Haque and other members, visited CMH to inquire into the health of those injured in the incident.
He later visited the Raisani family at their home to offer condolences.
Raisani, the brother of former Balochistan chief minister Nawaz Aslam Raisani, was a Balochistan Awami Party (BAP) candidate from PB-35 constituency.

Over 100 people were also injured in the attack, 59 of which are still in hospital and five of whom have been shifted to Karachi via a military plane owing to their critical condition.
Investigations are under way into the attack, with an FIR registered on terrorism charges and Mastung Tehsildar Buland Khan assigned as the investigating officer.
Imran's campaigns in Jhang, Faisalabad and Sialkot
Imran is also scheduled to campaign in three cities of Punjab today for the upcoming polls.
The cricketer-turned-politician will stage rallies in Faisalabad, Jhang and Sialkot.
Imran will kick off his electoral campaign for today from Jhang where he will address supporters at Mai Heer Sports Complex at 3:00pm. He is then scheduled to visit Faisalabad where he will speak to a gathering at Dhobi Ghat Ground.
The third PTI rally scheduled for today will be held at 8:00pm at Sialkot's Jinnah Stadium.
Preparations for all three rallies are underway and security has been tightened around the venues.
PTI's Bannu rally scheduled for July 16 postponed
PTI Bannu president on Sunday said the party has decided to postpone their rally scheduled in the city for July 16 (Monday).
"The party has decided to postpone the rally owing to security concerns," Matiullah Khan said.