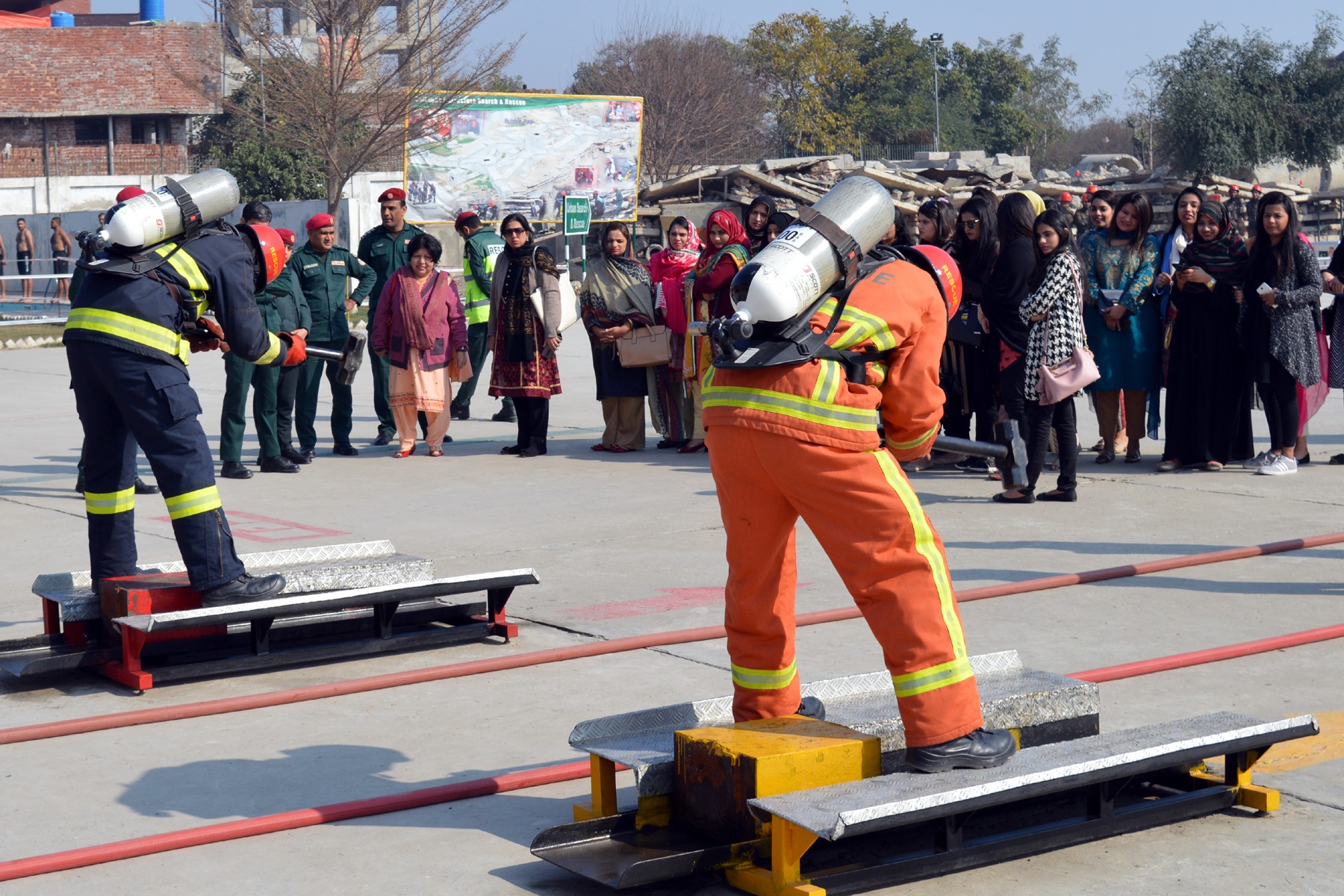 Kinnaird College Delegation Visits Rescue 1122, Witnesses Skills
--Delegates laud performance of rescuers
LAHORE– A 35-member delegation of Kinnaird College consisting of faculty and students led by Dr. Kalsoom Akhter Head of Statistics  visited the Rescue Headquarters and Academy and met with Founder Director General Punjab Emergency Services (Rescue 1122) here on Saturday.
The delegates welcomed by Chief Information Officer, Ms Deeba Shahnaz Akhtar and Mr Yasir Raza Gillani Emergency Officer.
They witnessed ongoing specialized training activities of Fire, Rescue, Medical, Deep Well Rescue, Burn House, Fire Fit Challenge, Height Rescue, Water Rescue, Swimming, Urban Search & Rescue, and physical fitness training.
The delegates also visited the Medical, Fire and Rescue Labs where they were briefed about the appropriate use of rescue equipment in rescue operations as well as its usage in Emergency Services Academy for training purposes.
Moreover, delegates visited the Provincial Monitoring Cell established to ensure the uniform standards of Service in all Districts of Punjab. In the Cell they were informed about the monitoring system which included visual monitoring of control rooms, fleet management and tracking system, citizen feedback and the overall emergency data.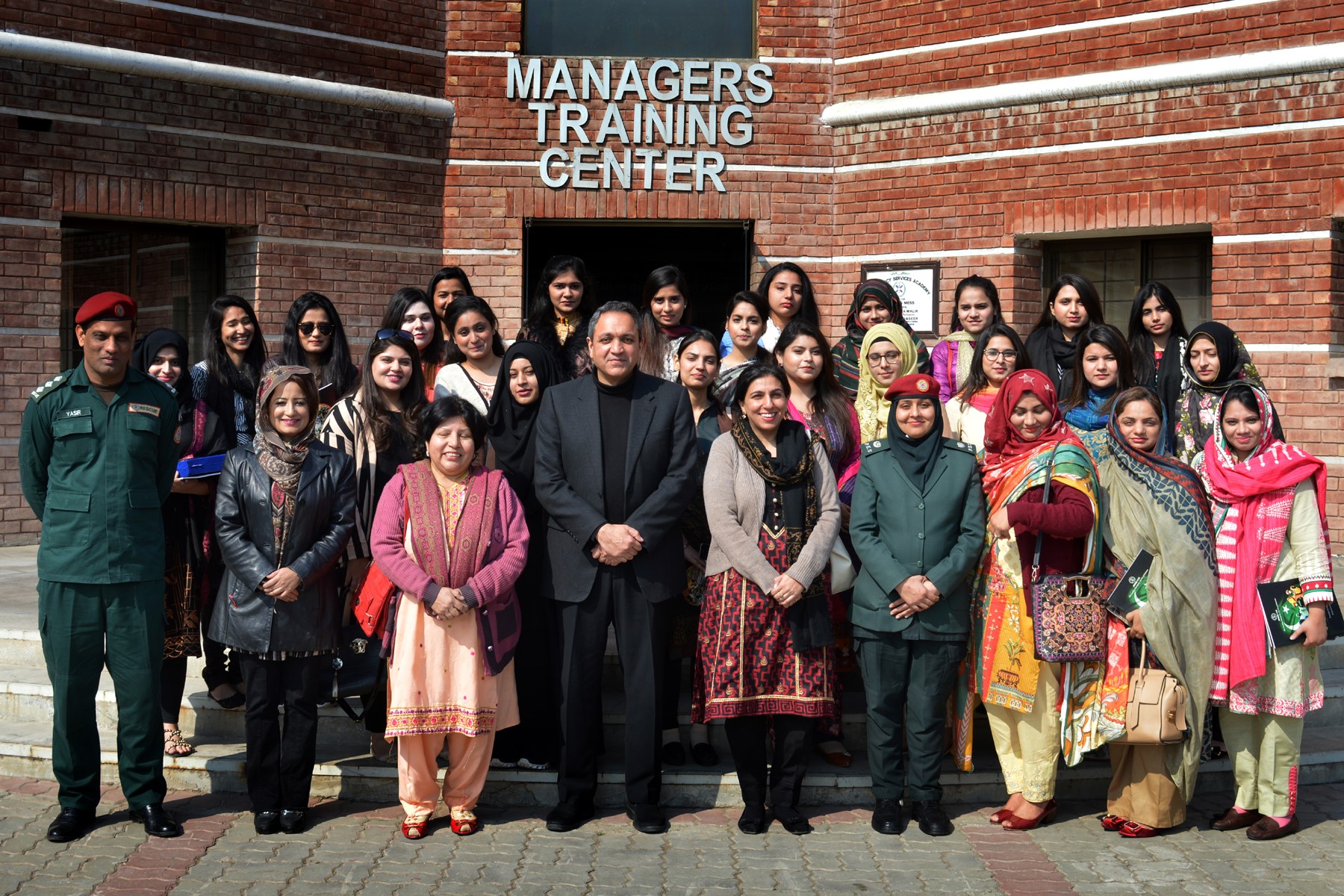 On this occasion, Dr. Rizwan Naseer briefed about the Emergency Services Reforms in Pakistan and the reasons behind the success of Rescue 1122, which was launched as a pilot project from Lahore with 14 Ambulances; 6 Rescue Stations and 200 rescuers. To a question, DG said that from his college life, he was committed and desiderated to do something for Pakistan. Finally, Almighty Allah gave him an opportunity to establish a first ever Emergency Ambulance Services in Pakistan.
Not only the Service provided timely emergency care to helpless victims of the emergencies but also achieved various mile stone to gain the respect among public.          
Dr. Kalsoom Akhter Head of Statistics expressed her desire to have MoU between Kinnaird College and Rescue Service for evidence based research as Rescue Service has rich source of data of this field. She also shared a research conducted by the student regarding fire emergencies and trend of emergencies occurring in all districts in Punjab.
Dr Rizwan DG Rescue Punjab ensured to provide the emergency statistics to the Kinnaird Collage for promoting trend of evidence based research so that recommendations could be incorporated for prevention of emergencies. Students asked different questions and expressed their great satisfaction from study tour at Rescue Headquarters /Academy.
Dr Rizwan Naseer also stressed upon the importance of the Basic Life Support training and asked them to lean. He concluded that after getting community trainings, they can play their role for establishing safer communities in the country.
Furthermore he emphasised to start evidence based research for concrete recommendations for prevention of emergencies. The delegates lauded the performance of Punjab Emergency Service and also praised the services of DG Rescue Punjab Dr Rizwan Naseer.  
At the end, Dr. Kalsoom Akhter Head of Department presented shield to DG Rescue Punjab.— PRESS RELEASE