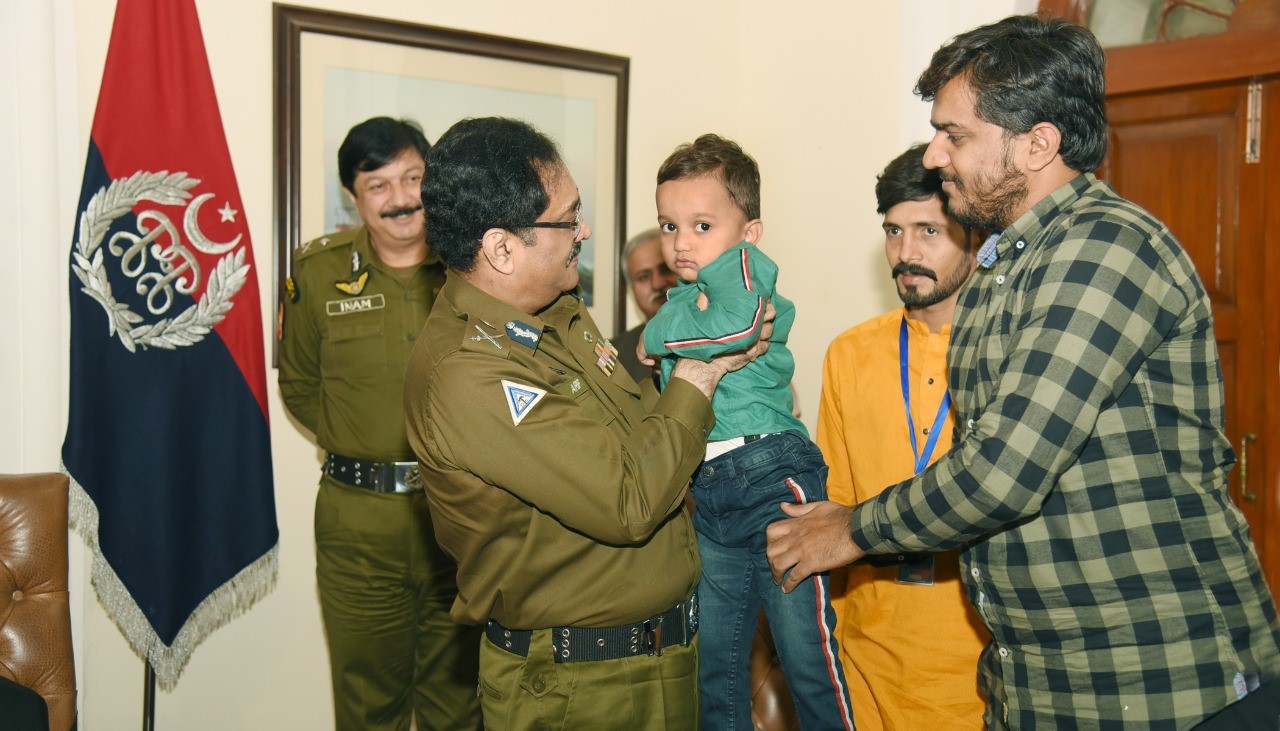 Kidnapped Children's Parents Meet IGP Arif, Thanks For Safe Recovery
--The parents and relatives of children meet IGP Punjab and praise Toba Tek Singh DPO Waqar Qureshi and police team for their dutifulness
LAHORE– Inspector General of Punjab Police Captain (retired) Arif Nawaz Khan has said Punjab police are working with full commitment and devotion in order to stop incidents of child kidnapping and abuse so that the accused may be taken to their ultimate end.
"With the grace of Allah Almighty after Chunian, the Toba Tek Singh police have safely recovered the children who were kidnapped for Rs5 million ransom and also successfully saved life of a child who was thrown away into the sugarcane fields by a suspect who perceived him dead after non stop search operation of nine hours which is satisfactory for all force including me," the police chief added.
He further said that except police, parents, teachers, religious scholars and civil society should also play an active role in controlling child related cases so that no stone should be left unturned in taking such accused to strict accountability and the severe punishment.
The IG Punjab congratulated the parents of the kidnapped children for safe recovery of their dear children and said that mutual cooperation of public and police is the need of time for eradication of social evils in the society and Police will be playing its role on priority basis.
The IG expressed those views during a meeting with parents of children who came from Toba Tek Singh and their children were recovered by police teams from callous kidnappers.
The parents of the children especially thanked DPO Toba Tek Singh Waqar Qureshi and circle officers and officials and said that Punjab police has won our hearts by recovering the children with full determination, hard work and full commitment.
They acknowledged that by the professional techniques of police, their children have been recovered safely upon which they are grateful to Punjab police.
Anam Bibi, the mother of kidnapped children Hannan, paid homage to Punjab police and said that the safe recovery of kidnapped children is proof that Punjab police is serving their duties with diligence by which environment of peace is maintained.
The IG Punjab while directing to officers said that police officers and officials who ensured safe recovery of children deserve "Shabash" and are pride of department and also bright example for rest of the force and they will be encouraged at every level.
He further said that police officers and officials should devote themselves in more active way to serve the public with more hard work, devotion and commitment so that live and properties of people may be saved.
Khan further emphasized that preferential steps should be taken to resolve the cases of child abuse and torture and no negligence or professional slackness shall be tolerated in this regard.
Add IG operations Inam Ghani, AIG Admin Hasan Raza Khan with other senior officers were present at this occasion.
On this occasion IG Punjab distributed appreciation letters and prizes among police officers and officials who were included in recovery of three children Aroosha, Abdul Hannan and Hasan in two different incidents.
The prizes were distributed among DPO Toba Tek Singh Waqar Qureshi, DSP Kamalia Nasir Nawaz, Inspector Muhammad Akhtar Saeed, Inspector Faryad Ahmad, SI Uns Rasheed, SI Fazal abbas, SI Abdul Ghaffar, SI Khalid Jameel, Lady ASI Nasreen Kausar, IT Incharge Sana Ullah Hafeez, DSP Toba Naeem Azeez Sindhu, Inspector Muhammad Mumtaz, Inspector Ghulam Shabbir, SI Ghulam abbas, ASI Muhammad Atta Ullah, Head Constable Muhammad Imran, Head Constable Waqar Ahmad and Constable Muhammad Ashraf.— PRESS HANDOUT