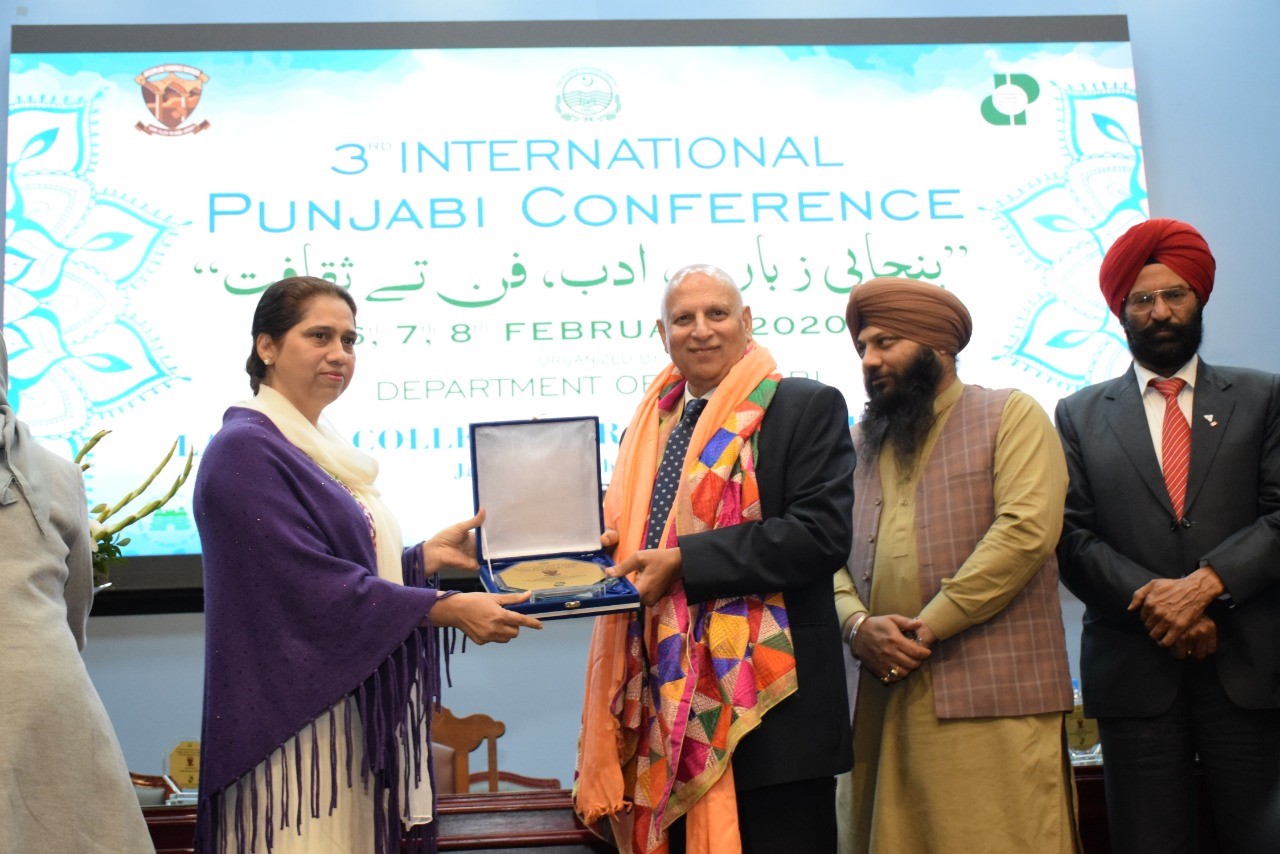 Int'l Conference At LCWU Declares Punjabi As Language Of Peace
LAHORE– Punjabi is the old Ariyan language of the world. It is the language of vast Indo-Pak areas and language of peace.
It  has a potential to find solutions for the complex problems, outstanding for decades.
This was the crux of the three-day International Punjabi Conference held at the Lahore College for Women University (LCWU) organized by the Punjabi Department the other day.
Governor Punjab Chaudhry Muhammad Sarwar was chief guest of the Conference. The purpose and objectives of the conference was To provide an occasion for interaction between scholars, art lovers and experts of Pakistani Universities and Academic Institutions with other Universities abroad, Dr. Mujahida Butt, Head of the Punjabi Department, highlighted.
Speaking on the occasion, Governor Punjab praised the efforts of the university and the students. He said that I have spent 37 years in the UK but still it is fun to speak Punjabi at home. He appreciated the efforts of LCWU  to promote Punjabi language and culture.
It is a pleasure to hear the news that foreign  scholarships  are being offered for Pakistani students from the UK, Canada and other countries. Punjabis love Punjab wherever they live. Governor Punjab Chaudhry Muhammad Sarwar said that Prime Minister Imran Khan has opened Kartarpur corridor and united the Punjabis. Unlike the rest of the world, women are making more progress in Pakistan.
Vice Chancellor Prof Dr Bushra Mirza while addressing the conference said that along with research in science and technology, Lahore College for Women University will continue to play its role in promoting language, literature, arts and culture. Promotion of our culture will play an important role in connecting us to our roots. Governor Punjab praised the Vice Chancellor's speech in Punjabi.
She said Punjabi language enjoys a very significant status among languages of the world. Another salient feature of this language is that it is written in two scripts. Gurumukhi is its oldest script and it has been proven that the language and the script date back to fifth and sixth centuries.
Dr.Marghoob Hussain Tahir Professor Osaka University, Japan presented paper on  Ancient Punjabi  Language. Sukhinder Singh Editor SANVAD Canada presented paper on Language of Peace. Mrs. Rajwant Kaur Bajwa Amritsar, India presented paper on Analysis OF Punjab.
Dr. Devinder Pal Singh Director, Cambridge Learning, Canada presented paper on Punjabi Language – Current  Status and Future prospectus.74 National and International Scholars presented their Research work in the conference.
Before the conference, Governor Punjab Chaudhry Muhammad Sarwar inaugurated new block of Social Sciences at Lahore College for Women University, Lahore. This block was built at a cost of Rs 215.600 million in collaboration with the Higher Education Commission.
Over 1,900 students will benefit from it.Eight directorates, twelve HoD offices, 38 classrooms, two conference halls, six computer labs and two community halls have been transferred in new Building.— PRESS RELEASE