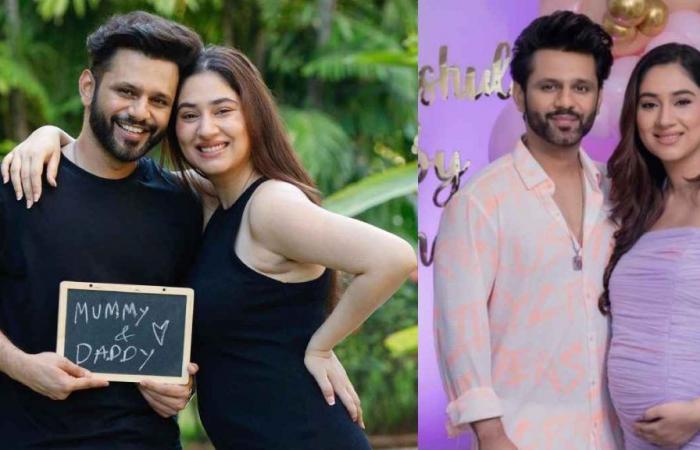 Indian Singer Rahul Vaidya, Disha Parmar Welcome Their Baby Girl
LAHORE MIRROR – Singer Rahul Vaidya and actor Disha Parmar welcomed their baby girl into the world on Wednesday.
In a recent interview, Rahul provided an update on the health of both his wife and the newborn baby, while also sharing his emotional journey, revealing that he has shed tears multiple times since becoming a father.
Reflecting on the experience of becoming a father, Rahul told Hindustan Times, "This entire feeling is just indescribable.
I am on top of the world," he gushed, adding, "The baby was born at the most auspicious time. Ganesh ji ke saath Laxmi aayi hai hamare ghar.
Both Disha and our newborn daughter are doing well; they're happy and healthy."
He further shared, "I was joyfully overwhelmed for three to four hours. Mujhe samajh hi nahi aa raha tha ho kya raha hai. I have shed tears five to six times since she was born. Whenever I see her, my eyes well up. I'm still choked up while talking; I feel so overwhelmed. It's like you know it (the delivery) will happen soon, but when it actually happens, it's just a different feeling."
Rahul Vaidya also mentioned that one of the first people to call and congratulate him was singer Sonu Nigam. "He called and said, 'Humara bachha baap ban gaya!' Just to receive blessings from your seniors and others is a great feeling," Rahul said.
Rahul Vaidya and Disha Parmar's love story began a couple of years ago when they were introduced by mutual friends, and their connection was instant.
Rahul proposed to Disha on Bigg Boss 14 as a surprise birthday gift, and she reciprocated with a visit to the show on Valentine's Day. Disha also starred in the music video for Rahul Vaidya's single "Yaad Teri" in 2019. The couple tied the knot on July 16, 2021, in Mumbai.