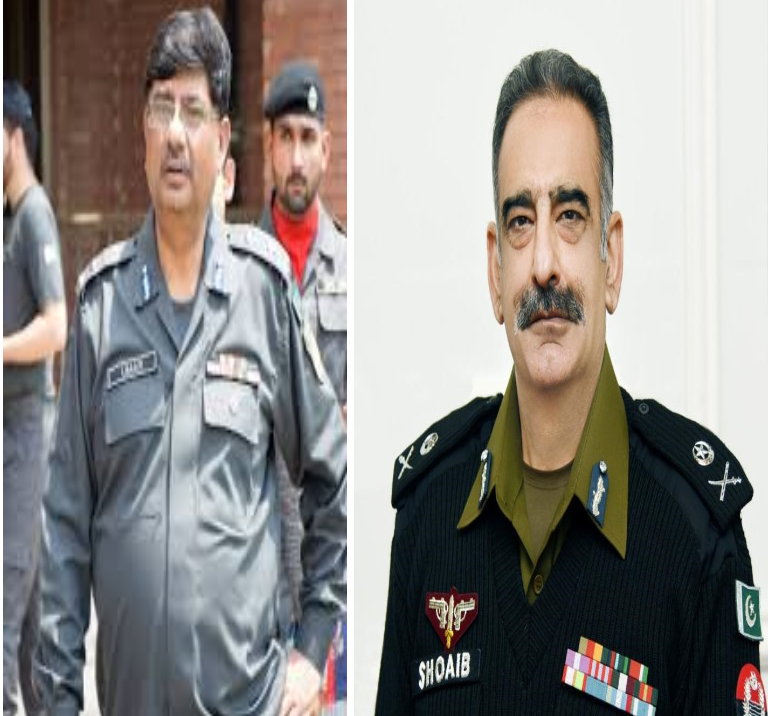 By Our Web Correspondent
LAHORE–  Inspector General of Punjab Police Shoaib Dastgir has been removed from his position following differences over the appointment of DIG Muhammad Umar Sheikh as Capital City Police Officer Lahore, media reports suggested.  
Prime Minister Imran Khan, after consultation with Chief Minister Punjab Usman Buzdar, has approved the removal of IG Dastgir.
Umar Sheikh will continue to discharge his duties as CCPO. Dastgir's removal is the sixth time the post of IGP Punjab has seen a reshuffling.
The much-debated controversy reached its peak on Tuesday with a meeting of the Police Service of Pakistan (PSP) chapter at the Central Police Office (CPO) where DIG Sheikh offered to tender an unconditional apology to Dastagir.
Simultaneously, the issue landed in the office of Chief Minister Punjab Usman Buzdar, who assured the police that he will listen to both parties.
In the meeting of police officers, chaired by Additional IGP Rao Sardar Ali Khan, DIG Sheikh clarified his position on the ongoing controversy.
"I am ready to offer an unconditional apology to IGP Punjab. The IG is my commander and it is my duty to obey his orders," the CCPO was quoted as having said, adding that he had not disobeyed any orders from him.
He said the IGP had so far issued two orders which were implemented and whatever he said in a meeting of police officers was wrongly conveyed to the IGP.
The meeting was also attended by Additional IGP Special Branch, Additional IGP CTD, and former CCPO Zulfiqar Hameed.
A source claimed that the CCPO was not initially welcomed at the meeting of PSP Punjab chapter.
CM Buzdar summoned IGP Dastagir and heard his reservations against the appointment of CCPO Sheikh.
It was reported that the IGP told the chief minister that the CCPO had spoken against his command in a meeting and allegedly ordered police officers to not listen to the Punjab police chief.
He also told Buzdar that the CCPO's attitude may affect the morale of the police force.
The chief minister, confirming that a meeting with the IGP had taken place, had said that "the matter will be resolved today".
He also said that he "calls favours for everyone, not any person in particular".
Helpless PSPs
The gathering of senior police officers at the CPO to back the actions of outgoing IGP Shoaib Dastgir and condemn actions of CCPO Umar Sheikh proved to be a futile exercise as the PTI government put its weight behind CCPO.
"We wanted to protect the sanctity of police department as institution and whatever IGP Shoaib Dastgir did by recording his protest in font of Prime Minister Imran Khan and Chief Minister Usman Buzdar is a right step," said a participant of the meeting.
He said at least Mr Dastgir had set a good precedent for young officers in the future.