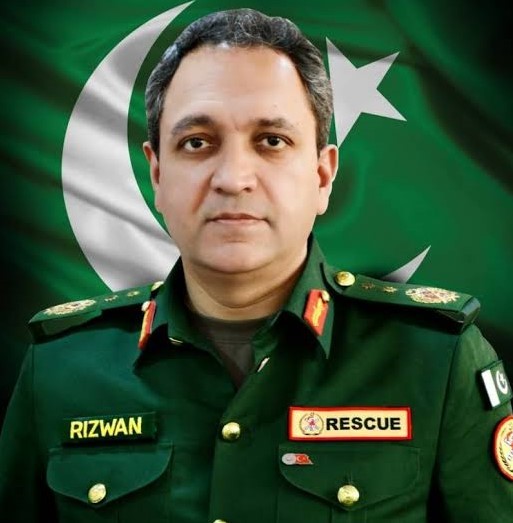 'Controversial Promotions': Punjab Home Dept Suspends Notification of Rescue 1122 Officers
-- All promotions from BS-17 to BS-18 and BS-18 to BS-19 likely to stand annulled
By Our Web Reporter
LAHORE–The future of newly-promoted officers in the Punjab Emergency Service (PES)- Rescue 1122- now hangs in balance as the Punjab Home Department has suspended notification of 'time scale' promotions of officers.
According to a notification, Director General at Punjab Emergency Services Rizwan Nasir had promoted officers in BS-17 to BS-18 and BS-18 to BS-19 while bypassing the Home Department, Finance Department and rules of business.
The DG was not the authority concerned to promote officials from grade 14 to above, it was written to him by regulation department many times. Inquiries against most of the promoted officers were being conducted by the home department and Anti-Corruption Establishment (ACE), Punjab.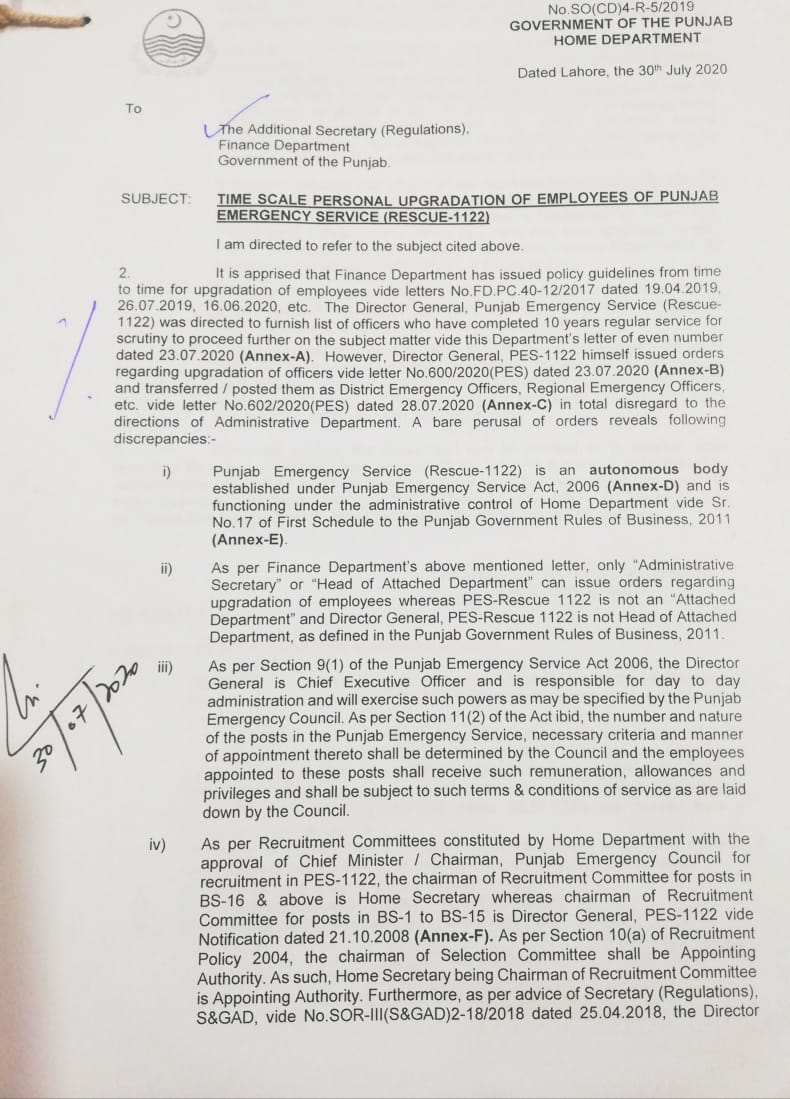 Under Section 10(a) of Recruitment Policy 2004, from grade 16 to 18, Additional Chief Secretary (Home) is the chairman of the recruitment committee.
Earlier, the DG had promoted nine officers under powers conferred on him under the Punjab Emergency Services Act 2006 after 10 years of good regular service, according to another notification.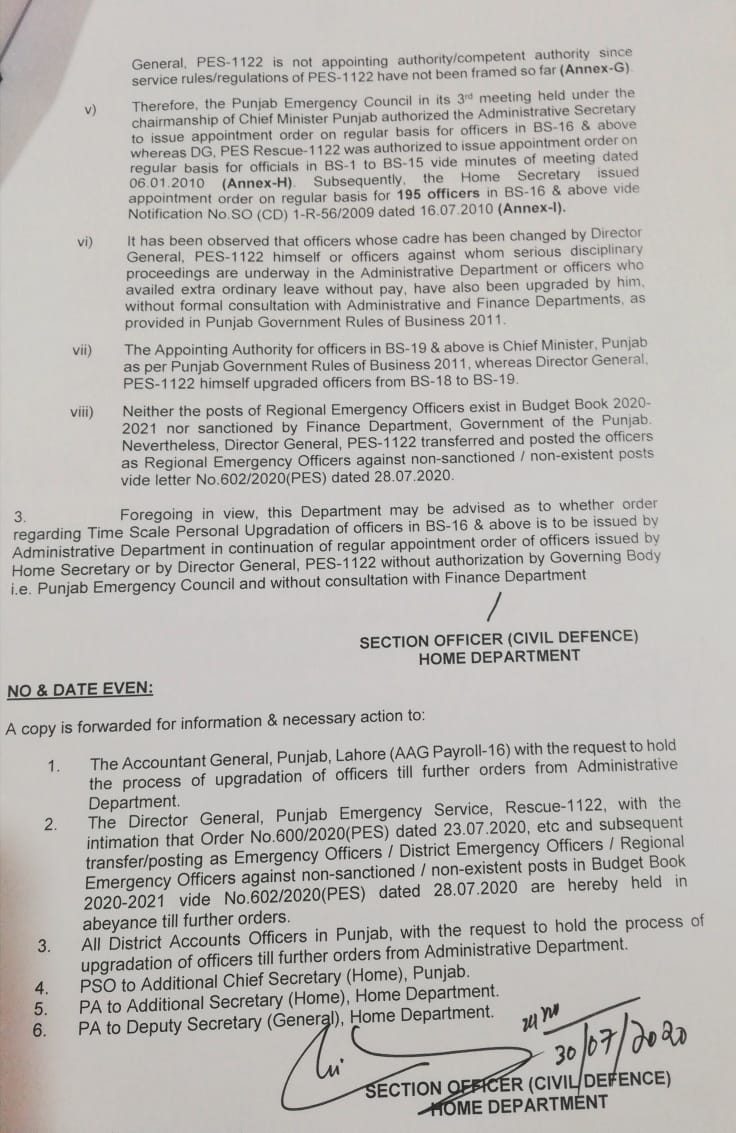 Dr Ijaz Anjum of Multan Division, Dr Irshad-ul-Haq of DG Khan, Dr Muhammad Natiq Hayat of Sahiwal, Syed Kamal Abid of Gujranwala, Dr Faisal Mahmood of Sargodha, Dr Mian Muhammad Ashfaq of Faisalabad, Dr Muhammad Azeem of Lahore, Dr Abdul Sattar of Bahawalpur and Dr Abdur Rehman of Rawalpindi had been promoted to grade-19.
A good number of officers who got promotion through an internal order issued by the DG were already supposed to continue against their previous positions because of absence of rules, regulations and organizational structure.
Lack of regular service structure of Rescue 1122 is a serious question mark over the working of the Punjab government ad has apparently led to a battle between the provincial home department and the PES DG for administrative control.
Since inception of the Punjab Emergency Service (Rescue 1122), first time a total 195 officers of BS-16 and above had been regularized by the Home Department Govt of Punjab vide notification No SO (CD)1-R-56/2009 dated July 6th 2010.
Moreover, after 10 years completion of regular service in the same grade of all these officers would have to be upgraded into next grade in the light of up-gradation in the pursuance of finance department notification No.FD.PC-40-12/2017 dated March 4th 2019, but only 47 officers were upgraded to next grade by DG Rescue Punjab Dr Rizwan Naseer through an office order issued on dated July 23th 2020. Out of these officers 11 Rescue officers were upgraded from BPS-18 to BPS-19 while 36 rescue officers were upgraded to BS-18 from BS-17.
Rescue sources claim that a great numbers of pioneer and seniors officers from entire service of both scales BS-17 & BS-18 were ignored, adding that among upgraded officers some of who didn't fall in the recent departmental up-gradation because some of them had availed extraordinary leaves, left the service and rejoined the service later on.
Sources further say basic designation of upgraded officers in accordance with time scale promotion would be remained same in which designation who were inducted at the time of their joining while only would upgraded into next scale.
They reiterated that newly upgraded officers to BS-18 from BS-17 who cannot be appointed as sanctioned post of BS-18 of District Emergency officers as anywhere in Punjab owing to the rule of business and budget book 2020-21.
Similarly, the DEOs who were upgraded to BS-19 from BS-18 cannot be transferred and posted as regional emergency officers against non-sanctioned and existing post across Punjab, sources maintain.
According to the official letters written to the additional secretary (regulations), finance department, govt of Punjab, it has been observed that officer whose cadre has been 'changed' by the Director General PES (Rescue 1122) himself or officers whom serious disciplinary proceedings.