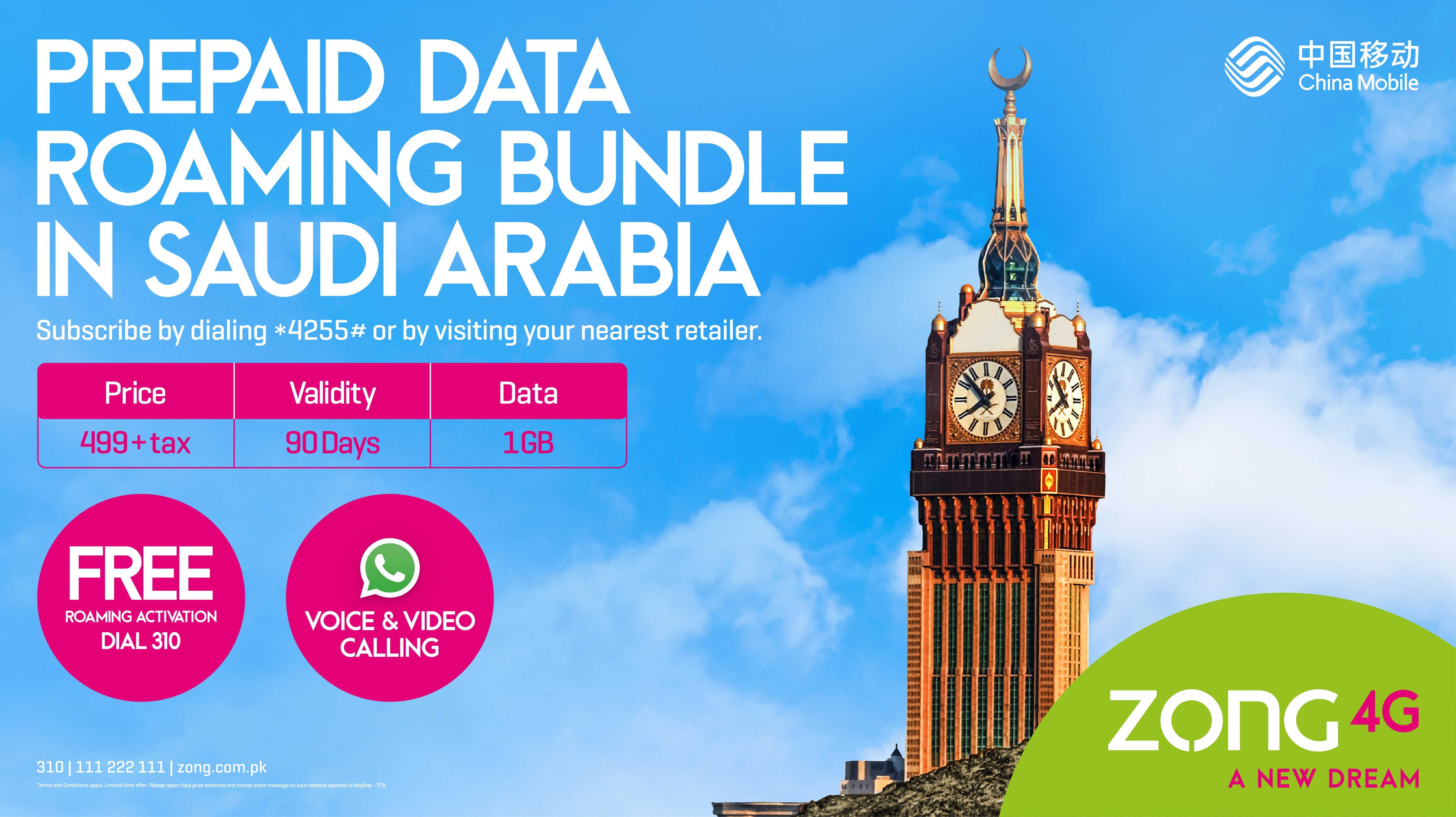 Zong 4G Introduces Prepaid Data Roaming Bundle in Saudi Arabia
ISLAMABAD– Introducing an affordable prepaid data roaming package, Zong 4G has extended its services to Kingdom of Saudi Arabia (KSA) to facilitate its users whilst they perform Hajj and Umrah.
Zong 4G is providing industry leading 4G roaming and international voice services to its subscribers, working alongside the biggest operators.
This ensures roaming all over KSA with unmatched speed and access to network services and the internet on the go.
Eliminating the need to change to a local operator's SIM or locate a Wi-Fi connection just to use the internet while travelling, Zong 4G has one objective in mind, to make usage easier and provide a wholesome experience to its users.
Furthermore, Zong 4G prepaid data roaming users will have complete access to WhatsApp in the KSA. Pakistan's leading Telecom Company, combining fast speed and economical prices will make for a smoother experience especially during the time of Hajj.
"As a customer centric company, Zong 4G has always tried to bring convenience for its customers. This bundle has been crafted for our customers who are traveling to Saudi Arabia We are providing unmatched roaming services at competitive rates in the market. Understanding the needs of our users, we are spearheading innovation to redefine 4G data roaming services in the market." Said spokesperson Zong.
Data roaming is not a premium service which only caters to the corporate giants anymore, with Zong's economical and affordable rates with the widest 4G roaming footprint, everyone can take advantage of the facilities and services provided during their travels across 32 countries, through Zong's prepaid data roaming SIM which is much cheaper than local operators.— PRESS RELEASE