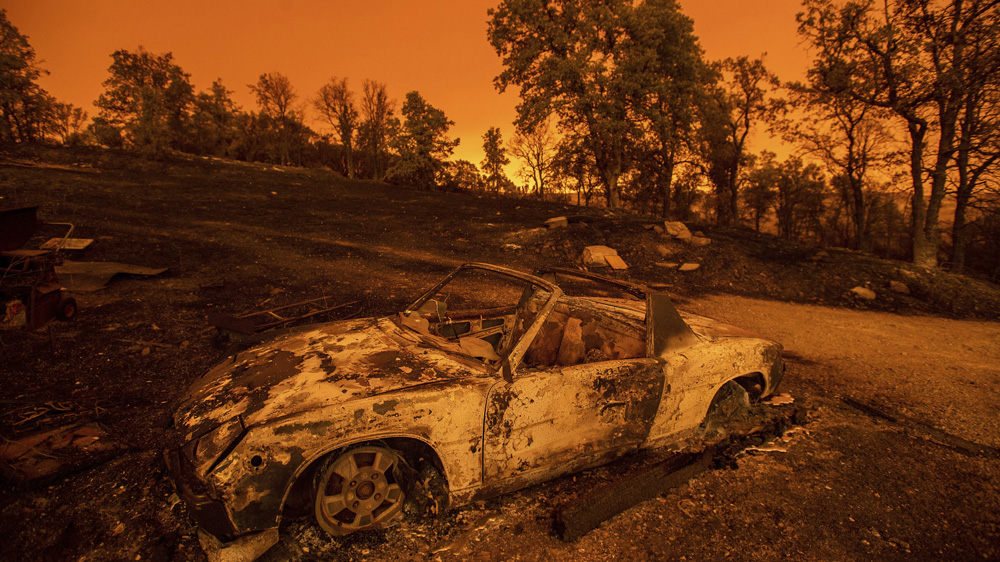 Two firefighters Killed, 500 Structures Burnt In Raging California Wildfire
US State witnesses worst-ever blaze in a decade
LAHORE MIRROR/NEWS AGENCIES (Monitoring Desk)– A fast-growing northern California wildfire has killed two firefighters after high winds drove it into the city of Redding, prompting mass evacuations, destroying 500 structures, and threatening thousands of other dwellings and businesses.
Flames raging in California's scenic Shasta-Trinity area on Friday erupted into a firestorm that jumped across the Sacramento River and swept into the western side of Redding, home to about 90,000 people, forcing residents to flee.
Nine people, including a woman and her two great-great grandchildren, were missing, according to local police.
Governor Jerry Brown requested emergency federal assistance to prevent an "imminent catastrophe" as Shasta County tried to find supplies and water for 30,000 evacuated residents and care for horses and cattle rescued from ranches and farms.
Officials reported 500 structures destroyed by the blaze. In the small community of Keswick, only a handful of homes remain.
Firefighters and police "went into life-safety mode," hustling door to door to usher civilians out of harm's way, said Scott McLean, a spokesman for the California Department of Forestry and Fire Protection. California has had its worst start to the fire season in a decade, with nearly 118,000 hectares burned, according to National Interagency Fire Center data. Helicopters and aeroplanes battled the flames for a fifth day on Friday.
'Terrifying'
Liz Williams loaded her two kids in her car and then found herself locked in bumper-to-bumper traffic with neighbours trying to retreat from Lake Redding Estates. She eventuallypulled onto the pavement and "booked it".
"I've never experienced something so terrifying in my life," she said.
Nearly 5,000 homes were being threatened by the 194-sq-km conflagration, which is just five percent contained.
Rob Wright, 61, and his wife stayed to fight off flames with a high-powered water hose.
"We were fortunate enough that the wind changed hours ago, and it is pushing the fire back," said Wright on Friday. "We are just waiting it out … crossing our fingers and hoping for the best."