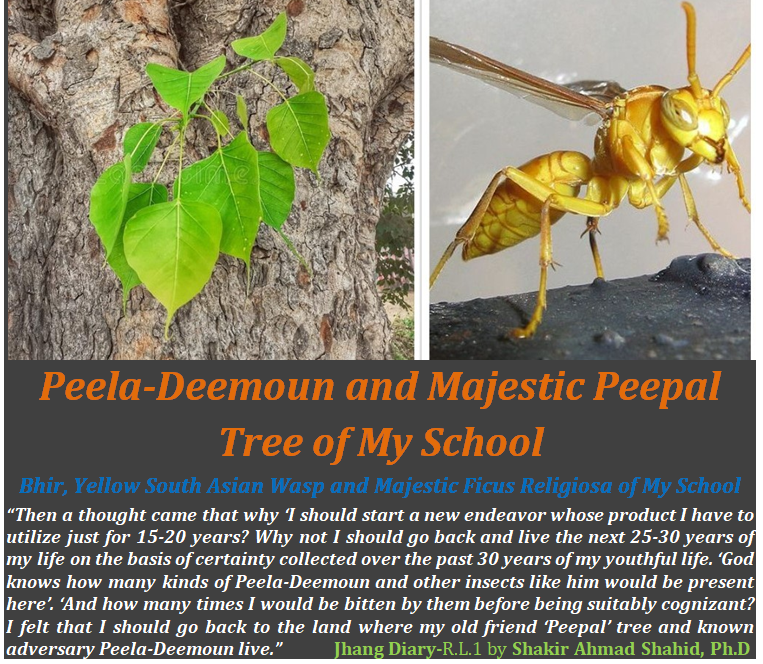 Dr Shakir Ahmed Shakir
On one day, while sitting in my room in Queens, NY, I was thinking whether I should return to Pakistan or should stay in the USA? I was on Fulbright scholarship in JJ College, had already earned my Ph.D in Chemistry, and after a comparative analysis had also realized that I am not run of the mill stuff, and could make my mark in competitive circles of the US academia. Hence I was much dispersed in my thoughts.
While thinking about the stay dilemma my mind wandered off and reached my family members in Jhang-my sisters, brothers, relatives, and then, the soul enriching face of my illustrious daughter 'Mahhoor' smiled in front of me. Then a stream of thoughts drifted to my school teachers, friends, and then toward the trees which were familiar to me. Then came the majestic huge Peepal (Ficus religiosa) tree of my school on a virtual screen of thoughts, and for a moment I felt transported to my high school (Haveli Lal).
I found myself standing under the mighty Peepal tree as a small primary school kid. Squirrels were running on the limbs of Peepal, parrots were screeching in twigs, and honey bee hives were hanging on high boughs. Then I remembered our contradictory partnership with honey bees and with mixed emotions felt nostalgic for those passed days of life. (On some other page this unique contradictory partnership shall be explained). After some moments of stay in my school as a kid I retrieved my current-self, and again focused on 'what should be my course of action: should I stay here in the US or should go back'.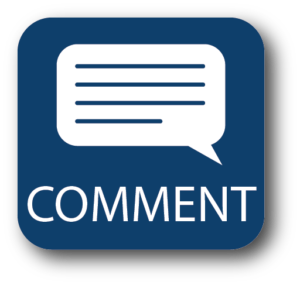 My thoughts again wandered off and by jumping all across the intervening distance reached my home in Jhang. This house was constructed by my great 'Abba Ji', and the piece of land, where the house is located, was also purchased by great 'Abba Ji' in days of adversity so I have an ineffaceable love and veneration for this structure and the surrounding soil. Then appeared the whole half dome of blue sky with scattered clouds, then doves sitting on 11,000 Volt electric wires, and then appeared the Peela-Deemoun (bhir, yellow south asian wasp) on virtual cognitive screen, and here I became attentive.

This wasp had bitten me a few times in my childhood. Consequently I was always careful of this daredevil. My mind started flashing the whole book of memories having Peela-Deemoun as the central player. I remembered that once I was bitten by this Deemoun, and I escaped asphyxia narrowly as an intense allergic reaction had choked my breathing pipe. Luckily 'Abba Ji' found me staggering toward the local rural health centre (RHC) in a semi-conscious state. After medication, when I regained my consciousness I was on a wooden bench of RHC and was able to survive.
All of a sudden I remembered that 'Peela-Deemoun becomes so lethal in the months of May and June'. Then my thoughts gravitated to his presence in the USA. I was not sure whether Peela-Deemoun lived here in the U.S or not. And additionally, if present, I did not know that during which months of the year this daredevil acts dangerous. Then I thought that possibly, some other kind of biting insects, not known to me, might also be present here, and if so, how would I get to know about them? Again after their bites?
This last rhetoric question assumed serious dimensions. I had gathered a good deal of information about all fauna, flora, weather, people, and terrain about my home area Jhang. However, I had collected and collated all that information over a period of the last 30 years. So in this way, even if done quickly, it would take 10 years at least to collect a data of utilizable certainty level about U.S. It meant that I would be at fag end of 40s when I would be having a reasonable quantum of knowledge about my new surroundings. And if so, it further meant that I would be having just 15-20 years ahead to use that collected data.
Then a thought came that why 'I should start a new endeavor whose product I have to utilize just for 15-20 years? Why not I should go back and live the next 25-30 years of my life on the basis of certainty collected over the past 30 years of my youthful life. 'God knows how many kinds of Peela-Deemoun and other insects like him would be present here'. 'And how many times I would be bitten by them before being suitably cognizant? I felt that I should go back to the land where my old friend 'Peepal' tree and known adversary Peela-Deemoun live.
I concluded that it's unwise to opt collecting a certainty whose usage time is just for 15-20 years, while setting aside the certainty which had been gathered over a span of 30 years. And additionally it's relatively better to have a known adversary than to an unknown one. While thinking this all, I decided to return to Pakistan on completion of my Fulbright program. This is how virtual inhabitants of my cognitive universe belonging to the soil of Jhang brought me back to Pakistan.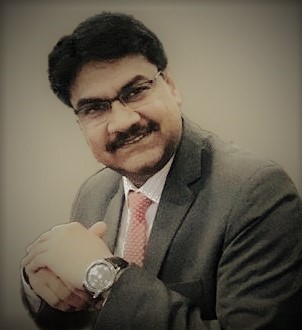 Dr. Shakir Ahmad Shahid, P.S.P, is Postdoct Fulbright Alumnus in Forensic Science Justice, and has served in various fields like Policing, Investigation, Intelligence and Counter-Terrorism on Policy and Operational levels as a Senior Police Officer and Director (counter terrorism). Dr Shahid holds the degree of Doctor of Philosophy in Chemistry, along with research publications in fields of bio-materials, bio-energy, and forensic spectroscopy. In addition to degrees of Master in Psychology, M.Sc Chemistry, L.L.B, B.Sc (Biology), he is Ph.D Research Scholar in Criminology, and a passionate researcher in theoretics of complex systems, negentropes, socionics, suicide, homicide, social behavior re-engineering, national narrative, policing, intelligence, governance, national security, electro-magnetic spectrum, and forensic evidence. Dr Shahid took birth in a rural area of district Jhang called as Haveli Lal, and studied in Govt high school Haveli Lal situated in the same vicinity. Jhang is a district in Punjab, Pakistan, having its millenniums' old unique culture, beautiful language, and riverine doabah ecosystem given its location at the junction of river Chenab and Jehlum. Dr Shahid can be reached at drsashahid@gmail.com