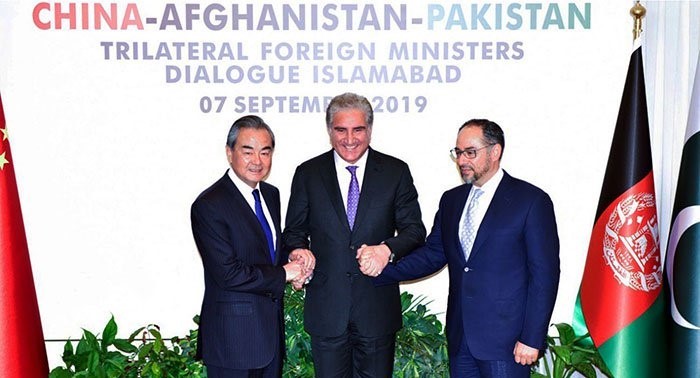 Pak, China, Afghan Agree to Extend Cooperation in Economy, Security, Terrorism
ISLAMABAD– Pakistan, China and Afghanistan agreed on Saturday to extend mutual cooperation in various fields such as economy, security and anti-terrorism, announced the three foreign ministers after meeting in the federal capital on Saturday.
At a joint press conference after holding third round of talks, Foreign Minister Shah Mehmood Qureshi the next round of talks between the three countries will be held in Beijing.
The foreign minister said that strengthening regional ties and cooperation will help all the parties.
He further said that in the next phase of US-Taliban negotiation, an inter-dialogue will take place in Afghanistan. FM Qureshi also spoke of the talks with Afghan President Ashraf Ghani on the sidelines, saying it seemed quite useful and he has extended the invitation of the inauguration ceremony of 24 hours' service at Torkham border to him.
The foreign minister said that they are hopeful for the Afghan peace process, adding that Pakistan and Afghanistan need each other.
FM Qureshi said that Pakistan has taken considerable serious action against terrorists and emerged successful.
SOURCE: GEO NEWS