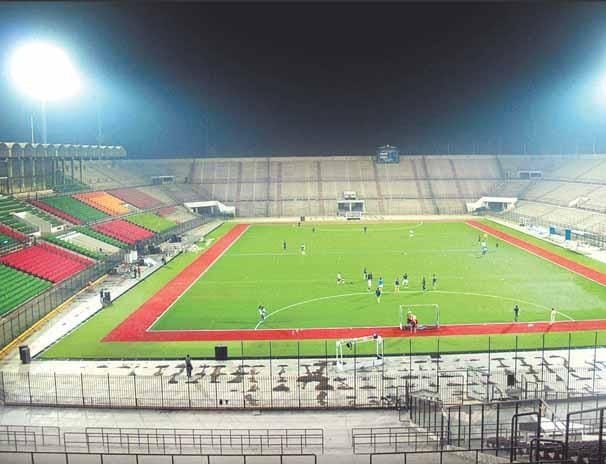 KARACHI– Administrator Karachi Iftikhar Ali Shalawani has said that a world class hockey stadium at KMC Sports Complex Kashmir Road will be completed in the next three months with a seating capacity of 3,000 spectators, consisting of KMC employees. 
Cricket and football teams will be formed, soon marathons, swimming championships and tennis competitions will be held in Karachi, he said on the occasion of a detailed visit to KMC Sports Complex Kashmir Road. 
He was accompanied by Senior Director Culture and Sports Syed Khurshid Shah, Director Sports Complex Muhammad Kanwar Ayub and other concerned officers. Administrator Karachi said that everyone should work together to make Karachi a city of sports, culture and knowledge once again.
"We have to work hard so that this city can regain its lost place in the world of sports and culture, he said, adding that sports activities in Karachi have almost come to an end and the playing fields are deserted.  I don't see them playing, which is why there are so many sports in Karachi  Reform players are not being produced whereas in the past world class cricketers, footballers, squash, table tennis, badminton players and swimming champions were born from Karachi and they not only made Karachi and Pakistan famous all over the world but also made their city famous."
He said that 80% work of world class hockey and football stadium has been completed in Kashmir Road Sports Complex and after its completion this stadium will be the most beautiful stadium in the city where citizens can enjoy interesting hockey competitions.  He said that Kashmir Road Sports Complex should be the center of sports as the 40-acre complex has all the facilities for sports but still, the young players of Karachi are not availing these facilities.
Immediate repair and renovation of 5 tennis courts located in Kashmir Road Sports Complex to make them playable while sheds will be set up in women's park, improve the walking area, and arrange training of children and youth in skating arena so that  Related to these sports  He said that children and youth should come here and make a name for themselves in these sports by acquiring skills through practice.
He said that the swimming pool at Kashmir Road Sports Complex is the largest swimming pool available at the government level in Karachi so make full use of this facility.  While separate swimming championships for children, youth and women should be held here, the Administrator Karachi said that sports are of utmost importance for mental and physical health and the nations that include sports in their lives should achieve fame.  As well as being mentally and physically ready to face all kinds of challenges and thrive and prosper, Karachi Administrator Iftikhar Ali Shalawani said that the game of football is gaining tremendous popularity all over the world.
And billions of dollars are earned through this game but in Pakistan this game has not got the importance it deserves so this game should be given full attention, he said that cricket consisting of KMC employees  And football teams will soon be back in action on the grounds  He directed the Director Sports Complex to make the environment of KMC Sports Complex such that citizens along with their families can take full advantage of this excellent facility available in their city and participate in positive and healthy activities.— PRESS RELEASE