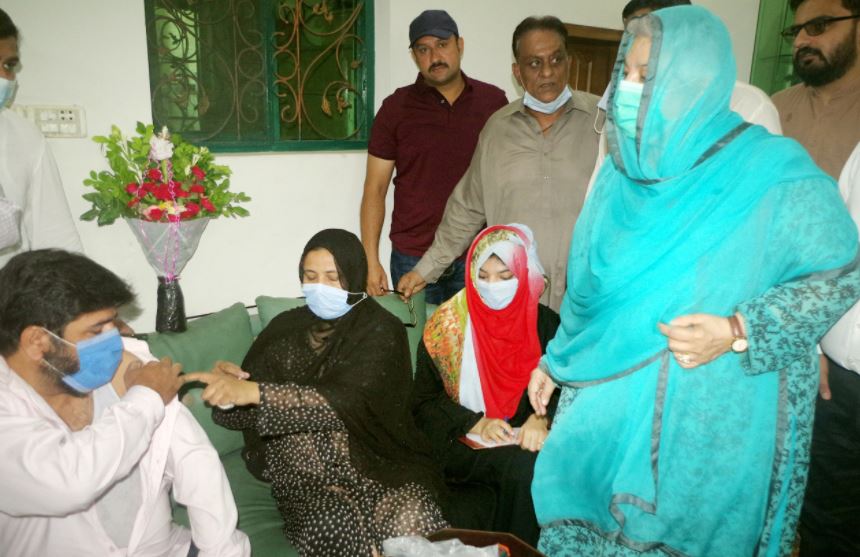 LAHORE– Punjab Health Minister Dr. Yasmin Rashid inaugurated new vaccination centers and opened new PTI office in NA 125 here on Saturday.
Present on the occasion were Ali Amir, Chairman Abdul Ghafoor Pappu, Mian Nadeem, Mian Ali Rasheed, Rana Nasim, Shahzad Numberdar, DDO (H) Zahid and representatives of LWMC. The Health Minister also visited home of PTI worker Mirza Faizan Baig to condole the sad demise of his father.
The Health Minister reviewed cleanliness arrangements at Islampura, Outfall road, Khokhar Town and Mohni Road and visited vaccination centers. DDO (H) and LWMC officials gave briefing to health Minister on vaccination and cleanliness. The Minster expressed satisfaction over the arrangements. Dr. Yasmin Rashid inaugurated PTI office at Mohni Road. Present on the occasion were Sadia Suhail, Tariq Sana Bajwa, Mian Hamid Mahmood and large number of PTI officials.
The Health Minister said, "All arrangements of vaccination and clealiness of roads are being regularly assessed. PTI workers are providing volunteery services to bring people for vaccination in NA 125 as per vision of Prime Minister Imran Khan."
Later addressing the workers on the eve of opening of new PTI office, Dr. Yasmin Rashid said, "I want to congratulate our workers on opening of new office. Entire world has apprecited Pakistan for its battle against Corona Pandemic. We want to save as many lives as possible by vaccination.
The ratio os vaccination in NA 125 is better than other constituency and the credit for this goes to PTI workers. By the blessings of Almighty Allah Pakistan suffered comparativeley lesses losses.We are working on smart lock down as per vision of Prime Minister Imran Khan. The PM wanted effective control without impacting life of common man.
Developed countries like UK, USA and European countries have appreciated Pakistan for its strategies. All public sector hospitals are providing free treatment facilities to Corona patients. The govt is providing costly treatment wherever needed. By December this year alll 29.3 million families shall be given Sehat Sahulat cards. Prime Minister has provided great reforms in education and health.
Sehat card holders shall be able to get free treatment for diseases like cancer. Eleven new hospitals are being set up. A 650 bedded mother and child hospital is being establshed in Lahore.Very soon ration cards shall be distributed in deserving families.
This year 42 rupees have been reserved for medicine procurement. Currently emergency and indoor treatments are being provided free. Mian Nawaz Sharif was also given free treatment. I appeal people to get vaccinated as early as possible."— HANDOUT