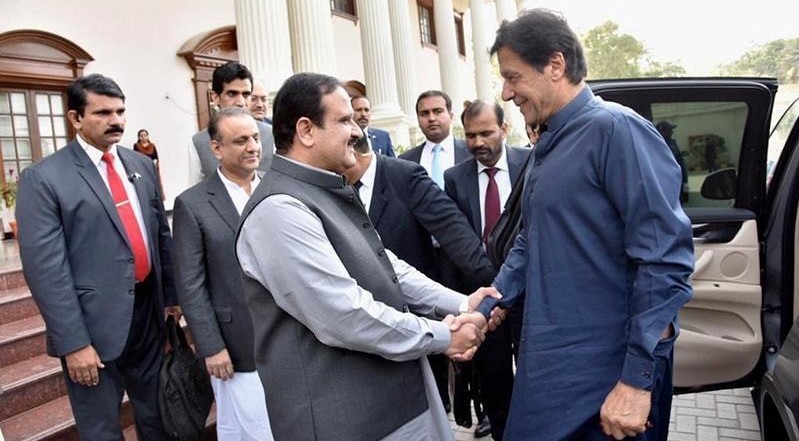 Muhammad Faisal Ali Ghumman
Quality governance, zero political interference in administrative matters and meritocracy have so far remained the giant claims of Prime Minister Imran Khan since he took over the reigns of the country in August 2018.
"Our only major problem in Pakistan is governance as previous military and political leaderships played major role in politicizing governance. Merit was abandoned and a new term of relaxation of rules was introduced which meant the slaughtering of merit," the premier told a gathering of Punjab-based bureaucrats in September last year.
He quoted the example of Khyber Pakhtunkhawa (KP) police that eliminated political interference by sustaining pressure of local politicians and dismissed 5,000 corrupt policemen. Mr Khan dubbed the force as depoliticised force that later got the backing of public for fighting terrorism and crime.
"We have to correct police and we have to deploticise the bureaucracy in entire Pakistan."
He made it clear to the serving bureaucrats that the PTI will exert no pressure on them for any illegal act and will not directly interfere into their field jobs.
"The PTI government will give you full opportunity to adopt merit oriented governance to serve masses. We will crack culture of using district administration-police and general administration- for illegal favours."
Take a look at the charisma of words the premier uttered in a couple of speeches to the civil servants in Islamabad and Lahore with central focus on meritocracy.
Should the premier be called a man of words when officers in the district administration and police in Punjab are being transferred on the direct intervention of the central government and cabinet members?
Over a dozen Deputy Commissioners (DCs) and District Police Officers (DPOs) have been transferred merely on political interference.
To substantiate the continuity of undue interference in the administrative matters by this government let's discuss the recent transfer of the Nankana DPO who hardly survived for three months in office.
The officer had to face undue interference by the real brother of the federal interior minister in influencing transfers and postings of Station House Officers (SHOs) and getting illegal acts such land grabbing implemented at the cost of innocent citizens.
Interestingly the PTI-led Punjab government kept resisting the DPO's transfer for over a month, but eventually surrendered before the federal government as the minister was much powerful than Chief Minister Sardar Usman Budzar.
Similarly, an officer who was the then Deputy Commissioner Hafizabad, was transferred merely on the intervention of a sitting MNA who desired to be intervened for seeking undue favours.
Example of transfers in the Punjab police are much visible as atleast two district police chiefs of Pakpattan were transferred on the intervention of Manika family whom the first lady belongs.
"Had I been serving the interests of a minister and his family I would be enjoying longest posting not only in the same district but also would manage other future postings by developing deep contacts with the political personality," commented a serving bureaucrat.
I am curious to hear from the Prime Minister himself or his advisers to justify the standards of merit in the light of visible undue interference in administrative matters and removal of field officers who showed defiance against illegal orders.
How can the people of Pakistan minus PTI supporters expect merit in governance, rule of law and corruption free Nia Pakistan (New Pakistan) when almost 80 per cent of the PTI ministers, advisors, legislators and party office-bearers and leaders with tainted reputes have been welcomed from the political parties the premier always blamed for causing corruption and ruining the country's wealth.
How can justice be delivered at the doorstep of complainants and public service can be improved when appointments of field officers will follow 'pick' and 'choose' criteria adopted by all previous political and military regimes?
The pillars of Pakistan Tehreek-e-Insaaf (PTI) that raised on core slogan of Justice seem to be weakened by the plague of traditional political culture.
–The writer is blogger, English Content Specialist 92 News HD, Editor-in-Chief lahoremirror.com, Ex-Editor Daily The Business and Ex-Correspondent Daily Dawn. He also teaches students of media studies.  
He can be reached at alfaysal77@gmail.com, https://twitter.com/alfaysal77, https://www.facebook.com/LahoreMirror