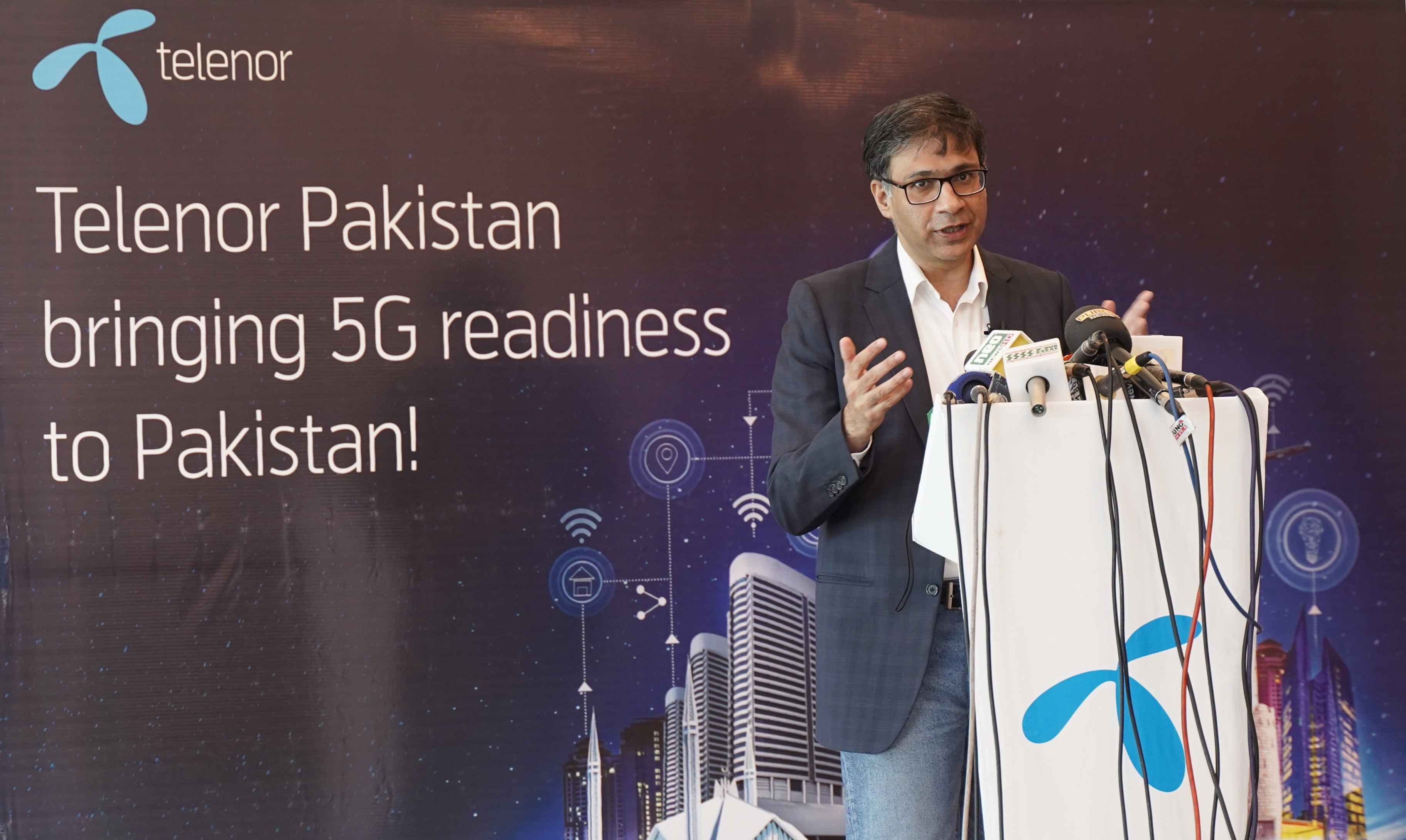 Telenor Pakistan Gets Ready to Bring 5G to Pakistan
ISLAMABAD– Taking another stride towards network transformation and digitalisation, Telenor Pakistan and its network partners have geared up to make the network 5G ready to pass on the benefits of this transformative technology to the people of Pakistan in the coming years.
5G is the fifth-generation cellular network technology that offers faster data transfer speeds and enables advanced solutions such as smart homes,smart cities, autonomous driving, automated emergency services,remote medical diagnosis, smart manufacturing, cloud gaming and enhanced content& media experiences to name a few.
The development cements and once again demonstrates Telenor Pakistan's position as the frontrunner of innovation and digital transformation in the country. Today, the company has the country's first and only 4.5G network and takes the lead with such industry-first initiatives as IoT, Cloud Services, and overall digital ecosystem development comprising innovative solutions for gaming, entertainment, and 3G/4G devices portfolio, etc. Telenor Pakistan took the first step towards 5G enablement last year by beginning the evolution of its network corefrom legacy architecture to state-of-the-art virtualized hybrid core, taking the lead towards 5G readiness. The latest development takes Telenor Pakistan one step closer to successful launch of end-to-end 5G trials to demonstrate the potential of futuristic technologies and solutions for socioeconomic advancement.
"As Pakistan gears up for future technologies that will be integrated into governance, businesses and people's lives, the role of 5G becomes imperative," said Irfan Wahab Khan, Chief Executive Officer Telenor Pakistan and Head of Telenor Emerging Asia Cluster, while sharing his thoughts on the development. "With this latest step towards digitalisation and network transformation, Telenor Pakistan is opening up new possibilities for millions of Pakistanis who will be the actual winners in the development. We look forward to continued government support as a digitalisation partner for adequate spectrum allocation for adoption and penetration of 5G over the next few years."
"Staying devoted to our vision of empowering the people, we have made use of innovative technologies to bring them newer and better opportunities," said Bilal Kazmi, Chief Marketing Officer, Telenor Pakistan while speaking to the media at Telenor Pakistan Headquarters. "We are happy to further our goals of communications innovation and digitalisation across sectors, which is exactly what this development aims for. We will continue to play our part to leverage technology as the greatest equalizer and enhance the ecosystem that we set out to build years ago through network transformation and expansion, data solutions, content services and introduction of affordable devices."
Telenor Pakistan, driven by its vision of empowering societies, continues to take groundbreaking initiatives to lead Pakistan towards a digital economy. Connectivity and data being the enablers that empower people, the company believes that connecting people to what matters most to them is truly realized only if it continues to innovate and impact millions of lives.— PRESS RELEASE