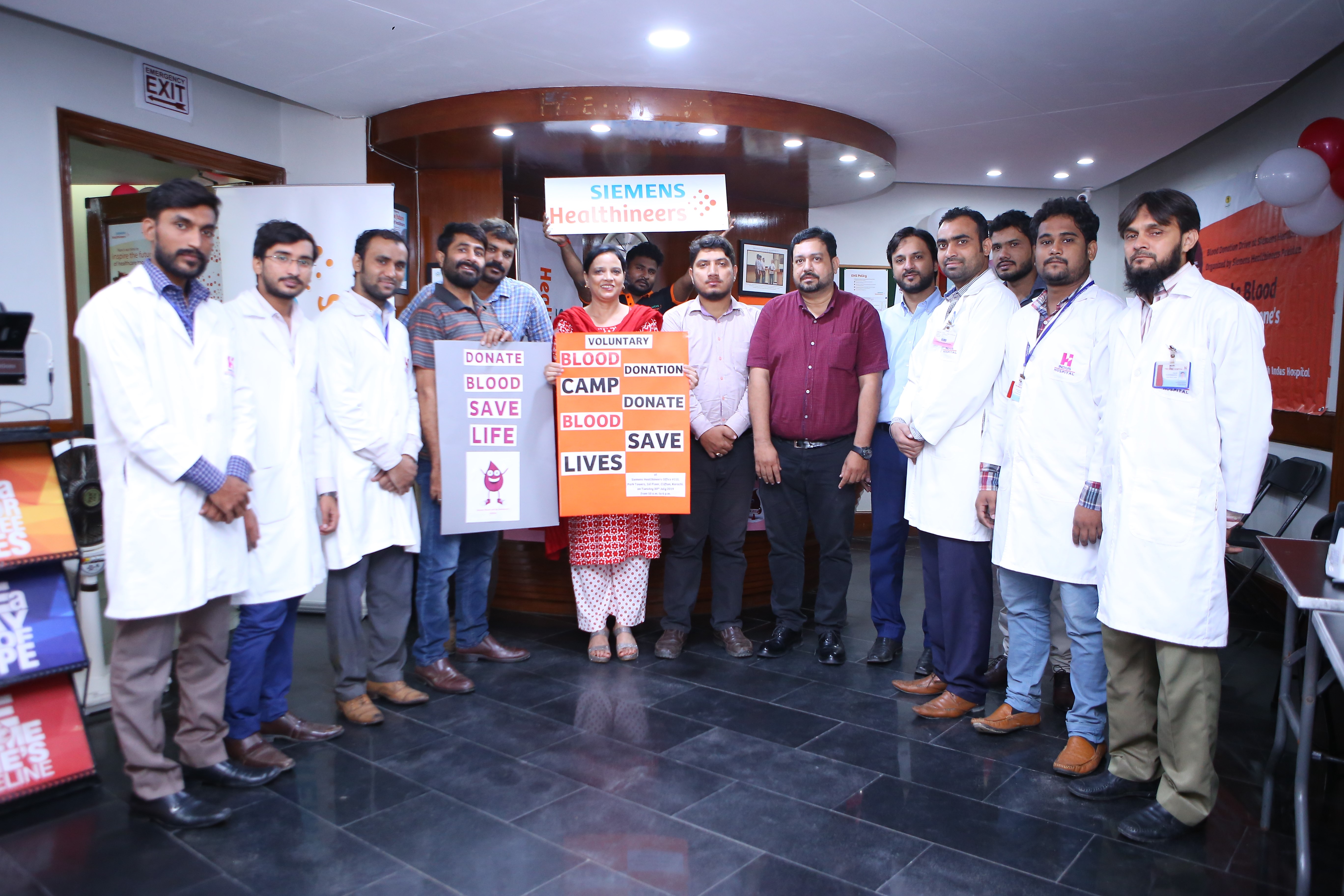 Siemens Healthineers, Indus Hospital Organize Blood Donation Drive
KARACHI– Siemens Healthineers in Pakistan organized a blood donation drive at its Karachi office on July 31.
The drive was clinically managed by Indus Hospital, a well-renowned multidisciplinary hospital in Karachi, who were present at the camp with a team of medical professionals to screen donors and subsequently collect blood donations.
A collection camp was set-up for Siemens Healthineers employees who voluntarily came forward to be part of this welfare initiative. The employees were also given an educational lecture to raise awareness on thalassemia,an inherited blood disorder, which effects approximately 5% of the 200 million population in the country.
Khurram Jameel, Managing Director and CEO of Siemens Healthcare (Pvt.) Ltd,underlined the importance of raising awareness of donatingblood. He commented, "Participating at blood donation drives is surely for a very noble cause, which help saves lives. We are very pleased to partner with the Indus Hospital in realizing this common goal. We sincerely hope that by raising awareness and initiating such camps, we are able to give back to the society and help in saving lives."
Certificates and small tokens of appreciation were presented to the donors by the representatives from Indus Hospital and Siemens Healthineers.
Siemens Healthineers enables healthcare providers worldwide to increase value by empowering them on their journey towards expanding precision medicine, transforming care delivery, improving patient experience and digitalizing healthcare.
A leader in medical technology, Siemens Healthineers is constantly innovating its portfolio of products and services in its core areas of diagnostic and therapeutic imaging and in laboratory diagnostics and molecular medicine. Siemens Healthineers is also actively developing its digital health services and enterprise services.
In fiscal 2018, which ended on September 30, 2018, Siemens Healthineers generated revenue of €13.4 billion and adjusted profit of €2.3 billion and has about 50,000 employees worldwide. Further information is available at www.siemens-healthineers.com.— PRESS RELEASE