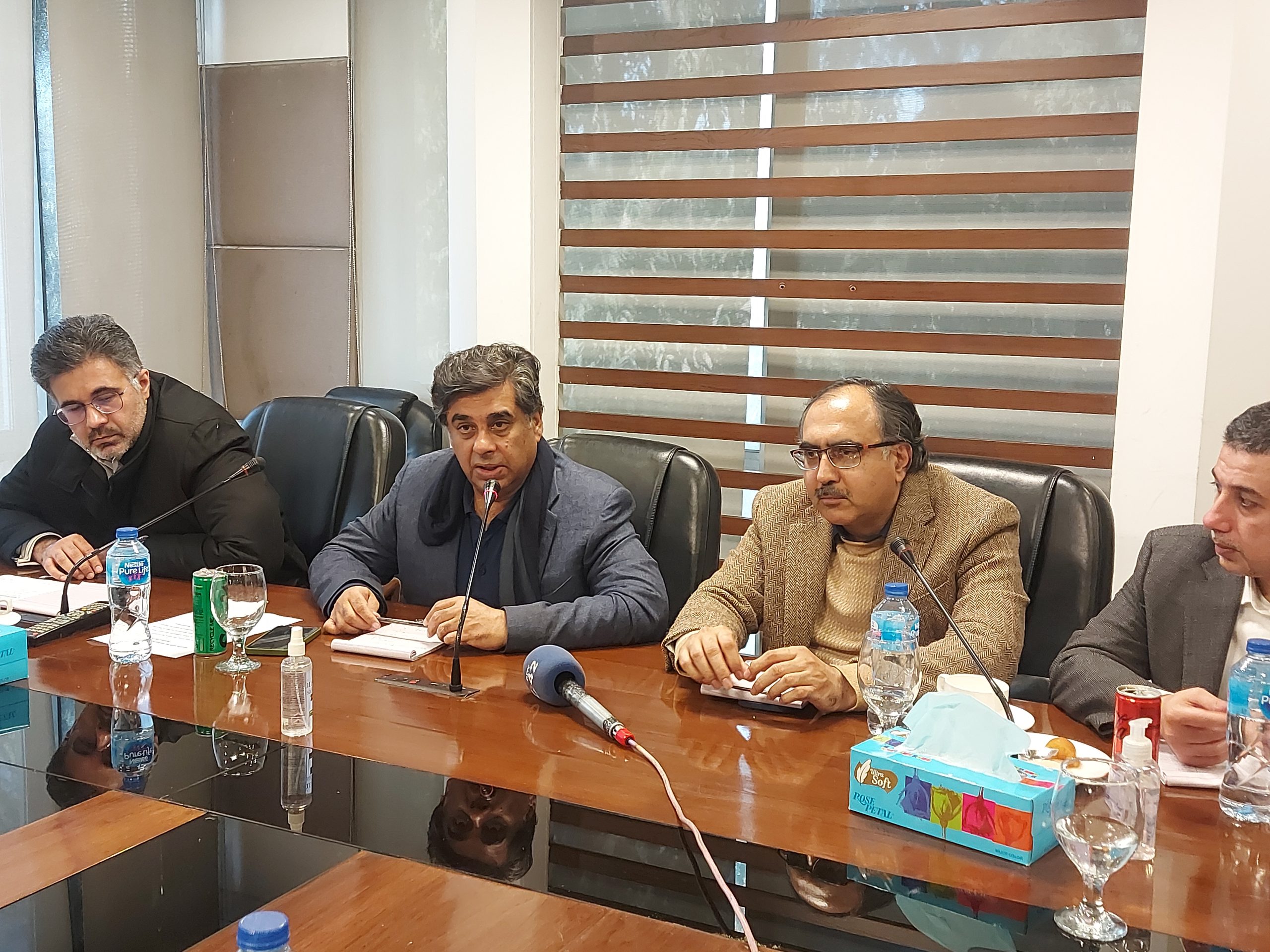 LAHORE MIRROR — Mr. Ahmad Aziz Tarar, Secretary Agriculture, Government of Punjab has constituted a joint committee with All Pakistan Textile Mills Association (APTMA) to finalize cotton strategy ahead of the cultivation of fresh crop in the province.
He was speaking to the APTMA members during his visit to APTMA North Zone. Mr. Shabir Ahmad Khan, Additional Secretary Task Force, Mr. Qadeer Ahmad Bajwa, Additional Secretary Planning, Dr. Muhammad Anjum, DG Extension & Adaptive Research, and Malik Muhammad Akram, DG Water Management were also accompanying him on the occasion.
Patron-in-Chief APTMA, Dr Gohar Ejaz, Senior Vice Chairman Mr. Kamran Arshad, Vice Chairman Mr. Asad Shafi, Secretary General Mr. Raza Baqir and other members of the Association welcomed the delegation at the APTMA Lahore office.
Secretary Agriculture said the committee would consist of five members each from the Punjab government and APTMA to finalize its recommendations in a meeting scheduled for the next week. He said all the best efforts would be made to make cotton production profitable business for the farmer community.
Speaking on the occasion, Patron-in-Chief APTMA Dr Gohar Ijaz said there was a misconception about the price of cotton in Pakistan, saying that it was $1.05 in the country against 87 cents worldwide. He further pointed out that the textile industry was generating $1.3 billion from each one million bale of cotton, which means that it was doing 310% value addition at present.
According to him, the IMF had given loan of $6 billion since 2008 while the textile export sector of the country alone has generated $150 billion during the same period. Similarly, he added, the annual debt of the country has increased by $5 billion per annum since 2008 while the textile industry has the potential of generating additional $6 billion out of 15 million bales annually.

He said the industry has the potential toad value worth $1.3 billion against each one million bale of cotton consumed by it.
He said farmer would only be attracted if all the stakeholders are succeeded in increasing area as well as per acre yield of cotton ahead.
Senior Vice Chairman APTMA Mr. Kamran Arshad said multiple factors have been involved in reduction of cotton crop from 13 million bales in 2014 to 5 million bales today. He said the Punjab government, along with its cotton research wings, have agreed to join hands with APTMA to redesign the roadmap of how to increase cotton production in the country.
In Punjab, he said, the cotton production has dropped to 3 million bales from 12 million bales in 2011-12. He recalled that the province of Punjab had registered 12 million bales back in 1993-94 as well.
Vice Chairman APTMA Mr. Asad Shafi made a detailed presentation on the existing industry challenges in terms of cotton shortage and apprised him about the short term roadmap of APTMA for revival of cotton crop in the province. He also gave him a detailed introduction of the APTMA Cotton Foundation to the government functionaries.
Mr. Raza Baqir, Secretary General APTMA, extended vote of thanks to the visiting delegation and expressed the hope that both the sides would come up workable solutions to enhance cotton production through timely actions.