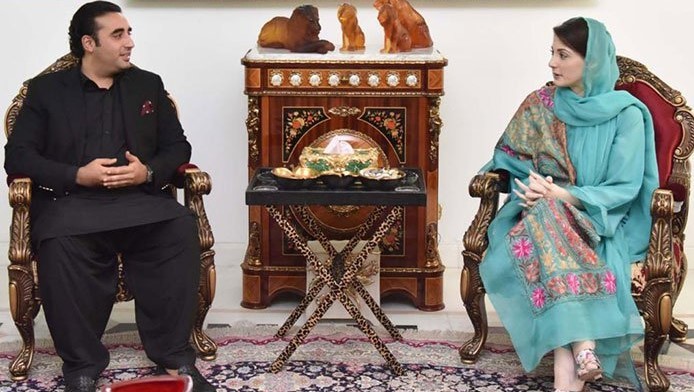 PPP's Bilawal Meets Maryam Nawaz At Jati Umra, Discusses Political Situation
LAHORE– Pakistan Peoples Party chairman Bilawal Bhutto Zardari met Pakistan Muslim League-Nawaz vice president Maryam Nawaz at Jati Umra in Raiwind on Sunday.
The PML-N vice president had extended invitation during a telephonic conversation to Bilawal.
During a news conference, Bilawal confirmed he had been invited by Maryam for the meeting.
"Solving the problems of the country is not in the hands of just one party," Bilawal said.
He added, "So what if you put one family in jail, in fact, put the entire party in jail. We will not come under any pressure." The meeting will be attended by a few close aides from both political parties.
PPP leaders Qamar Zaman Qaira, Chaudhry Manzoor, Hassan Murtaza and Mustafa Nawaz Khokar are expected to join Bilawal for the meeting. While Pervaiz Rashid, Rana Sanaullah, Muhammad Zubair and Ayaz Sadiq will join the meeting from the PML-N side.
Sources said the two leaders would discuss contemporary political situation following the 2019 budget announced by the government.
In May, the two political leaders met in an Iftar dinner in Islamabad, where leaders from other political parties were also present.
SOURCE: GEO NEWS