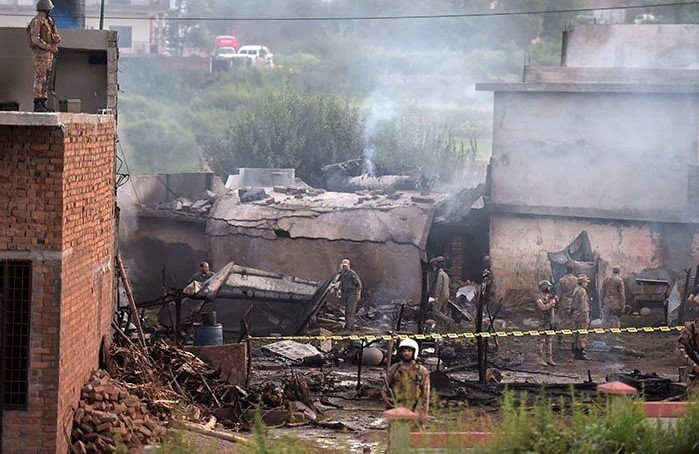 Pak Army Training Aircraft Crash in Rawalpindi Leaves 18 Dead Including 2 Lt Cols
RAWALPINDI– At least 18 people lost their lives including five military personnel when a plane of Pakistan Army Aviation crashed near Mora Kalu in Rawalpindi on Tuesday.
According to Inter-Services Public Relations (ISPR), the aircraft was on a routine training flight when it crashed but there was no immediate word on the cause of the accident or the type of aircraft involved. Two pilots were among the five army personnel martyred. 
The crash also resulted in 12 fatal civilian casualties while 12 others were injured, ISPR added. However, local officials placed the number of civilian deaths at 13.
Lt Col Saqib, Lt Col Wasim, Naib Subedar Afzal, Hawaldar Amin and Hawaldar Rahmat were among the martyred, the military's media wing added.
Soon after the crash, a massive fire broke out that engulfed several houses in the locality.
Rescue teams of 1122 and Pakistan Army immediately reached the site and started the rescue operation.
ISPR added, rescue officials had extinguished the fire caused by the crash and moved the injured to a local hospital.
In 2016, a Pakistan International Airlines plane burst into flames after one of its two turboprop engines failed while travelling from remote northern Pakistan to Islamabad, killing more than 40 people.
The deadliest air disaster on Pakistani soil was in 2010 when an Airbus 321 operated by private airline Airblue and flying from Karachi crashed into the hills outside Islamabad while coming in to land, killing all 152 on board.
President, PM grieved over loss of lives
President Dr Arif Alvi and Prime Minister Imran Khan Tuesday expressed their deep grief and sorrow over
the loss of precious lives in a trainer plane crash incident in Rawalpindi.
According to press releases, the president and prime minister expressed their condolences with the bereaved families and prayed for the high ranks of martyrs.
They also prayed for the early recovery of the injured.
SOURCE: GEO NEWS AND PRESS HANDOUT