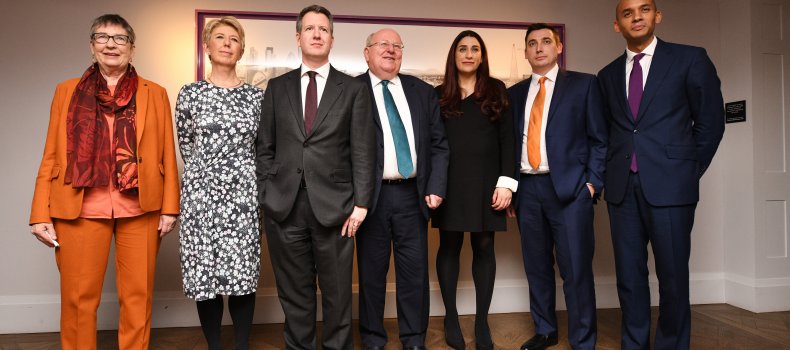 Non Confidence on Jeremy Corbyn's Leadership; Seven MPs Quit Labour Party
Brexit and anti-Semitism are major factors behind resignation
LAHORE MIRROR (Monitoring Desk)– After having trust breach, seven MPs have left the Labour Party in protest at Jeremy Corbyn's approach to Brexit and anti-Semitism.
Those who resigned are Chuka Umunna, Luciana Berger, Chris Leslie, Angela Smith, Mike Gapes, Gavin Shuker and Ann Coffey.
Ms Berger said Labour had become institutionally anti-Semitic and she was "embarrassed and ashamed" to stay.
Mr Corbyn said he was "disappointed" the MPs had felt unable to continue working for the policies that "inspired millions" at the 2017 election.
Shadow Chancellor John McDonnell said the "honourable thing for them to do" would be to stand down as MPs and seek to return to Parliament in by-elections.
Labour's deputy leader Tom Watson, in a video message on Facebook, urged the "hard left" to stop celebrating the departure of the seven MPs, saying it was "a moment for regret and reflection not for a mood of anger or a tone of triumph".
"Betrayal narratives and shouting insults at the departed might make some feel better briefly but it does nothing to address the reasons that good colleagues might want to leave," said Mr Watson.

He said Luciana Berger's decision to quit was a "wake-up call for the Labour Party" over anti-Semitism, saying: "We were slow to acknowledge we had a problem and even slower to deal with it."
Labour had to "broaden out" and become more tolerant, he said, adding: "I love this party. But sometimes I no longer recognise it, that is why I do not regard those who have resigned today as traitors."
MPs will now sit in parliament as Independent Group
The seven MPs, who all back a further EU referendum, are not launching a new political party – they will sit in Parliament as the Independent Group.
But Chuka Umunna said they had "taken the first step" and urged other Labour MPs – and members of other parties – to join them in "building a new politics".
"It is time we dumped this country's old-fashioned politics and created an alternative that does justice to who we are today and gives this country a politics fit for the here and now – the 21st Century," he said at a launch event in central London.
SOURCE: BBC NEWS