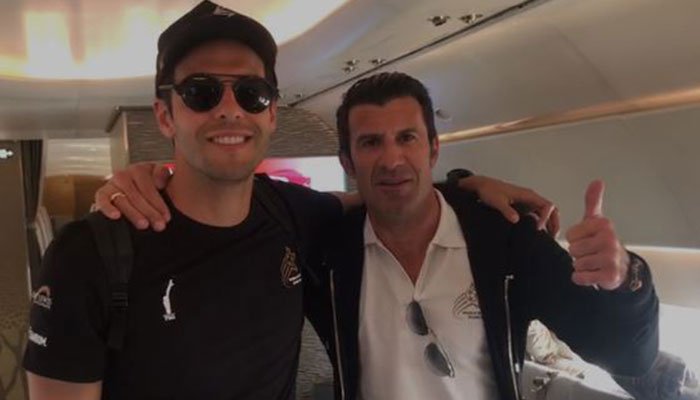 Kaka And Figo Arrive In Pakistan To Launch World Soccer Stars
KARACHI: Football icons Ricardo Kaka and Luis Figo arrived in Karachi on Friday to formally launch World Soccer Stars event.
The duo will make a special appearance at Karachi's Pearl Continental, after which they will visit Lahore for another press conference. They reached Karachi via a special flight from Dubai earlier today.
Brazilian star Kaka and Portuguese legend Figo, who will be promoting World Soccer Stars during their visit to Pakistan, were welcomed at Karachi's Jinnah International Airport with the traditional Sindhi ajrak and topi.

World Soccer Stars has promised a football spectacle starting from April 26 to 29 with two matches in Karachi and Lahore.
In a Twitter post on Wednesday, Kaka said he was looking forward to spending a few days in Pakistan.
Figo shared similar feelings in an earlier message on social media. "It is exciting to see another emerging country in Asia embrace football. I'm certain in a population of 220 million there must be huge potential waiting to emerge into the international scene," the former Portuguese footballer tweeted.
The event is being organised by TouchSky Group who hopes that the visit of the legendary duo will help portray Pakistan's softer image to the rest of the world.