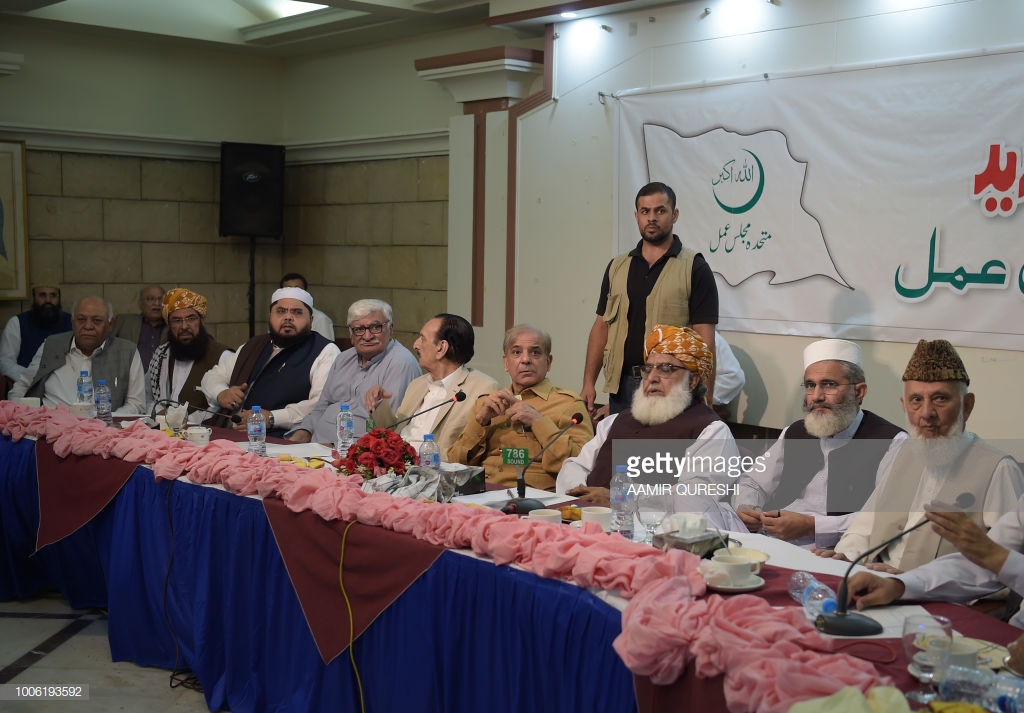 Elections 2018: PML-N, MMA-convened APC rejects 'rigged' results
ISLAMABAD (Lahore Mirror Monitoring Desk) – The All Parties Conference convened by Pakistan Muslim League-Nawaz (PML-N) and Muttahida Majlis-e-Amal (MMA) categorically rejected the results of the July 25 country polls.
PML-N President and former Chief Minister Punjab Shehbaz Sharif and JUI-F Chief Fazlur Rehman spoke to the media after presiding over the APC meeting on Friday and conveyed their sentiments about elections.
"People have been robbed of their mandate," Fazlur Rehman said, added, "people claiming victory in the elections, we reject their claims as well."
He remarked: "We want democracy. We have sacrificed so much for democracy to prosper in the country." People who think they have won fairly should know that they have no real power, he said.
He further said that they will organise protest demonstrations in different parts of the country till elections are held again.
It is pertinent to note that main political parties such as Pakistan Peoples Party and Muttahida Qaumi Movement-Pakistan did not attend the APC.
With regards to the parties who didn't attend the APC, he said that they will be contacted once again and asked to be a part of their struggle.
'Candidates to not take oath till demands are met'
Fazlur Rehman, who lost from both NA-38 and NA-39, also shared that the APC participants have decided that their leaders will not take their oaths till their demands are met.
However, he added, that the decision of the PML-N will be confirmed later.
Shehbaz explained that he needs time to discuss the proposition with the central executive committee of the PML-N. "I need time to discuss if we will take the oath or not," he said.
Reiterating his earlier claims, Shehbaz said that votes were rigged.
APC meeting in Islamabad
The APC meeting, which was held at JI leader Mian Aslam's house in Sector F-8, focused on parties' plan of action regarding the results of the General Election 2018.
PML-N leaders Shehbaz, Sardar Mehtab, Khurram Dastgir and former prime minister Shahid Khaqan Abbasi along with JUI-F's Maulana Fazlur Rehman and Akram Durrani attended the meeting.

The provisional, official poll results late Thursday showed the Pakistan Tehreek-e-Insaf (PTI), headed by cricketer-turned-politician Imran Khan, in lead.
Sattar attends APC despite MQM-P's boycott
Muttahida Qaumi Movement-Pakistan leader Farooq Sattar attended the APC even though MQM-Pakistan had announced to not attend the APC.
Speaking about his appearance, Sattar shared that he is not in contact with Rabita Committee. "I wasn't aware of the decision to boycott the APC," he said.
Responding to this, MQM-Pakistan's Amir Khan had shared that Farooq Sattar was told to not attend the meeting. "Rabita Committee had made a united decision to not attend APC, he added.
Sources had said that the MQM-Pakistan had changed its decision at the last moment after a phone-call with PTI's Jahangir Tareen.
Rigging allegations
As PTI workers from across the country celebrated the results, the outgoing PML-N rejected the suggested outcome, citing "outright rigging" and accusing officials of preventing its representatives from overseeing the count.
PML-N president Shehbaz Sharif alleged that the election was rigged and his party will strongly protest the results in the National Assembly. He further said that PML-N would also take up legal proceedings against the poll results.
MMA, a political alliance consisting of conservative, religious, and far-right parties of Pakistan, has also protested against the poll results. President of MMA Maulana Fazl-ur-Rehman said the results were not the public's mandate.
"This result is not the public's mandate, in fact, the nation's mandate was robbed," Rehman said, further adding that the worst example of rigging had taken place in the General Election 2018. "It won't be easy to impose this result. We will strongly protest against it."
PML-N declares Imran's scrutiny offer 'unnecessary'
Talking to Geo News Thursday night, PML-N leader and former foreign minister Khawaja Asif said Imran's offer of scrutinising certain electoral constituencies was unnecessary as the law itself gives a candidate this right.
Asif further observed that his party could make a strong opposition in the National Assembly with around 100 seats.
"We can form a strong opposition but like Imran, I cannot curse the assembly, call it fake, and draw a free salary," Asif lashed out at the PTI chief.