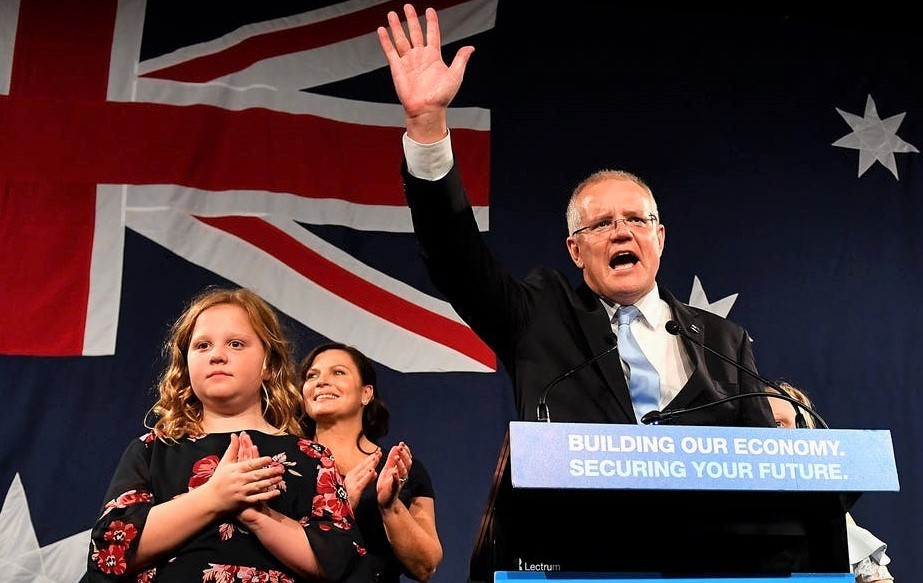 Australia Election 2019: PM Scott Morrison Celebrates 'Miracle' Win
LAHORE MIRROR (Monitoring Desk)– In what appears to be a shock result at the national polls, Australian Prime Minister Scott Morrison has thanked voters for re-electing his centre-right Coalition.
He told supporters he had "always believed in miracles" as partial results showed the Liberal-National Coalition close to a majority.
Opposition Labor Party leader Bill Shorten has announced he is resigning after accepting defeat.
Exit polls had suggested a narrow Labor win for the first time in six years.
The final result of the election may not be known for some hours, but with more than 70% of votes counted the Coalition has won, or is ahead in, 74 seats in its quest for a 76-seat majority, with Labor on just 66 seats.
Australia has mandatory voting and a record 16.4 million voters enrolled for the election, which returns a new House of Representatives and just over half of the seats in the Senate.
What are the leaders saying?
"It is obvious that Labor will not be able to form the next government," Mr Shorten told Labor Party members. He said he had called Mr Morrison to congratulate him, and announced he would not stand for re-election as Labor leader.
Thanking his opponent, Mr Morrison paid tribute to "the quiet Australians" who had voted for the Coalition.
"It has been those Australians who have worked hard every day, they have their dreams, they have their aspirations, to get a job, to get an apprenticeship, to start a business, to meet someone amazing," he said.
"To start a family, to buy a home, to work hard and provide the best you can for your kids. To save for your retirement. These are the quiet Australians who have won a great victory tonight!"
"I said that I was going to burn for you, and I am, every single day," he added.
Mr Morrison's second-in-command, Treasurer Josh Frydenberg, fought off a strong challenge for his seat in Melbourne. He attributed the Coalition's success to "the economic choice" made by voters.
In Sydney, Liberal supporter Greg Napper summed up the mood for Reuters news agency: "I thought I was coming to a wake, to be quite honest with you. This is a party – the results are encouraging."
SOURCE: BBC NEWS