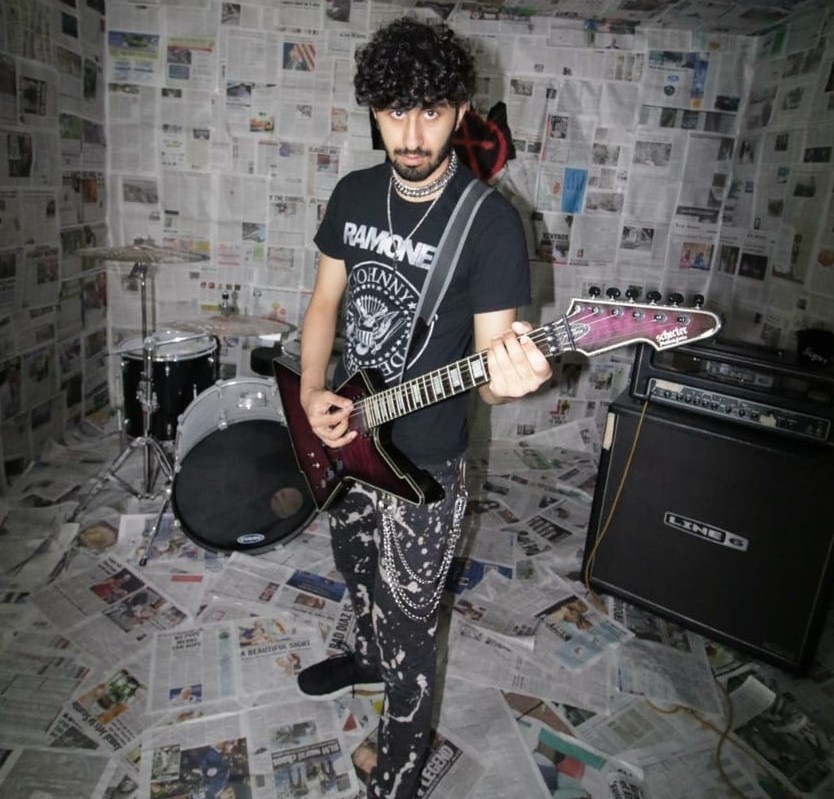 Zinks: Pakistani Teen Musician Getting His Presence Felt in the US
NEW YORK– The US music market is highly competitive and to get ahead in it requires both high quality music and an innovative sound. Zinks (https://www.instagram.com/zinks_music/), real name Shahaan, is a 15 year old Pakistan-American musician who has created a new genre melding Punk and Death Metal together to create his own sound.
His latest single FTA (https://soundcloud.com/zinkgb/fta-prod-zinks) evokes the rebellious sound of bands like Black Flag and The Dead Kennedys, while also bringing the anger and intensity of Rings of Saturn and Suicide Silence to the mix. For a 15 year old this shows amazing musical maturity and thought – let us explore how this talent was formed.
Zinks grew up with music all around him. His father is an avid musician and his 16 year old brother, a.k.a. Permafroze (https://www.instagram.com/permafroze/), has been playing music since the age of 10. From a young age Zinks listened to bands like Metallica, System of Down, and Rage Against the Machine – these bands were early musical influences that you can still hear in his music today. After learning guitar and becoming a shred metal guitarist at 12 Zinks was performing on stage alongside his brother both as individuals, and as a band called KMF, in the New York and New Jersey area. By 13 years old Zinks was releasing self produced tracks on major music streaming services like SoundsCloud (https://soundcloud.com/zinkgb) and iTunes (https://music.apple.com/us/artist/zinks/1438541902).
Zinks' early music was more in the Scream Trap genre, after honing his skills there he is not releasing Punk Metal tracks that are taking the market by surprise. But we wanted to know more about Shahaan, the man behind the music.
Shahaan, a.k.a. Zinks, is a straight A student in school and has a deal with his parents that as long as he maintains his grades he can continue focusing on this music career. Shahaan is proud of his Pakistani and Muslim identity. Even though he lives in the U.S. he has maintained his religious practices like fasting through the month of Ramadan and praying five, and often six, times a day. He has been known to include Punjabi and Urdu in some of his Scream Trap songs.
So when will we see Zinks in the Pakistani music market? It sounds very soon. He was planning to do Pakistan shows in 2020 but the COVID-19 pandemic may have put a damper on those plans. Regardless, in his words "wait I might have a surprise in store," so we might see some of his music in Pakistan soon.
At the end of our talk we touched on Zinks' brother Permafroze's recent success of becoming #1 on the US SoundCloud Alternative Rock charts Zinks smiled and said "I'm 15 months younger than him so just wait a year and we'll see where I'm at." It was inspiring to see these two brothers, proud of being Pakistani and Muslims succeeding in the contemporary global music market – looking forward to their Pakistani debut.— PRESS RELEASE