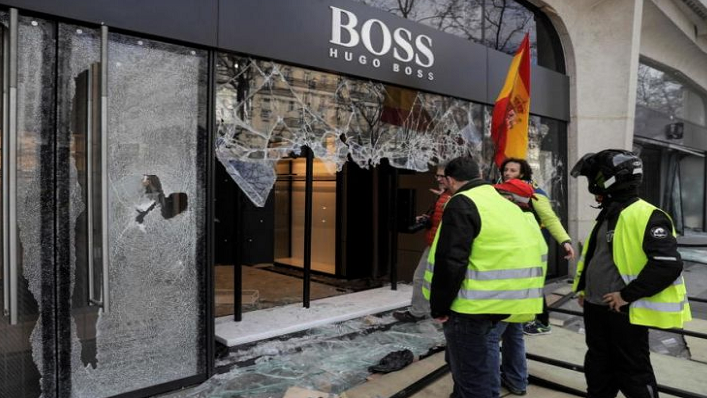 LAHORE MIRROR (Monitoring Desk)– Thousands of Yellow Vest demonstrators smashed and looted shops in Paris Saturday after they resumed the protests that began four months ago in France.
Rioters torched a luxury handbag store and vandalised an upscale restaurant on the famed Champs-Élysées avenue.
Police used water cannon and tear gas to disperse the protesters. More than 120 people were arrested.
The protests began over fuel tax rises but have since developed into a broader revolt against perceived elitism.
Police say about 10,000 people took part in Saturday's protest in the French capital, a marked increase compared with similar demonstrations in recent weeks.
Another 4,000 people took to the streets elsewhere in France.
However, tens of thousands of people took part peacefully in a separate march against climate change in another part of Paris.
Protesters threw cobblestones at police at the Arc de Triomphe war memorial. As well as a surge in numbers on Saturday, there was a return to the levels of violence that characterised the early protests.
Fouquet's – an upscale restaurant popular with politicians and celebrities – was vandalised, as was a Boss menswear store.
Rioters also set fire to the luxury Longchamp handbag store.
Fires were lit in the streets, with at least one car set ablaze, and a bank branch was set alight.
The bank was located on the ground floor of an apartment building, which was engulfed by flames.
The fire service evacuated the residents and extinguished the blaze.
Eleven people, including two fire fighters, suffered minor injuries, a spokesman told the AFP news agency.
SOURCE: BBC NEWS