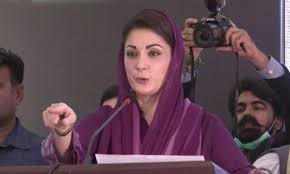 By Our Web Desk
ISLAMABAD–  PML-N Vice President Maryam Nawaz has has expressed her concern over the manhandling of PML-N leaders by some PTI supporters out side the Parliament House.
While addressing a press conference she said "My head is held high with pride, how you confronted a few dozen rented goons and forced them to run," she told the PML-N leaders. "You told the nation that the nation's representatives, lions, can overwhelm a few dozen goons."
Maryam said she was not surprised to see the visuals of the scuffle on television, saying "when a jackal's death comes then it runs towards the city".

She said when the PTI was in the opposition, its supporters "did hooliganism on the parliament like this and now that they're in government, even if through a false manner, they exhibited the same hooliganism today".
"So I'm happy that instead of us, they themselves told the 220 million people that they may have taken the fake vote of confidence but they're on their way out," she added.
Maryam said she was sad about the way PML-N leader Marriyum Aurangzeb was "attacked", over which she said the whole nation was saying "shame shame".
After this shoe you threw at Ahsan Iqbal and the worst manners you demonstrated, I want to say that your days are counted," she told the PTI leadership. "The security in which you come and go, it will be taken from you very soon so try to venture out among the population without security, 220 million people are ready to attack you with shoes in hand", she concluded.