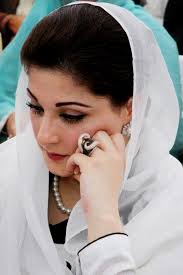 VIDEO: Camera Hits Maryam Nawaz's Head At Lahore Hospital
LAHORE: Maryam Nawaz Sharif, the daughter of former Prime Minister Nawaz Sharif, received a rather painful welcome on Saturday as she arrived at a local hospital in Lahore to visit her father.
Journalists and TV cameramen had gathered at the hospital to make videos of her entering the hospital. But just as she entered, one of the cameramen close to the Pakistan Muslim League-Nawaz (PML-N) lost his balance, with his camera hitting Maryam on the side of her head. Journalists and cameramen said Maryam's security team and PML-N workers pushed them, resulting in one cameraman knocking into her.
Video showed Maryam wincing from pain walking with her hand on her head after the incident.