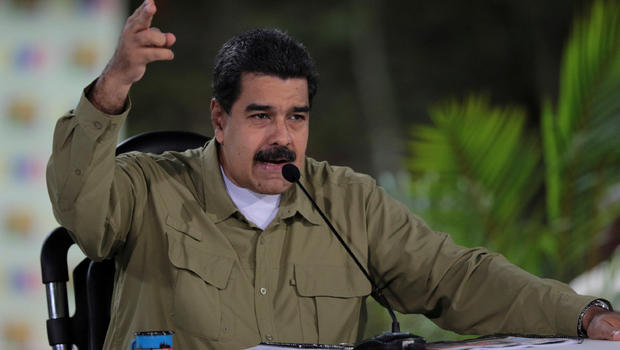 Venezuela: President Nicolas Maduro Escapes Life Attempt In A Drone 'Attack'
Explosives-carrying drone landed at the time of his televised speech
VENEZUELA (Lahore Mirror Monitoring)– Venezuelan President Nicolas Maduro escaped a life attempt on Saturday after a drone loaded with explosives detonated near a military event where he was delivering a speech, media reports claimed.
Maduro remained unhurt in what her termed an assassination attempt on him, but seven people were wounded in the apparent attack, which came as Maduro celebrated the National Guard's 81st anniversary in the capital, Caracas.
Maduro later said "everything points" to a right-wing plot that an initial investigation suggested was linked to Colombia and the US state of Florida, where many Venezuelan exiles live. Several perpetrators were caught, he said, without elaborating.
"This was an assassination attempt, they tried to assassinate me," Maduro said in a televised address. "That drone was coming for me but there was a shield of love. I am sure I will live for many more years."
A little-known group called the National Movement of Soldiers in T-shirts claimed responsibility for the attack. In a series of posts on social media, the group said it planned to fly two drones but snipers shot them down.
"We demonstrated that they are vulnerable. We didn't have success today, but it's just a question of time," said the group.
It said it was founded in 2014 to bring together all of Venezuela's "groups of resistance".
Attorney-General Tarek William Saab said the attempted assassination targeted not only Maduro, but rather the military's entire high command on stage with the president.
Prosecutors have already launched their investigation and obtained critical details from the suspects in custody, said Saab, adding he would give more details Monday.

"We are in the midst of a wave of civil war in Venezuela," Saab said.
Eyes to the sky
State television was broadcasting Maduro's speech at the National Guard anniversary live when the incident took place.
"We are going to bet for the good of our country," Maduro declared triumphantly moments before the sound of an explosion pierced the air. "The hour of the economic recovery has come."
Seconds later Maduro and his wife, Cilia Flores, looked up to the sky and winced.
The cameras then turned to a wide shot of uniformed military officers standing at attention in neat lines as they broke rank and began running. The transmission then cut off. Images shared on social media showed officers surrounding Maduro with what appeared to be black bullet-proof shields as they escorted him from the site.
Smoke could be seen coming out a building window.
Firefighters at the scene of the blast disputed the government's version of events, The Associated Press reported. The news agency cited three local officials, who spoke on condition of anonymity, as saying the incident was actually a gas tank explosion inside an apartment near the site of Maduro's speech.
The president didn't comment on the firefighters' accounts.