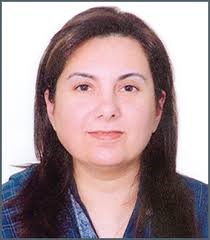 By Our Web Reporter 
LAHORE- Vice-Chancellor of the Pakistan Institute of Fashion and Design (PIFD) Hina Tayyaba Khalil has been 'continuing' her office despite the completion of her five-year tenure in what appears to be an 'illegal' act.
Ms Hina Tayyba was supposed to leave her office on 13 January 2021vide notification No. 1(24)/2011-RO-E(PF) as her five years contract had expired.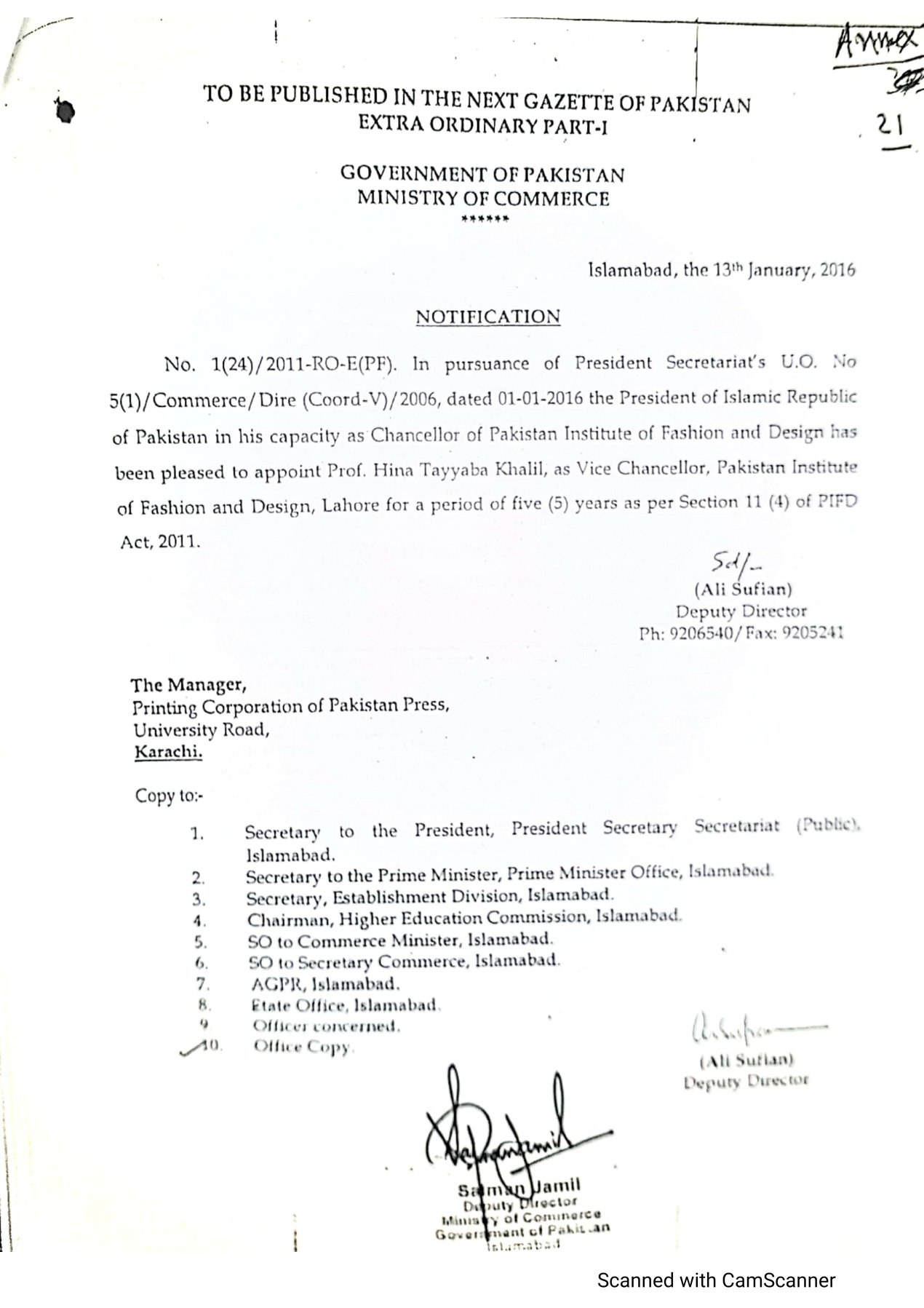 Interestingly an employee of the institute in the written correspondence with the federal government and national accountability bureau (NAB) has alleged illegal holding of VC office by Ms Hina, tempering-maneuvering of record by her, unlawful influence in an official matters, and illegitimate use of government resources.

In a letter written to the offices of the President of Pakistan/Chancellor PIFD, Prime Minister of Pakistan, Minister for Federal Education / Pro-Chancellor PIFD, the Principal Secretary to the President, Principal Secretary to the PM, the Secretary, Federal Education & Professional Training Division, Pak Secretariat,  the Chairman, Higher Education Commission, Islamabad, and the Director-General, NAB, Thokar Niaz Baig, Lahore.
The letter states that "A number of complaints whereby serious allegations about corruption, illegal appointments, nepotism, violations of rules & regulations/laws, sheer violations of PPRA Rules, wasted the public money worth 510 million by closing the constituent colleges, misusing of authority, violations of human rights, employees demanded the resignation from the VC by leveling multiple serious allegations, Hiring of retired personnel to get ulterior motives. Subsequently, NAB referred an inquiry to the Chairman, HEC, Islamabad which is still pending at the end of Higher Education Commission, Islamabad".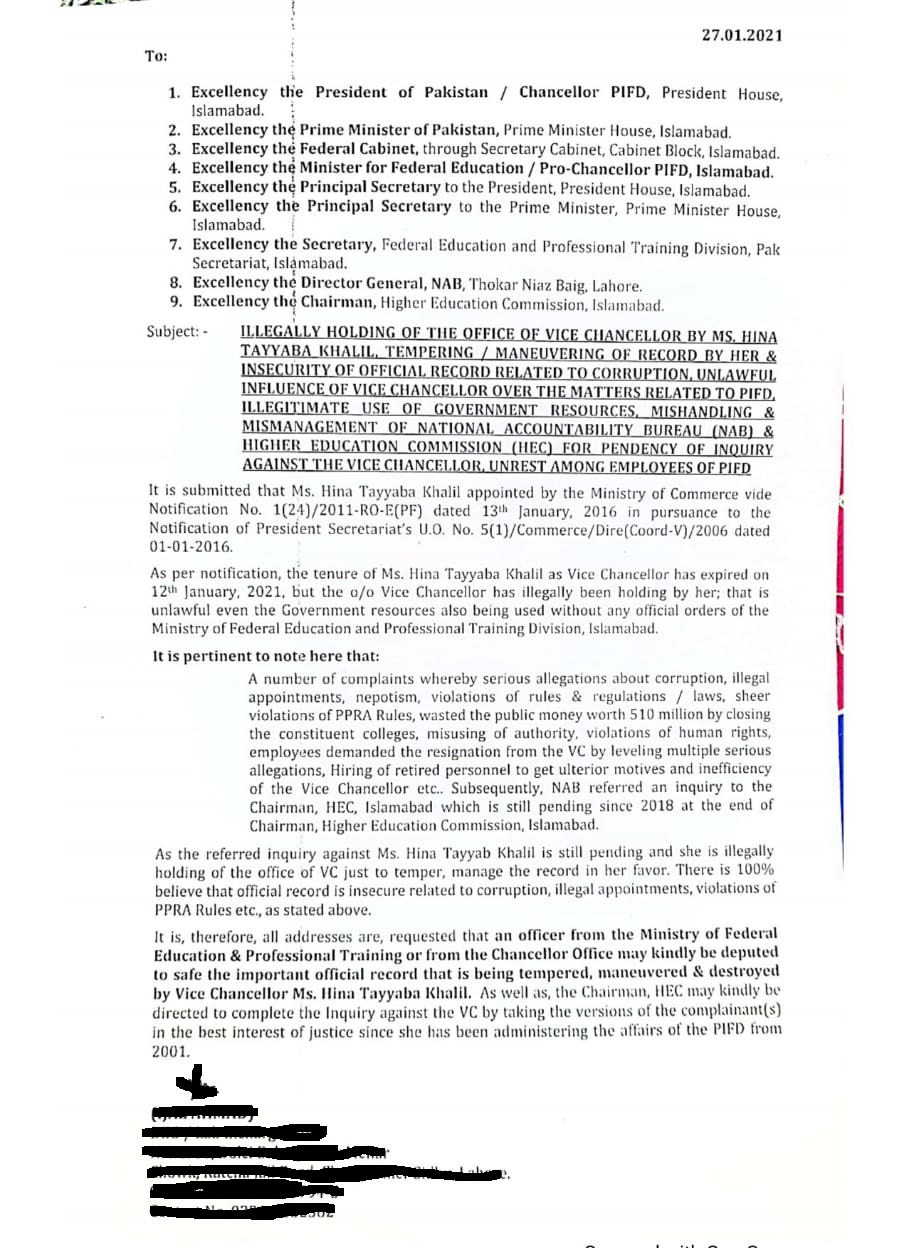 It further revealed that "As the referred inquiry against Ms. Hina Tayyab Khalil is still pending and she is illegally holding of the office of VC just to temper, manage the record in her favor. There is 100% believe that official record is insecure related to corruption, illegal appointments, violations of PPRA Rules, etc".
It is, therefore, all addresses are requested that an officer from the Ministry of Federal Education & Professional Training or from the Chancellor Office may kindly be deputed to protect the important official record that is being tempered, maneuvered & destroyed by the Vice-Chancellor.  As well as, the Chairman HEC may kindly be directed to complete the Inquiry against the VC by taking the versions of the complainant(s) in the best interest of justice, the letter concludes.
When this reporter tried to contact the VC and her Public Relations Officer Ms Zanib Rao over the cell phones, they didn't attend calls. They also didn't reply to the text messages sent on their WhatsApp,   asking whether or not the VC is continuing her office despite the completion of her tenure.