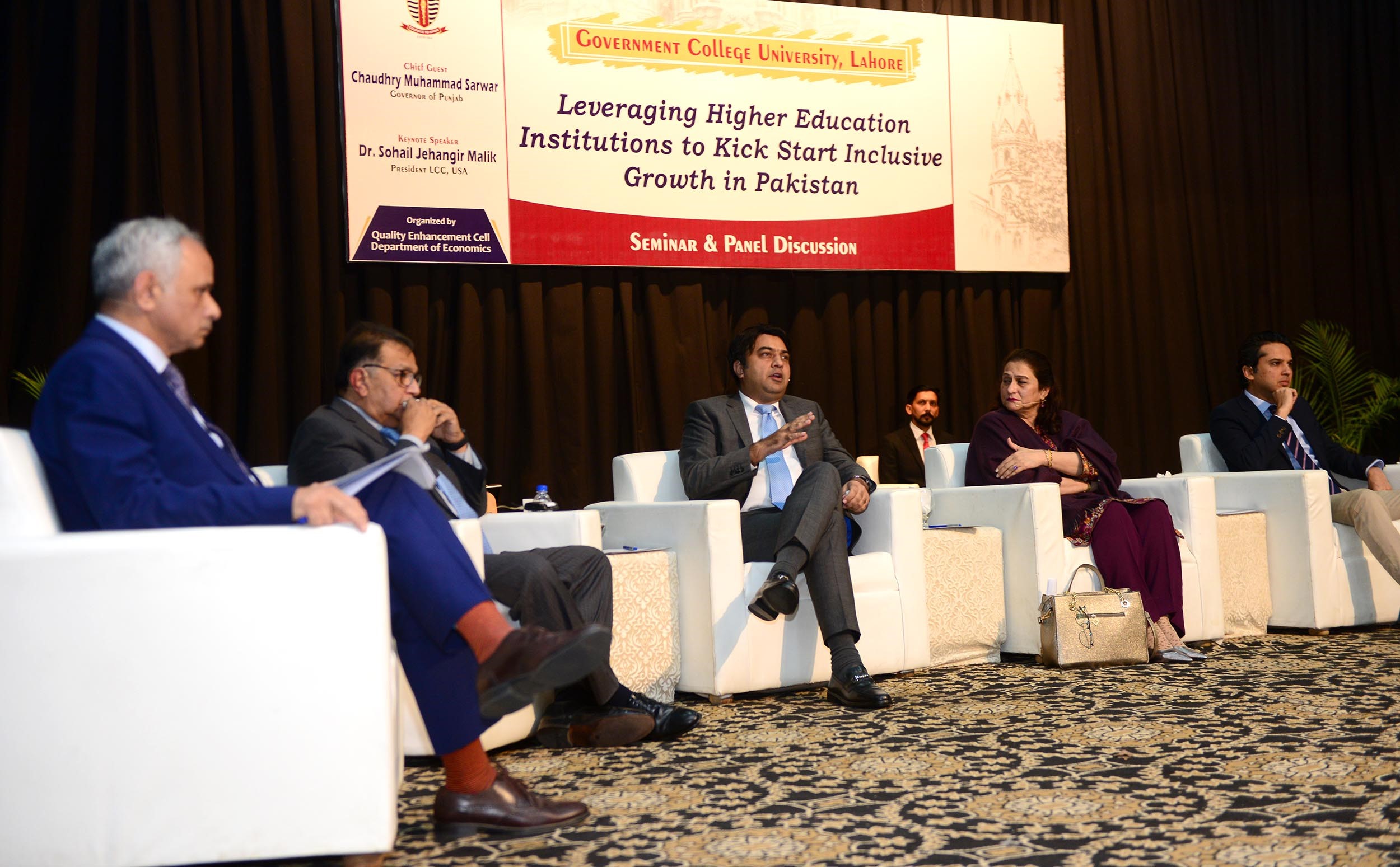 'Varsities Need to Revamp Grading Systems to Produce Quality Graduates'
LAHORE– Speakers at a panel discussion on Friday laid stress on revamping grading and student assessment criteria in the educational institutions to improve quality of graduates.
Besides, they also called upon the government to promote gender equality and linking its economic initiatives with the education policy for an inclusive growth.
The panel discussion was organized by the Government College University Lahore on "Leveraging higher education institutions to kick start inclusive growth in Pakistan".
Punjab Minister for Higher Education Raja Yasir Humayun Sarfraz chaired the panel discussion moderated by Vice Chancellor Prof. Dr. Asghar Zaidi.
In his key note address, Innovative Development Strategies LLC, USA President Dr. Sohail Jehangir Malik shared his research work focusing on the inadequacy and poor quality of the available economic data, the decayed capacity for analyses, implementation and service delivery and the various disconnects within the structure of the economy.
He said that the government should capitalize on the existing resources by involving the bright and energetic minds of universities in monitoring, evaluation, capacity building and policy-making. He said that economic surveys done by academia were fare more accurate than the reports published by the government departments Minister of Punjab for Finance Makhdoom Hashim Jawan Bakht briefed how past policies led to widening of economic inequalities in Punjab, especially between the Centre and the Southern Punjab. "This unequal distribution of resources created disparity among regions and inequality among people in the province," he added.
Mr. Bakht pledged his full commitment for allocation of maximum resources for education and health sector. He said that the cabinet had passed a law that resources allocated for development of underdeveloped areas in the budget would not lapse.
Vice Chancellor Prof. Asghar Zaidi shared his experience of working in the Seoul National University, South Korea where students were guided the industries about their research projects from for the day one of their classes. He said that high-tech industries and their research centers were part and parcels of universities in the West. He also announced to hold discussions on these crucial topics at GCU regularly to bridge gap between academia and police makers.
Punjab Minister Raja Yasir cited the production poor quality of graduates and unskilled labor force over a period of time as one of the major reason for failure to attract the high-tech industries to Pakistan. He said that public sector universities needed to improve the standards their education and research to attract industries. He agreed with a participating researcher Mr. Mauzaam that universities needed to revamp grading and assessment systems to produce quality graduates.
The minister said that numbers obtained by students in exams didn't rightly reflect the knowledge level, personality and skills of students. He briefed the participants about the government initiatives for improvement in higher education sector.
Islamia College for Women Principal Prof. Nasreen Aftab said that inclusive growth was impossible without the equal participation of women in the economic development. She said women participation in parliament and offices should be equal to men at least. He also highlighted that there was no single female drugs rehab center in Punjab.
MPA Shahbana Bashir, Ideas CEO Dr Faisal Bari and Dr Zarqa Suharwardy Taimur also addressed the panel discussion attended a large number students and faculty members at the university's Bukhari Auditorium.—PRESS RELEASE