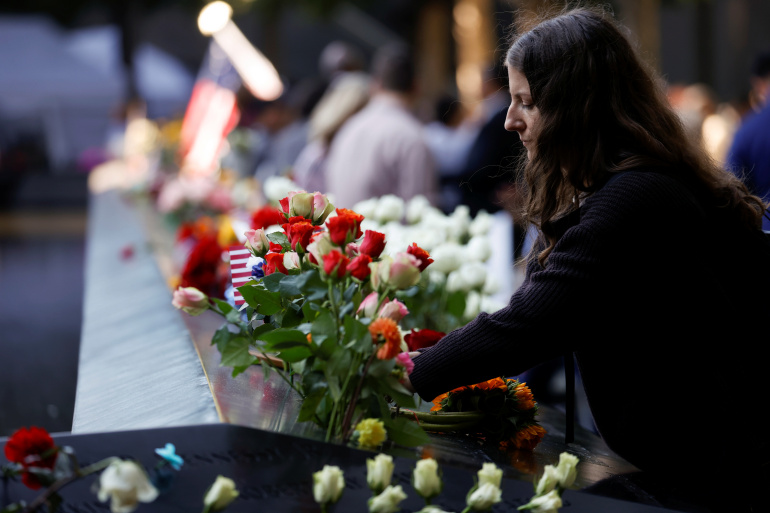 US Marks 9/11 attacks' 20th Anniversary; Ceremonies Held Across the Country
LAHORE MIRROR (Monitoring Desk)– Twenty years after hijacked passenger jets crashed into New York City's World Trade Center and the Pentagon outside Washington, DC, people in the United States have come together to honour the nearly 3,000 lives lost on September 11, 2001.
Saturday's ceremony at the September 11 Memorial in New York City began with a moment of silence at 8:46am (12:46 GMT), the exact time the first of two planes flew into the World Trade Center's twin towers.
Relatives then began to read aloud the names of 2,977 victims, an annual ritual that lasts four hours.
"We love you and we miss you," many of them said as somber violin music played at the official ceremony, attended by dignitaries including President Joe Biden and former Presidents Barack Obama and Bill Clinton.
Mourners clutched photos of their loved ones, while music icon Bruce Springsteen sang his song I'll See You in My Dreams. After nightfall, twin light beams will be projected into the New York sky.
"As we carry these 20 years forward, I find continuing appreciation for all of those who rose to be more than ordinary people," said Mike Low, whose daughter was a flight attendant on the first plane.
The remembrances have become an annual tradition, but Saturday takes on special significance, coming 20 years after the morning that many view as a turning point in US history.
In a painful reminder of those changes, only weeks ago US and allied forces completed a chaotic withdrawal from the war the US started in Afghanistan shortly after the attacks in retaliation – which became the longest war in US history.
SOURCE: AL JAZEERA