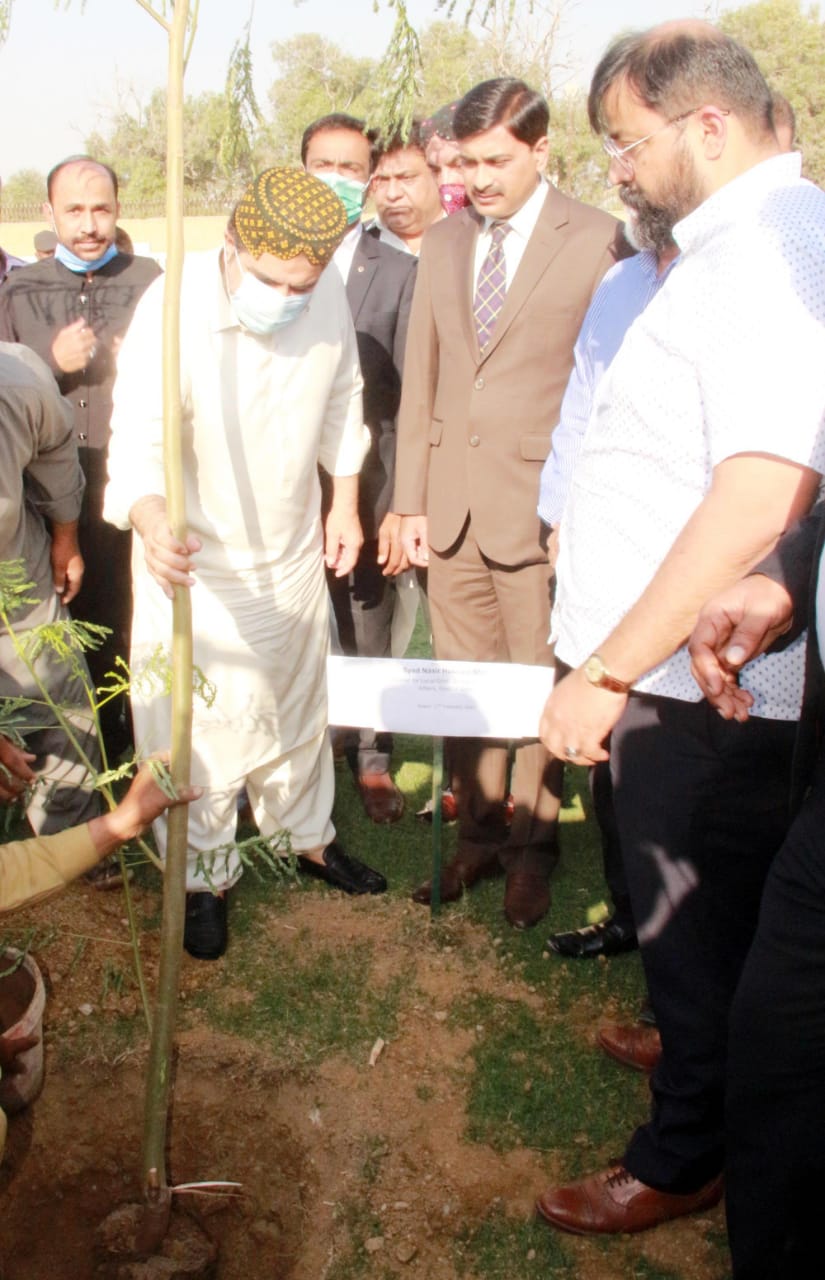 Urban Forest Project Has Been Started In Lyari And Malir Under Which Thousands Of Saplings Are Planted
By Our Web Reporter
KARACHI–Minister for Local Government, Information and Forests Syed Nasir Hussain Shah has said that Urban Forest Project has been started in Lyari and Malir under which thousands of saplings have been planted. We had started work on Miyaki Forest in 2019. Areas are being extended to the areas, eco-friendly plants will be planted during tree planting, KMC will plant one lakh trees across the city under the tree planting campaign starting from today, with KMC civil society and various welfare and Social organizations are also taking part in making Karachi green and prosperous, which is welcome, he said, adding that he along with Administrator Karachi Laiq Ahmed planted a flower seal at Gulshan-e-Jinnah (Polo Ground).
Talking to media persons after the formal inauguration, he said that Administrator Karachi Laiq Ahmed, Metropolitan Commissioner Syed Afzal Zaidi, Head of various departments of Islamic Da'wah Haji Amin Attari, President of IOBM Talib Karim, Head of JDC Zafar Abbas, Shehzad Memon, Director General Parks Taha Saleem and a large number of dignitaries of the city were also present on the occasion. Under Local Government, Syed Nasir Hussain Shah said that unless the citizens take part in the tree-planting campaign, we cannot be successful. Civil society should play its role. According to the vision of Chairman Bilawal Bhutto Zardari, many programs have been launched in the forest. I also include Sarsabz Sindh. The KMC has produced 70,000 native plants in its nurseries in Karachi. Besides, a large number of civil societies are also providing plants. This will definitely improve the environment of Karachi, he said.
The Sindh Government is doing its best to solve the problems of the MCs, our efforts in the DMCs have resulted in record savings and reduction in expenditure and improvement in efficiency, there is always room for improvement. "We have paid the arrears of 594 retired employees in MC Central two days ago since 2016. We are trying to improve the solid waste management in the western district," he said. Billions of rupees are in KMC's account if petrol pumps, huts, and shops are not valued. He said that our party has allowed the term of local bodies to expire so that the democratic process can be maintained. While giving a briefing, KMC Administrator Laiq Ahmed said that KMC has launched a tree-planting campaign to improve the environment of Karachi.
Has been started and plants will be planted in different areas of Karachi, the responsibility of irrigating for 4 months has been taken over by various welfare and social organizations, KMC gardens consisting of local people to take care of the gardens. Committees have been formed which will take full care of these parks. He said that the city has become a forest of concrete so there is a great need for tree planting here. KMC has planted more than 70,000 plants in its nurseries. On this occasion, the Minister for Local Government, Administrator Karachi, Metropolitan Commissioner KMC and other guests also planted trees in Gulshan-e-Jinnah with their own hands.