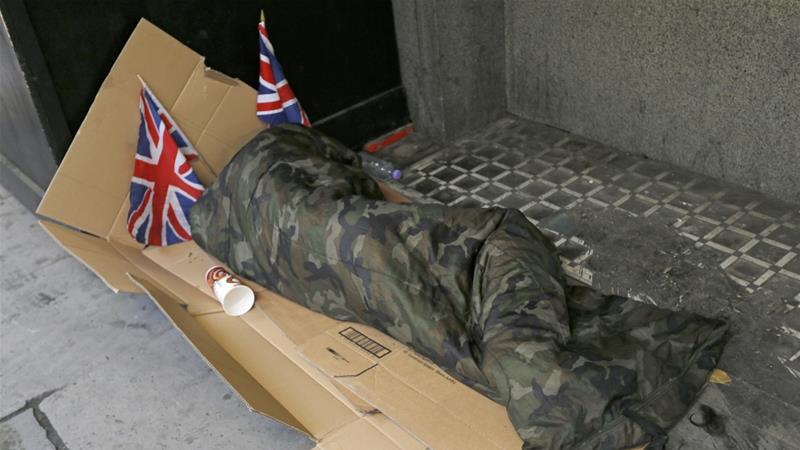 UK Rolls Out Plan To Do Away With Rough Sleeping By 2027
Pledges 100m British Pound funding for the purpose
LAHORE MIRROR (Monitoring Desk)– As a number of homeless people surges, the authorities in the United Kingdom have vowed to eliminate rough sleeping in England within the next decade as part of efforts to end the menace.
In a strategy document published on Monday, UK's Housing Secretary James Brokenshire described the "human cost" of homelessness as "unacceptable" and pledged £100m ($128m) of funding over the next two years to ensure nobody was left sleeping on the streets by 2027.
"These people, some of the most vulnerable in our society, deserve our full support," Brokenshire said.
Homelessness has soared since 2010 in England, the largest country within the UK, with the number of people sleeping rough increasing by more than 168 percent, from 1,768 at the turn of the decade to 4,751 last year, according to government data.
The figure is likely to be an underestimate, according to anti-homelessness charities, and does not include people living in homeless shelters or temporary accommodation.
In a bid to overcome the crisis, the government's newly-adopted Rough Sleeping Strategy will fund housing schemes, mental health support services and training for staff working with homeless people.
'Step forward'
While welcoming the announcement as a "step forward", several charities called on the government to do more to tackle the causes of homelessness.
In a joint statement on Monday, the Rough Sleeping Advisory Panel, made up of seven anti-homelessness charities, called on the government "to build significantly more social housing, to foster greater security for renters [and] to ensure people have access to benefits and other support they need to help them keep their homes.
"We also need to see a reversal of policies that leave migrants homeless and destitute, and healthcare, mental health and substance misuse services that are available and truly accessible to those who need it," the statement added.
According to the UK's Local Government Association, the national body for local authorities, more than 79,000 homeless families – including 123,000 children – are currently being housed in temporary accommodation by councils in England and Wales, the third-largest country within the UK.
Lord Porter, the association's chairman, said on Monday that rough sleeping was "only the tip of the iceberg" and urged  the government to go "much further, much faster" by building more social housing and increasing funding to local authorities.
The UK's opposition Labour Party, meanwhile, described the government's plans as "feeble".
"This … plan lacks any urgency," Shadow Housing Secretary John Healey said, adding that rough sleeping had spiked since 2010 "thanks to decisions made by Tory [Conservative Party] Ministers".
SOURCE: AL JAZEERA NEWS