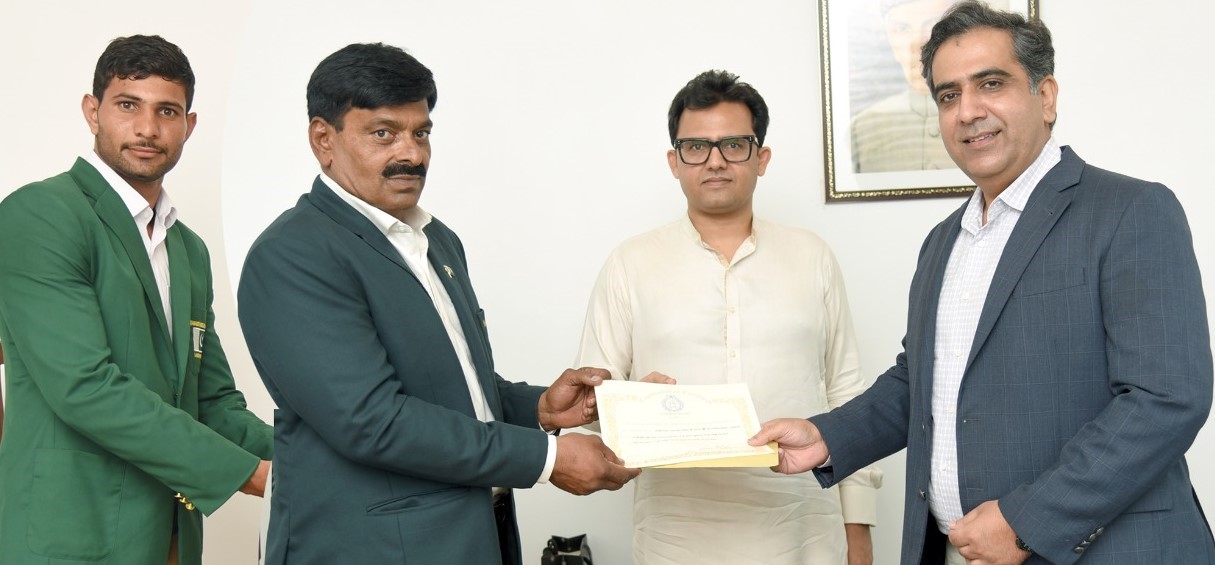 Two Punjab Police Players Encouraged For Extraordinary Performance in Kabaddi World Cup 2020
-- In next competitions, players should regularly continue practice with more hard work, says Patron Police Kabbadi team DIG Faisal Rana
LAHORE– Patron Police Kabaddi Team DIG Muhammad Faisal Rana Saturday said as per vision and directions of IG Punjab Shoaib Dastgir, steps have been taken for encouragement of players in police force along with best supervision so that these players may remain active for enhancing prestige and respect of the department thorough extraordinary performance in competitions held at national and international level.
He further said brilliant performance of players of Punjab Police included in Pakaistani team in Kabaddi World Cup 2020 is a matter of pride nd encouraging for all force.
Faisal Rana expressed those views while discussing with head coach of Pakistan Kabaddi Team ASI Tahir Waheed Jutt and veteran player constable Kaleem Ullah Jutt.
Both players hail from Punjab Police and both had played a major role in historic  victory  of Pakaistan Kabaddi World Cup 2020 in final match against India. From IG Punjab Shoaib Dastgir, DIG Faisal Rana awarded both players  with one and half lac rupees each player and commendation certificates.
DIG Faisal Rana directed to players that they should continue practicing regularly with more spirit and hard work for next competitions and focus their full attention on securing better results. He added that, during service, sports men who get victories and successes are prideful asset for the department and for them all available resources shall be utilized for provision of facilities to them.
During the meeting, ASI Tahir Waheed Jutt and Constable Kaleem Ullah Jutt paid thanks to IG Punjab and said that they commit to continue hard work filled with spirit and assured that they will utilize all their abilities and energies for brightening the name of Punjab Police. On this occasion, AIG Logistics Athar Ismail was also present.— HANDOUT