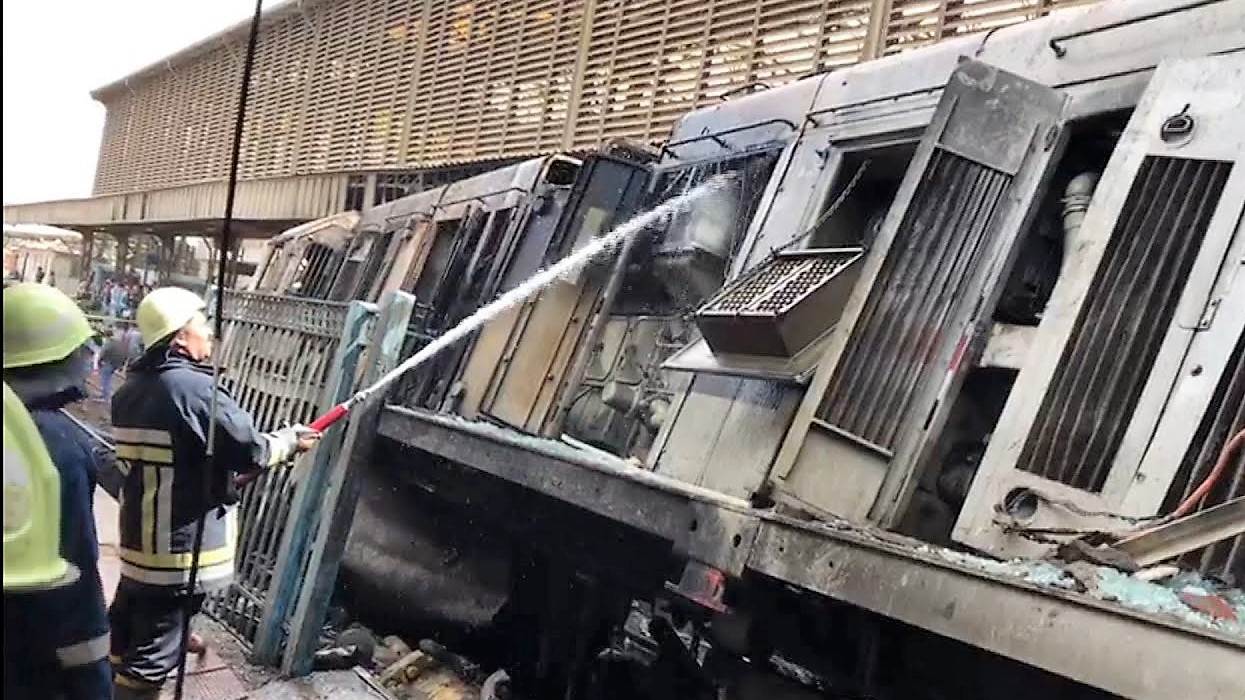 Train Crash Sparks Deadly Blaze In Cairo, Kills 20 and Burns 40 Others
Train's fuel tank exploded after it hit a buffer shop, official say
LAHORE MIRROR (Monitoring Desk)– A train crash sparked a huge fire at Cairo's main railway station, killing 40 people and injuring 40 others, Egyptian officials say.
The train hit a buffer stop near the end of a busy platform at Ramses Station, which is in the city centre.
The collision caused the train's fuel tank to explode, setting the platform and nearby buildings alight.
The cause of the crash is not yet ascertained, but only few hours later Transport Minister Hisham Arafat resigned.
Witnesses described seeing several severely burned bodies in the latest disaster to hit Egypt's rundown railways.
State-run media earlier reported a higher death toll of at least 25 and as many as 50 injured.
During a visit to the scene, Prime Minister Mostafa Madbouli vowed to severely punish anyone who was found to have been negligent.
"We will identify who is responsible for the accident and they will be held accountable," he said.
President Abdul Fattah al-Sisi extended his condolences to the families of those who died and pledged to ensure that the injured received the support they needed.
Local media published what they said was CCTV footage showing people on the busy platform as the train hits the buffer at high speed and explodes.
Another video, taken from a CCTV camera above a nearby subway staircase, appears to show people fleeing as a fireball engulfs the platform.
"I saw a man pointing from the locomotive as it entered the platform, and screaming 'There are no brakes! There are no brakes!', before he jumped out of the locomotive," witness Ibrahim Hussein told Reuters news agency.
"I don't know what happened to him."
"I removed nearly 20 bodies, and carried them to the ambulance, all of them completely burned," Ahmed Mahmoud told news agency AFP.
"The train should have slowed down as it was about to enter the station, but it came in too fast."
SOURCE: BBC NEWS AND NEWS AGENCIES