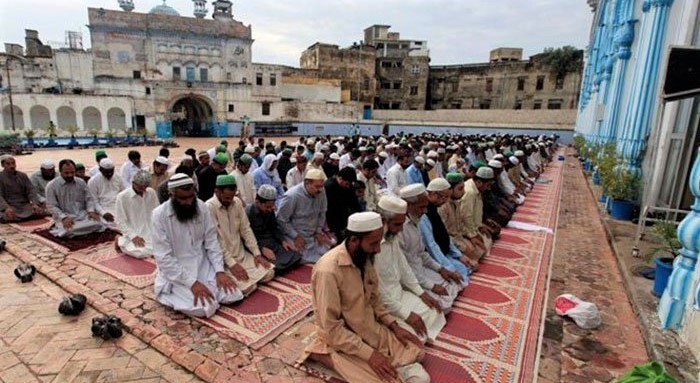 'Traditional' Eid Day Controversy: KP Celebrates Eid Al-Fitr Today
PESHAWAR– Going with the past traditional practice and disagreeing with rest of the country, people in Khyber Pakhtunkhwa province of Pakistan celebrated Eid Al-Fitr today (Tuesday) following the provincial government's announced that Eid will officially be celebrated in the province on June 4. 
Governor KP Shah Farman offered Eid prayers at the Governor House, as residents of the province also went to mosques to offer Eid prayers today. 
The KP government had made announcement after taking into account 'testimonies' of moon sighting all over KP, according to KP Information Minister Shaukat Yousufzai. 
The KP government spokesperson said the decision to hold Eid was taken by Chief Minister Mahmood Khan.
The minister said that the government received a number of testimonies for Shawwal moon sighting from the erstwhile Federal Administrative Tribal Areas (FATA).
"We will celebrate Eid on Tuesday for the provincial haromony," he said.
The announcement came hours after Masjid Qasim Ali Khan announced to observe Eid today.
Shahab-ud-din Popalzai, the chief cleric, claimed to make the decision in light of 25 witnesses received from 'all over the provinces'. The unofficial Ruet-e-Hilal Committee meeting was held at the said mosque on Monday. Meanwhile, the official Ruet-e-Hilal Committee will meet today in Karachi to review moonsighting. The science minister has already said that the government of Pakistan will observe Eid on June 5.
Bohri community is also celebrating Eid today.
Eid being celebrated in Gulf, West
The moon of the month of Shawwal was sighted in Saudi Arabia yesterday and Eid-ul Fitr is being celebrated on Tuesday, Arab media reported.
The Saudi Supreme Court made the announcement pertaining to moon sighting in the kingdom.
The Ruet-e-Hilal Committee of Abu Dhabi also announced the sighting of moon and that the first day of Eid-ul-Fitr would be on June 4.
Majority Muslims in the United Kingdom are also celebrating Eid Al-Fitr today, the central mosque in London announced.
AGENCIES