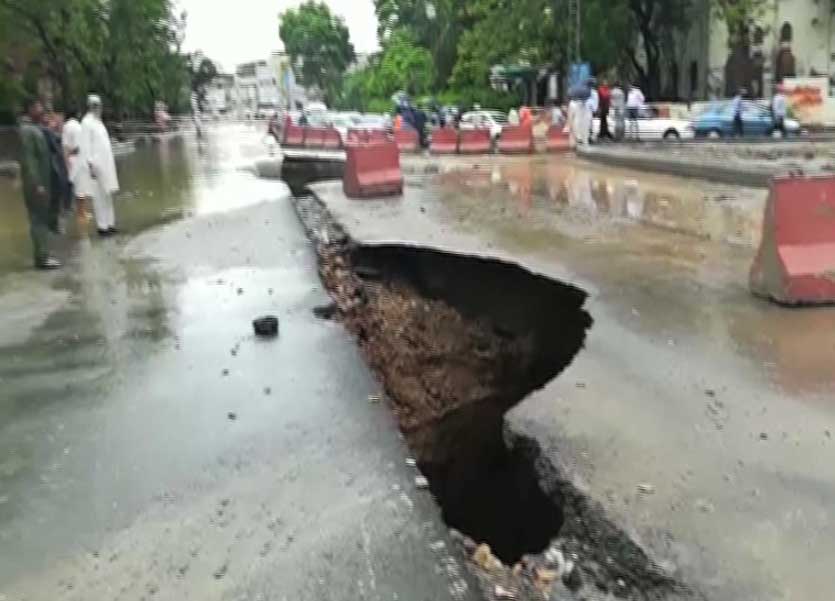 Torrential Rain Inundated Parts Of Lahore

LAHORE: At least six people were killed as heavy downpour lashed different parts of Lahore in the wee hours of Tuesday, inundating streets and causing flooding.
According to details, heavy rainfall with gusty winds hit the provincial capital, resulting in accumulation of rain water in low-lying areas, streets, disruption in power supply and several casualties.
The wet weather also affected flight operation at Allama Iqbal International Airport, cancelling multiple flights.
Citing rescue sources, The Business reported, three people died of electrocution in different parts of the city.
Separately, three members of a family, including a woman and her two children, sustained injuries when the roof of their dilapidated house came down on them in Jauhar Town.
They were rushed to a nearby hospital for medical attention.
More than 200 feeders of the power utility tripped, suspending power supply to large swathes of Lahore.
The areas hit by power blackout included Shadman, Muslim Town, and Harbanspura.
Many low-lying areas and thoroughfares of the city were deluged with rain water as citizens had to wade through flooded streets to reach their workplaces.
The Water and Sanitation Agency (Wasa), while declaring an emergency, has issued directives for draining out the accumulated rain water.
The weather department said monsoon currents from Arabian Sea are continuously penetrating upper and central parts of the country. A westerly wave is also present over upper parts of the country and likely to persist during next 48 hours.
Rain-thundershower with gusty winds is expected at a number of places in Lahore Rawalpindi, Gujranwala, Sargodha, Faisalabad divisions, Islamabad, Kashmir, at scattered places in Khyber-Pakhtunkhwa (Malakand, Hazara, Peshawar, Mardan, Kohat, Bannu, D.I.Khan divisions), Sahiwal division, FATA, Gilgit-Baltistan, while at isolated places in  Zhob, D.G.Khan, Bahawalpur and Multan divisions.