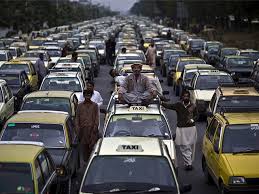 The Taxi Driver In The Age Of Careem
"I've been out here all morning. Do you know how much I've earned so far? One hundred rupees."
These are the words of a grizzled 50-year-old man, gruffly spoken through a mouth of missing teeth. His beard is white, his face is sunburnt and wrinkled, and his name is Sikander. Sikander will work up to twelve hours a day – his route will take him through sectors F and G in Islamabad. He will come home with a daily wage that barely sustains his nine children. His mother has died and his ageing father depends on him just as much as the children, none of whom are in school.
"School? Ha! I barely earn enough to feed them. Do you think I can send them to school?" says Sikander, with a wry chuckle.
"There is no place in Pakistan for the poor."
Men like Sikander have been driving taxis for much of their adult life and know no other work. Some live in small servant quarters with their wives, who work in the houses. Others live in the city, away from their families, and visit them back home when their earning allows. Others still are scattered across the city, sleeping wherever they find space, whether that be in their cars, or the open air.
"I've been driving a taxi for twenty years," says Naseer Ahmed, a cabby in G-9. "I was earning roughly Rs40,000 a month. Now I'm lucky if I make half of that."
Everywhere, the complaint is the same. The same conversation takes place over and over across the city, in dhabbas, at addas, and at shopping hubs like Centaurus Mall, where taxi drivers collate, hoping to catch the odd passenger who is not a Careem or Uber user.
"It's made things harder," says Arshad Shah, a taxi driver who has been at it for fifteen years now.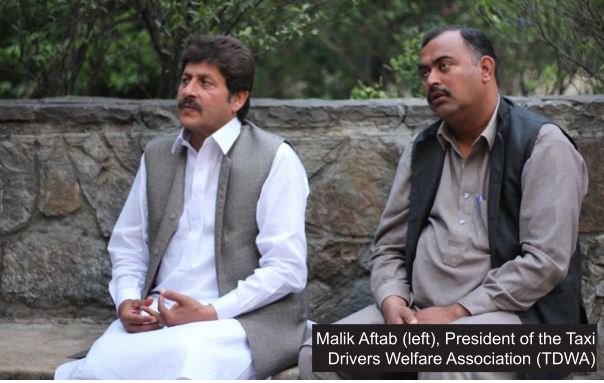 "The Careem people have a lot of advantage that we don't. They can drive into the Red Zone, and we can't. They don't pay motor vehicle taxes either."
Though it may sound simple, the taxi drivers' conflict with Careem is complex. Increasingly over the past several months, a cloud of anger and resentment has seeped into the taxi driver's psyche. If the loss of livelihood was not enough to compel them to act, Careem's consequence-free operations were.
The taxi drivers allege that Careem is a taxi service provider and should be liable to the same laws and taxes that motor cabs and other public service vehicles incur. They argue the authorities do not compel Careem to abide by the law like it compels taxi drivers.
However, Junaid Iqbal, Managing Director of Careem Pakistan, defines Careem as a technology company that connects buyers and sellers. He outlines Careem's first endeavour as connecting ride seekers to ride providers. In other words, Careem is simply a platform, and anyone is free to use it to get a passenger or a ride.
In August 2017, Malik Aftab, President of the Taxi Drivers Welfare Association (TDWA), filed a case against Careem and Uber in the Islamabad High Court (IHC), in violation of Section 34 of the Provincial Motor Vehicle Ordinance, 1965, which penalizes public service vehicles that fail to comply with motor vehicular law in reference to motor cabs i.e. cars for hire. While the hearing has concluded, Careem has obtained a stay order in reference to this case, and the final verdict has been delayed until further notice.
"The struggle of the taxi walas is the struggle of the working class," says Umar Gillani, who represents TDWA in court, "and it has to continue, with a small chance or none."

According to the Provincial Motor Vehicle Ordinance, 1965, all public service vehicles engaged in the carriage of passengers for hire or reward are compelled to obtain a permit from the Provincial or Regional Transport Authority (RTA), have a valid certificate of fitness, and pay the appropriate taxes levied under the Provincial Motor Vehicles Taxation Act, 1958.
According to the Excise, Taxation & Narcotics Control Department, Punjab and Excise & Taxation Department Islamabad Capital Territory, someone looking to drive a car for hire must pay the appropriate fee to first convert their private car into a commercial one. Applicants are compelled to pay a certain amount of money for the completion of this process, and that amount can be calculated on each department's website.
Typically, this amounts to Rs8,000–9,500 for individual taxi drivers in Punjab and Islamabad. In addition to these initial taxes, drivers are also compelled to pay the token tax annually and pass the vehicle fitness test biannually. This can amount to Rs2,000 a year. Furthermore, drivers must apply for a route permit every three years. A route permit for Islamabad is not possible without obtaining a route permit for Punjab, and that can cost taxi drivers in Islamabad up to Rs1,200 every three years.
Under Section 34 of the Provisional Motor Vehicle Ordinance, 1965, any public service vehicle that fails to comply with the regulations outlined shall have its registration certificate suspended. Under Section 106, individuals who drive a motor vehicle or allows a motor vehicle to be used without the appropriate permit will be punished with imprisonment for a period of six months or with a fine that extends to Rs500.
The Ordinance has defined the term "public service vehicles" as "any motor vehicles used or adapted, to be used for the carriage of passengers for hire or reward, and includes a motor cab, contract carriage, and stage carriage". "Motor cab" refer to any motor vehicle used to carry not more than ten passengers, for hire or reward.
The definition "motor vehicle for hire" is loose enough to include Uber drivers and Careem Captains, if not the companies themselves. Careem already separates its work from that of Captains, by identifying itself as a technology company. Regardless, the work of Captains remains the same. They drive for hire.
Junaid Iqbal, however, insists that Careem Captains fall outside of this definition. He believes Captains engage in ride-hailing, which refers to booking a car using an online platform. He argues that ride-hailing is a new phenomenon, introduced seven years ago by Uber, and commercialized by Careem in Pakistan.
"There's no paperwork for ride-hailing," insists the Careem supremo.
The distinction between ride-hailing and taxi driving seems to be that ride-hailing uses an online platform to book a car for hire, while taxi driving does not. Is that a good enough reason for the government to exempt Careem Captains from paying motor cab taxes? Or for Careem to resist classification because the legal definition is not precise enough? Or does it warrant new legislation altogether?
Even if Careem self-identifies as a technology company, Careem knowledgeably and routinely signs Captains who do not comply with motor vehicle legislation with respect to motor cabs. Careem maintains Captains are self-employed and merely use the platform to find passengers, but Careem regulates Captains signed onto its platform. Captains are prohibited from smoking in the car, driving above 40 km/h, and can seat no more than 4 passengers at a time. Captains who face complaints or consistently poor ratings are penalized and retrained to adhere to Careem standards.
"Khaadi has to abide by the rules of Dolmen Mall," says Iqbal, "Similarly, Careem is a virtual market place and we have to manage it."
If Careem is indeed the Dolmen Mall to these drivers' Khaadi, the question becomes – why won't Careem take its regulations a step further and compel its drivers to abide by the existing laws and taxes that concern motor cabs?
"Regulation affects supply," says a Careem employee, who has asked to remain anonymous. He believes that compelling Careem to abide by legislation that pertains to motor cabs will affect the number of people signing on to Careem's platform as ride providers. Ultimately, he says, that will impact Careem's growth, a company he argues, that is still in its nascent stages and has just broken even.
The employee believes that unregulated, Careem is doing more good than harm. He argues that Careem has ambitions that would continue to see the country benefit from its operations. Over the last two years, Careem has worked with The Citizens Foundation (TCF) to generate donations to build schools. Most recently, Careem announced its partnership with Edhi Foundation to provide ambulance services in the country. Karachi customers of the ride-hailing app can now make a 'later' booking for the service by clicking on the ambulance category.
"Careem should not be regulated right now," he asserts.
Following the formal question of its legality in January of last year, Careem has been hinting at working with provincial governments to develop new legislation that would incorporate e-commerce companies like Careem into the tax bracket. Iqbal says that so far, there has been an agreement on the broad principles on which legislation is to be based. He also claims that Careem is on the verge of signing a Memorandum of Understanding (MoU) with at least two provinces, but that does not mean an agreement has been reached with RTAs. Careem's previous MoU had been signed with Punjab Information Technology Board (PITB), not the PTA.
Iqbal reasons that European countries have poured significant investments into public transport. Regulations against companies like Uber and Careem protect their investments. Countries like Pakistan, however, where public transport investments were near to non-existent until recently, stand to benefit from private sector investments.
"That makes regulation more unfavourable," says Iqbal.
Careem's tax status, separate from those Captains, is also questionable. The 2017 Finance Act improved on the Income Tax Ordinance of 2001, and introduced the concept of an online marketplace, which the Act further defined as "an information technology platform run by an e-commerce entity over an electronic network that acts as a facilitator in transactions that occur between a buyer and a seller". In Section 2, 38B, the Act compels such platforms to pay an income tax of 0.5% and sets the rate of collection of advance tax on brokerage and commission on an online marketplace at 5% for the Tax Year 2018.