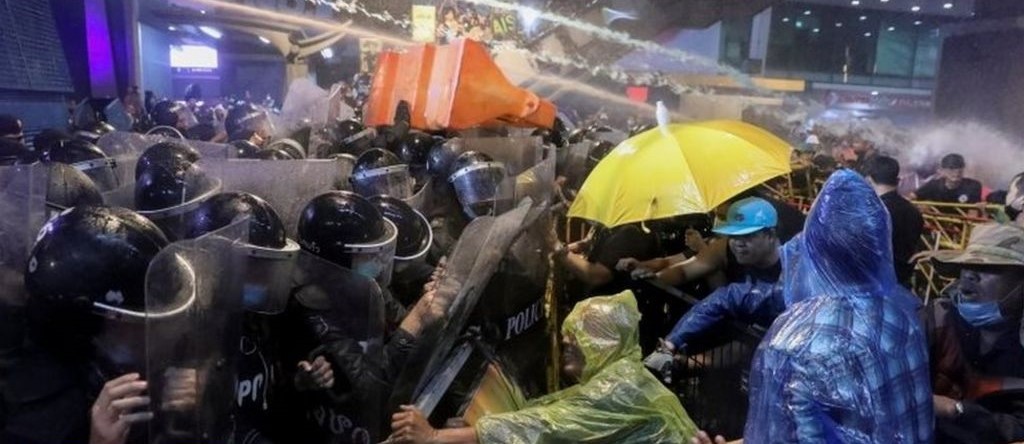 Thailand: Riot Police Fire Water Cannon as Protesters Defy Rally Ban
Thousands of Thais have rallied in Bangkok for the second day to demand political reforms, defying an emergency decree banning such gatherings.
Police used water cannon to disperse the mostly young activists, who tried to push back with umbrellas. A few threw plastic water bottles.
Prime Minister Prayuth Chan-ocha warned a curfew might be imposed, rejecting calls for him to resign.
Protesters are also demanding reforms to Thailand's powerful monarchy.
On Thursday, the government had attempted to curtail the student-led protest movement by issuing the emergency decree, banning gatherings of more than four people and arresting about 20 activists.
Several key protest leaders were among those arrested, including human rights lawyer Anon Nampa, student activist Parit Chiwarak – widely known by his nickname "Penguin" – and Panusaya Sithijirawattanakul.
Mass protests began by calling for the resignation of Mr Prayuth – a former army chief who seized power in a 2014 coup and was appointed premier after controversial elections last year.
The rallies have now expanded to demand curbs on the powers of the king.
The calls for royal reforms are particularly sensitive in Thailand, where criticism of the monarchy is punishable by long prison sentences.
What's the latest from Bangkok?
About 2,000 protesters took to the streets in central Bangkok on Friday evening, media reports said.
With hundreds of riot police blocking the site of the previous day's protest, the young activists simply moved their rally several hundred metres down the road.
They carried slogans that read "Release our friends", referring to the more than 40 people arrested this week.
The crowd quickly grew, from a few dozen, to thousands, swollen by commuters stopping to join what has now become a national mood of rebellion on their way home, the BBC's Jonathan Head in Bangkok reports. A chorus of expletives was heard, aimed at the prime minister.
As the police started advancing to try to disperse the crowds, demonstrators chanted "Get out, get out!"
Water cannon was later used, with some protesters saying the jets of water contained a chemical that made their eyes sting – a claim that has not been independently verified.
"I have to fight for my future," one 22-year-old protester was quoted as saying by Reuters.
Most of protesters later dispersed. A few tried resisting, and were arrested.
Protest organiser then asked the crowds to go home and prepare for another mass rally on Saturday.
Police spokesman Yingyot Thepchamnong warned that the authorities had already "issued warnings against illegal acts".
"After this there will be intensive measures in enforcing the law," he added.
SOURCE: BBC NEWS