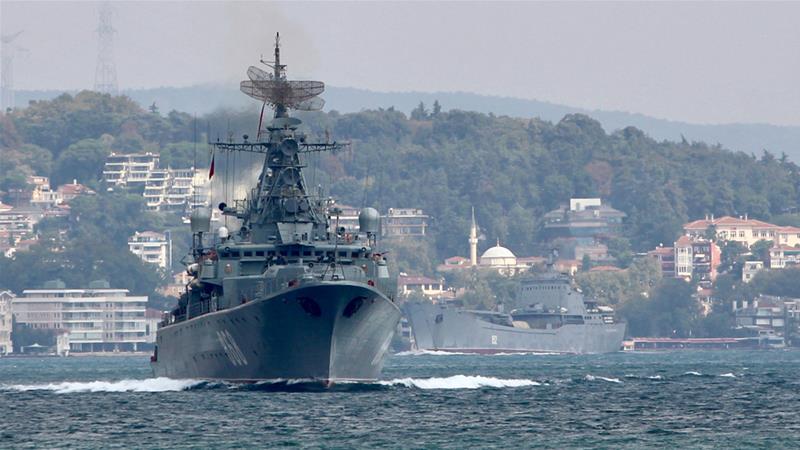 Syria Conflict: War Of Words Between US-Russia indicates Attack Possibility
Washington and Moscow trade chemical attack warnings as Russian naval buildup grows ahead of strike on Syria's Idlib
LAHORE MIRROR (Monitoring Desk)– Russia has deployed a dozen warships to the Mediterranean Sea in what a Russian newspaper on Tuesday called Moscow's largest naval buildup since it entered the Syrian conflict in 2015.
The reinforcement comes as Russia's ally, Syrian President Bashar al-Assad, is believed to be considering a major assault on the last rebel-held enclave in northern Idlib province.
Russia has accused the United States of building up its own forces in the Middle East in preparation for a possible strike on Syrian government forces.
On Saturday, the Admiral Grigorovich and Admiral Essen frigates sailed through Turkey's Bosphorus towards the Mediterranean, Reuters news agency images showed.
The day before, the Pytlivy frigate and landing ship Nikolai Filchenkov were pictured sailing through the Turkish straits that connect the Black Sea with the Mediterranean. The Vishny Volochek missile corvette passed through earlier this month. The Izvestia newspaper said Russia had gathered its largest naval presence in the Mediterranean since it intervened in Syria in 2015 and turned the war's tide in Assad's favour.
The force included 10 vessels, most of them armed with long-range Kalibr cruise missiles, Izvestia wrote, adding more ships were on the way. Two submarines had also been deployed.
The Syrian government is gearing up for an expected offensive in Idlib province, which is home to nearly three million people and has a large al-Qaeda presence in addition to several Syrian rebel groups.
It borders Turkey, which fears an offensive may trigger a humanitarian and security catastrophe.
SOURCE: ALJAZEERA NEWS