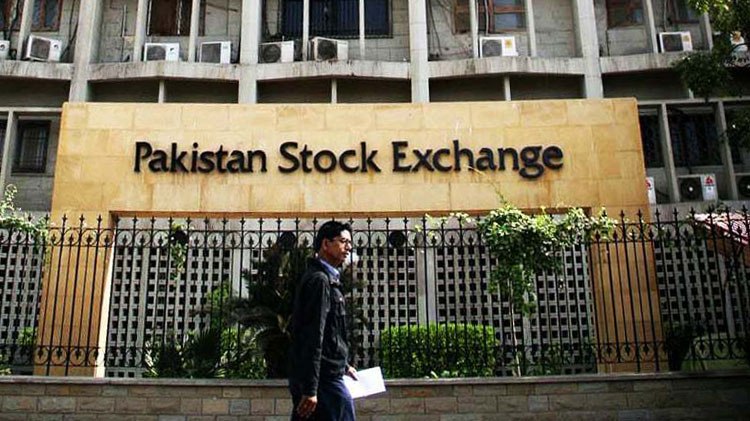 Stocks Down By 1.8 Percent
KARACHI: Pakistan shares' market again plunged by 1.8 percent Monday, as investors remained sidelined ahead of General Elections 2018, dealers said.
Analyst Ahsan Mehanti at Arif Habib Corp said, "Stocks fell across the board on investor concerns over prevailing economic uncertainty and rupee volatility."
Political uncertainty, weak global crude oil prices, foreign selling and concerns for record low FX reserves amid external account crises played a catalyst role in panic selling at PSX, he said.
On the first day of the week, The PSX benchmark KSE 100-share Index closed lower by 757.77 points or 1.84 percent to 40,463.98 points against 41,221.75 points recorded in the last session. The highest index of the day remained at 41,221.75 points while the lowest level of the day was recorded at 40,417.77 points.
KSE-30 Index also decreased by 425.40 points or 2.09pc to 19,972.95 points against 20,398.35 points.
Turnover fell by 114 million shares to 108.99 million shares from 222.67 million shares, trading value dropped to Rs5.10 billion against Rs8.77 billion while market capital narrowed to Rs8.32 trillion from Rs8.47 trillion. Of a total of 322 companies' active in the session, 69 recorded gains, 237 losses while 16 remained neutral.
Murtaza Jafar, analyst at Elixir Securities, said, "Equities further declined as investors preferred to remain on sidelines ahead of general elections to be held on 25 July 2018."
"We expect trading activity to remain dull tomorrow (Tuesday), as investors await the final outcome of the Elections. A clear majority for any party can result in a relief rally towards the end of the week," he said.
Maaz Mulla, analyst at JS Research, said negativity in the market was due to noise on the political front, with upcoming General Elections, declining foreign reserves and lower oil prices.
Cement sector remained under the hammer as the sector cumulatively contributed -84 points to the index, where DGKC (-3.62%), CHCC (-3.35%), MLCF (-3.17%) and LUCK (-2.97%) were the major losers. Banking space closed lower than its previous day close where big banks such as MCB (-2.59%), UBL (-1.65%), HBL (-2.14% and BAFL (-2.91%) closed in the red trajectory.
Highest increase was recorded in shares of Rafhan Maize, which rose by Rs378.10 to Rs7,940.10 per share, followed by Philip Morris Pak XD that increased Rs115 to Rs2,415 per share. Major decline was noted in shares of Unilever Foods, which fell by Rs404.99 to Rs7,695 per share, followed by Nestle Pakistan that decreased by Rs380.95 to Rs10,628.30 per share.
Significant turnover was recorded in stocks of Pak Int Bulk (R), K-Electric Ltd, Lotte Chemical, Bank of Punjab, DG Khan Cement, PIA (A), Jahangir Siddiqui Co, Engro Polymer, Fauji Foods Ltd and TRG Pak Ltd.
Pak Int Bulk (R) remained the volume leader with 10.80 million shares with a decline of 21 paisas to Re0.41 per share. It was followed by K-Electric Ltd with 7.61 million shares with a drop of 14 paisas to Rs5.30 per share.
Shares' turnover in the future contracts, however, increased to 126.95m shares from 45.49m shares.