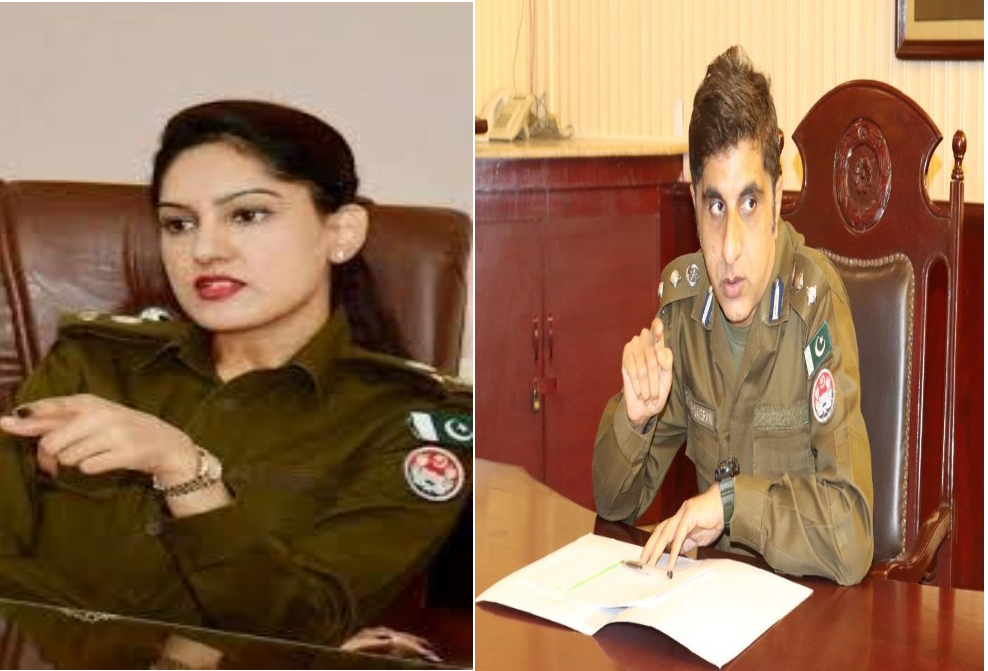 SSP Abdul Ghaffar Qaisrani Turns to 'Super CCPO' As SP Anoosh Transferred After Breach of Discipline
-- CCPO Lahore DIG Muhammad Umer Sheikh faces yet another 'huge embarrassment' to his 'controversial' posting as he failed to get Mr Qaisrani transferred today
By Muhammad Faisal Ali Ghumman
LAHORE– The Punjab police chief removed SP Investigation Cantt Lahore Dr Anoosh Masood Ch from her post following a 'tug of war' with her senior officer SSP Investigation Abdul Ghaffar Qaisrani.
The transfer of SP Anoosh caused 'huge embarrassment' for Capital City Police Officer DIG Muhammad Umer Sheikh who contrary to the IGP's today action, had asked the SSP to leave Lahore police a couple of days ago.
The reply of a letter of advice issued by the SSP Investigation to the SP Investigation Cantt regarding investigation matters and issues concerning her supervision of official matters sparked controversy few days ago.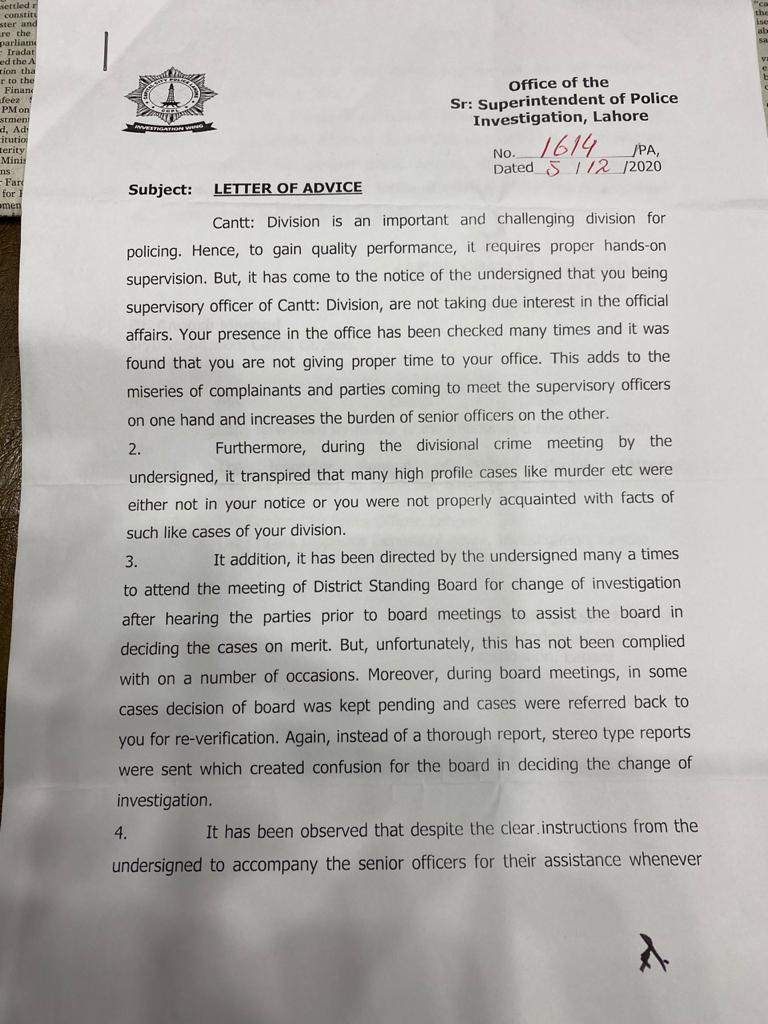 The controversy added fuel to the fire as City police chief Sheikh who already got upset during last Tuesday's meeting after SSP Qaisrani refused to obey his orders of involvement of investigation police in the arrests of Pakistan Democratic Movement (PDM) activists before December 13 public meeting. The CCPO had ordered Mr Qaisrani to leave his office and stay away from his current posting.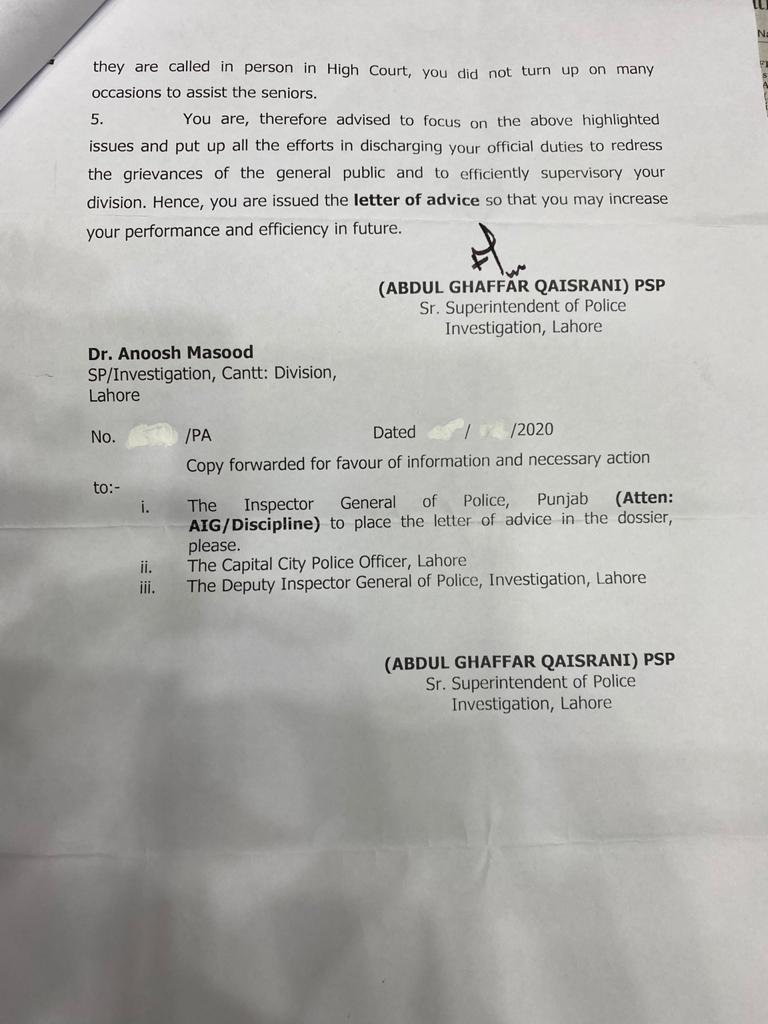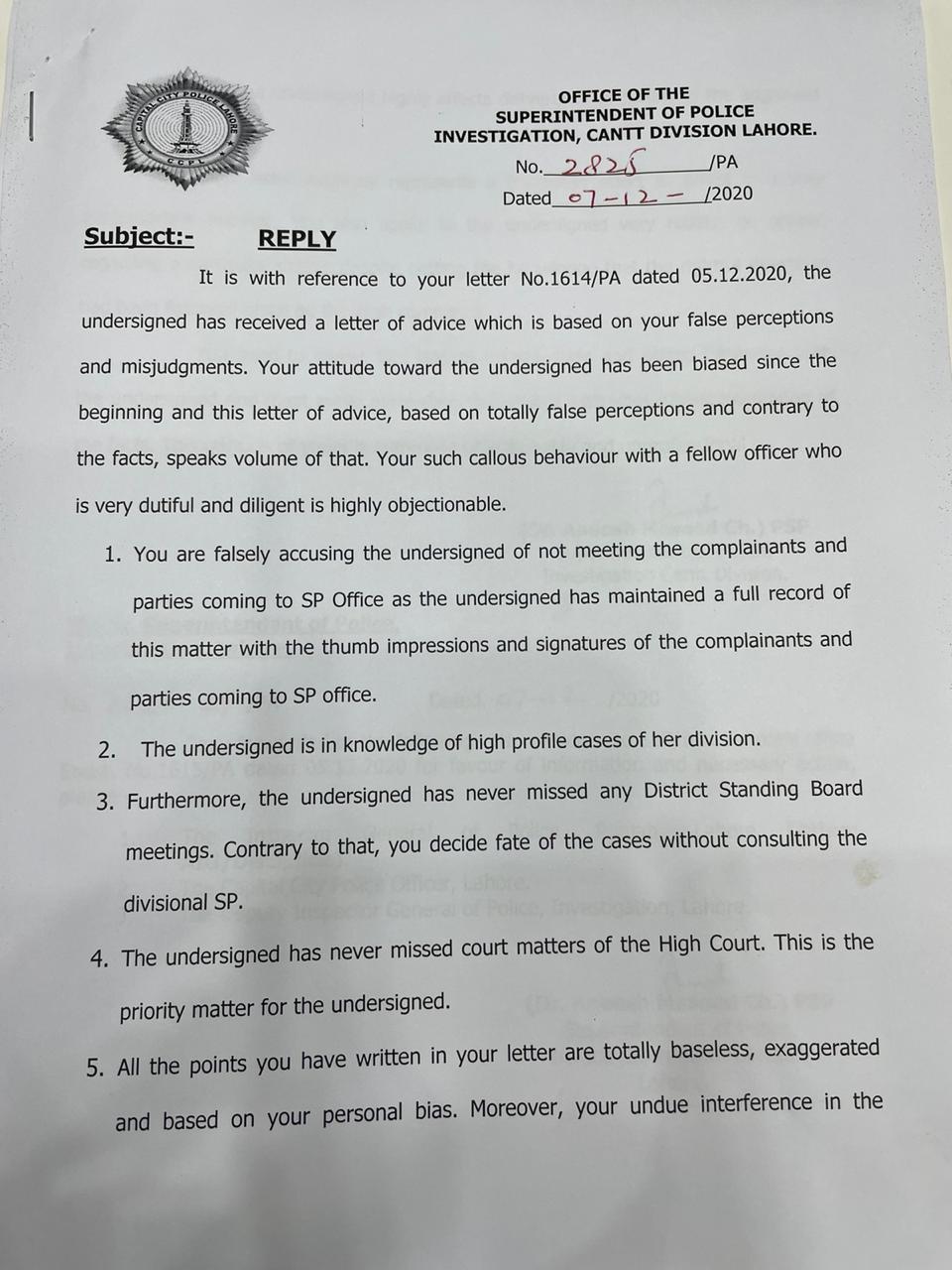 The SSP Investigation brought the both matters to the notice of the IGP by dispatching the copy of letter of advice and reply to the AIG Discipline Punjab and the DIG Headquarters Punjab.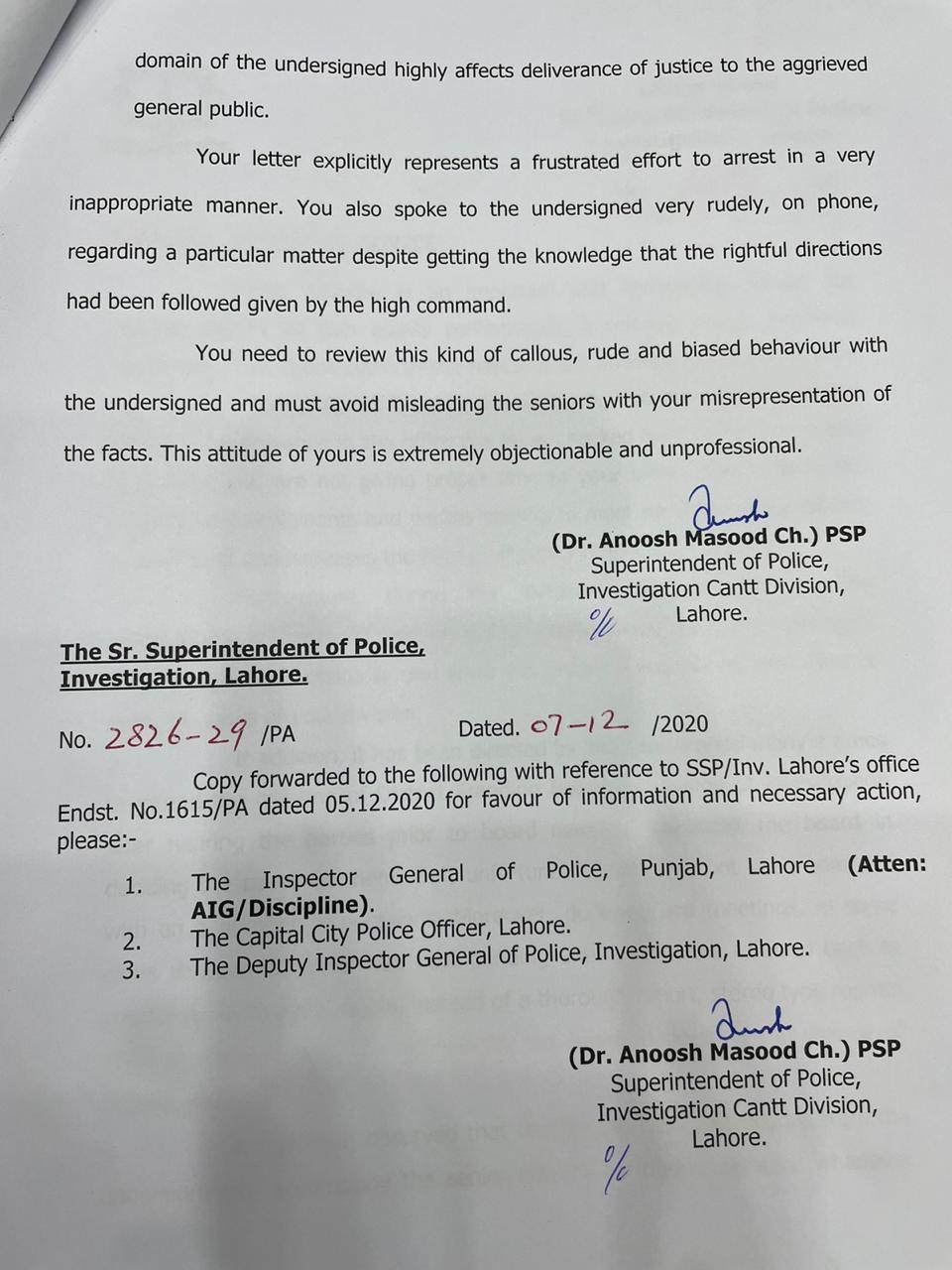 Lahore Mirror received information that the matters of Lahore police were officially brought into the notice of IGP Inam Ghani today during a high-level meeting attended by majority Additional IGs and DIGs. Both correspondences were read loudly after which senior officers expressed displeasure over SP Anoosh's reply and use of harsh language against her SSP. It was decided to get her transferred immediately.
The situation got worse when the SP reportedly dispatched her reply to the SSP's letter to the Central Police Office herself. The same replies were also shared on social media that made a mockery of Punjab police.
SSP Investigation Qaisrani rejoined his duty on Friday under CCPO Sheikh who himself had got the SSP appointed in Lahore police a couple of months ago.
Hardly a week ago, DIG Investigation Lahore Shahzada Sultan was transferred by the Punjab government following his differences with the CCPO over administrative authority.
Similarly, the city police chief also surrendered the services of Crime Investigation Agency SP Asim Iftikhar after heated argument with him at a meeting on Oct 15.
The act of indiscipline by a junior officer is being criticised in police circles now a days. Officers who Lahore Mirror spoke too are of the view that such incidents of indiscipline if not stopped by strong actions would set the path of more such episodes.
They appreciated the decision of IGP to get the SP transferred and retain the SSP for the sake of maintaining highest standards of discipline in a disciplined institution.